TronPlus Review: TRP token smart-contract Ponzi scheme

TronPlus provides no information about who owns or runs the company on its website.
Despite being set up and run by an admin, TronPlus falsely claims it has "no admin".
TronPlus' website domain "tronplus.io" was privately registered on September 9th, 2020.
On its website TronPlus provides a compensation document. The author of that document is Nam San Bay.

Nam San Bay is based out of Vietnam. He appears to have gotten into cryptocurrency in 2020.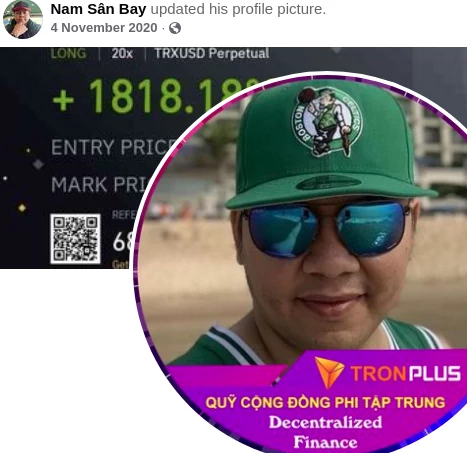 From this we surmise Nam San Bay owns and is running TronPlus out of Vietnam.
As always, if an MLM company is not openly upfront about who is running or owns it, think long and hard about joining and/or handing over any money.
TronPlus' Products
TronPlus has no retailable products or services.
Affiliates are only able to market TronPlus affiliate membership itself.
TronPlus' Compensation Plan
TronPlus affiliates invest 5000 to 100,000 tron on the promise of a 0.7% to 0.9% ROI.
Returns are paid in TRP, a TRC20 shit token TronPlus' anonymous admin created.
Returns are capped at 300%, and include any commissions earned (detailed below).
Upon expiry, a TronPlus affiliate must reinvest in order to continue earning.
Note that reinvestment amounts must be higher than the amount last invested.
Referral Commissions
TronPlus pays referral commissions down three levels of recruitment (unilevel):
3% on level 1 (personally recruited affiliates)
2% on level 2
1% on level 3
Matching Bonus
The Matching Bonus is paid on withdrawals made by unilevel team affiliates.
A unilevel compensation structure places an affiliate at the top of a unilevel team, with every personally recruited affiliate placed directly under them (level 1):

If any level 1 affiliates recruit new affiliates, they are placed on level 2 of the original affiliate's unilevel team.
If any level 2 affiliates recruit new affiliates, they are placed on level 3 and so on and so forth down a theoretical infinite number of levels.
TronPlus caps the Matching Bonus are eighteen unilevel team levels.
The Matching Bonus is paid on withdrawals by affiliates across these eighteen levels as follows:
level 1 – 20%
levels 2 to 5 – 10%
levels 6 to 10 – 5%
levels 11 to 15 – 3%
levels 16 to 18 – 2%
Joining TronPlus
TronPlus affiliate membership is free.
TronPlus Conclusion
TronPlus is a simple Ponzi scheme run on the tron blockchain.
TRP is a TRC20 token, which take only a few minutes to set up.
TRC is naturally worthless outside of TronPlus, which is by design.

TronPlus affiliates sign up, invest tron and Nam San Bay (right) and friends steal it.
A few recruiters and early investors make a bit of money, leaving the majority of TronPlus affiliates with a loss.
Based on TronPlus' provided smart-contract stats, it appears the Ponzi scheme has already collapsed.
Any TronPlus victims looking to recoup their money should ask Nam San Bay for it back.