Trident Crypto Fund Review: TDC points ICO Ponzi scheme

Trident Crypto Fund provide no information on their website about who owns or runs the business.
The Trident Crypto Fund website domain ("tridentcryptofund.com") was privately registered on March 26th, 2018.
As always, if an MLM company is not openly upfront about who is running or owns it, think long and hard about joining and/or handing over any money.
Trident Crypto Fund Products
Trident Crypto Fund has no retailable products or services, with affiliates only able to market Trident Crypto Fund affiliate membership itself.
The Trident Crypto Fund Compensation Plan
Trident Crypto Fund affiliates invest bitcoin for TDC points.
You can make profit by investing with bitcoins in trident's index fund and get daily profit from your investment (our index fund will work for you).
Freelance – invest $100 to 1000 and receive a 0.5% daily ROI
Studio – invest $1010 to $10,000 and receive a 0.75% daily ROI
VIP – invest $10,010 to $100,000 and receive a 1% daily ROI
ROIs are paid both in real money and TDC points (1:1 matching ratio).
Referral Commissions
Trident Crypto Fund affiliates are paid a referral commission on funds invested by personally recruited affiliates.
How much of a referral commission is paid out is determined by how much the recruiting affiliate invested:
Freelance affiliates receive 5% in real money and 15% in TDC points
Studio affiliates receive 6% in real money and 18% in TDC points
VIP affiliates receive 7% in real money and 21% in TDC points.
Residual Commissions
Trident Crypto Fund pay residual commissions via a binary compensation structure.
A binary compensation structure places an affiliate at the top of a binary team, split into two sides (left and right):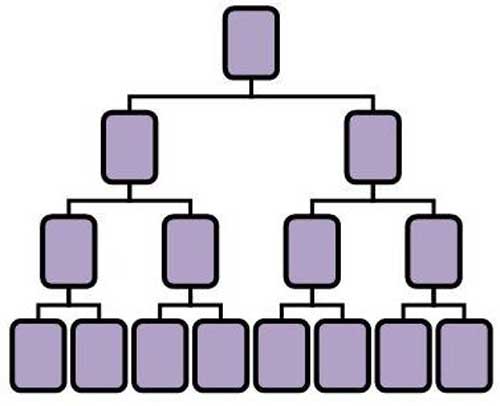 The first level of the binary team houses two positions. The second level of the binary team is generated by splitting these first two positions into another two positions each (4 positions).
Subsequent levels of the binary team are generated as required, with each new level housing twice as many positions as the previous level.
Positions in the binary team are filled via direct and indirect recruitment of affiliates. Note there is no limit to how deep a binary team can grow.
At the end of each day Trident Crypto Fund tally up new investment volume on both sides of the binary team.
Affiliates are paid a percentage of matched funds, based on how much they themselves invested:
Freelance affiliates are paid an 8% residual commission rate
Studio affiliates are paid a 9% residual commission rate
VIP affiliates are paid a 10% residual commission rate
To qualify for residual commissions a Trident Crypto Fund affiliate must personally recruit at least two affiliates (one placed on both sides of the binary team).
Joining Trident Crypto Fund
Trident Crypto Fund affiliate membership is free, however free affiliates only earn referral commissions.
Full participation in the Trident Crypto Fund MLM opportunity requires a minimum $100 investment in bitcoin.
Conclusion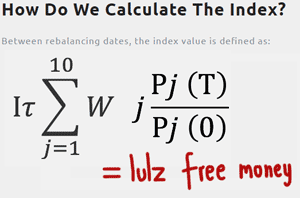 Trident Crypto Fund claim to generate external ROI revenue through a "crypto index investment fund".
Trident Investment strategy is based on well researched Index Strategy and invests exclusively into top 10 underlying crypto assets with the highest market capitalization.

Trident Investment strategy has been tested on historical data. With this strategy Trident index got more than 1400% returns in 2017 in comparison of bitcoin's return of near about 800%.

We have applied more than 150 trading strategies in last 2 years and finally we are achieving optimum results, We are making maximum profit by applying several successfully tested strategies.
So two years in the making, and now Trident Crypto Club would have potential investors believe they generate in excess of 1400% in 2017.
This raises the inevitable question of "why then do they need your money?"
Trident Crypto Fund presents as your typical fraudulent MLM cryptocurrency scheme.
The company is run by who knows who from who knows where, on nothing more than empty promises of riches.
No evidence of development of a crypto index investment fund over the last two years is provided, leave alone the fact the Trident Crypto Club website domain was only registered a few weeks ago.
The only verifiable source of revenue entering Trident Crypto Club is new investment, the use of which to pay a daily ROI makes it a Ponzi scheme.
TDC is worthless outside of Trident Crypto Fund, serving only as a vehicle for the company's anonymous owner to receive actual money from gullible investors through.
At some point, likely as part of an exit-scam, TDC might be launched through an altcoin script.
With no practical purpose outside of Trident Crypto Club however, it will ultimately remain worthless and likely only traded among desperate investors.
As with all such schemes, once affiliate recruitment dies down so too will new investment.
This will starve Trident Crypto Club of ROI revenue, eventually prompting a collapse.
The math behind Ponzi schemes guarantees that when they collapse, the majority of investors lose money.