TreasureAdz Review: $5-$200 advertising-based Ponzi

In the FAQ section of the TreasureAdz website, the following information is provided about company ownership:
TreasureAdz.Com is managed by a team experts experienced in online advertising and revenue generation.

The team is headed by Joan Oshea.
A bogus Google Plus profile was set up under that name to promote TreasureAdz, but otherwise no further information on Oshea is available.
Given this it's likely that Joan Oshea, as represented on the TreasureAdz website, doesn't exist.
The TreasureAdz website domain ("treasureadz.com") was registered on the 17th of December 2014, however the domain registration is set to private.
As always, if a MLM company is not openly upfront about who is running or owns it, think long and hard about joining and/or handing over any money.
The TreasureAdz Product Line
TreasureAdz has no retailable products or services, with affiliates only able to market affiliate membership to the company itself.
Once signed up, TreasureAdz affiliates are then able to invest with the company.
Bundled with each investment position are a series of advertising credits, which can be used to display advertising on the TreasureAdz website.
The TreasureAdz Compensation Plan
The TreasureAdz compensation plan revolves around affiliates signing up and then investing in $5 advertising commissions.
Each of these investment positions pays out an advertised ROI of 135% ($6.75).
It cost just $5 and with that you get advertisement credits that enables you to advertise your business. At the same time you share in our revenue and earns continuously until you have earn 135%.
Referral commissions are paid down three levels of recruitment.
On investments made by recruited affiliates, TreasureAdz pay 5% on level 1, 3% on level 2 and 1% on level 3.
Note that the above information is sourced from the TreasureAdz FAQ. Elsewhere on the TreasureAdz website conflicting information is provided.
Here are the investment positions advertised in the "packages" section of the TreasureAdz website:
Doubler ($5) – 2% ROI over 100 days (200%), referral commissions are 6% on level 1, 3% on level 2 and 1% on level 3
Ad Share ($10) – 3% ROI over 50 days (150%), referral commissions are 5% on level 1, 2% on level 2 and 1% on level 3
BitMining ($100) – 3.2% ROI over 50 days (160%), referral commissions are 4% on level 1, 2% on level 2 and 1% on level 3
QuickPro ($200) – 8% ROI over 15 days (120%), referral commissions are 4% on level 1 and 1% on level 2
No explanation is provided for the difference between information presented in the FAQ and package section of the website.
Joining TreasureAdz
Affiliate membership with TreasureAdz is tied to the investment in one of their packages.
As such, the defacto minimum cost of TreasureAdz affiliate membership is $5 (Doubler package) to $200 (QuickPro package).
Conclusion
With nothing being marketed or sold to retail customers, TreasureAdz simply take new affiliate investment and use it to pay off existing investors.
This is all but laid out in TreasureAdz's "no refunds" refund policy:
We share our advertisement revenue with active participants that have bought packages.

Once a purchase has been made, the money cannot be refunded.
As soon as you invest funds with TreasureAdz, they use it to pay off existing investors.
In an attempt at pseudo-compliance, the TreasureAdz FAQ claims
TreasureAdz has a fine and clean strategy to ensure the sustainability of the program.

We continue to work and tap into new revenue sources and all revenue derieved (sic) are put back into TreasureAdz to ensure the continued inflow of funds.

We are experienced bit miners and are connected to several mining pools, such as DNB.io , deepbit, triplemining, Bitcointalk, cex.io, eclipsemc, litecoinpool, F2Pool, Solo miner #4, GHash.io, Multipool, LiteGuardian and 50btc and get rewarded by the pools whenever a solution is found for a block by any of the pools we are connected to.

Bit Mining is another was we generate sustainable funds.
Sounds nice and I'm not saying the TreasureAdz admin doesn't divert some of his cut into the named mining pools, but that's neither here nor there when the core of the TreasureAdz business model is to simply shuffle newly invested funds to pay off existing investors.
Amusingly, TreasureAdz seem to be in a state of denial over what they are:
Is treasureadzan (sic) investment company?

No. TreasureAdz is an advertisement and revenue sharing website.
Putting aside the fact that "revenue sharing" in MLM underbelly circles is synonymous with "we are a Ponzi investment scheme", TreasureAdz themselves openly advertise ROIs on investments made with the company: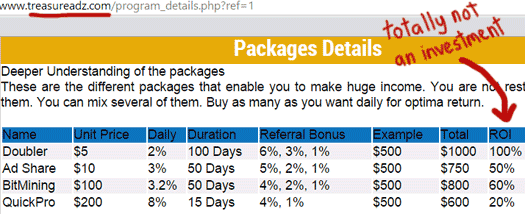 A non-investment company offering returns on investments? How… cute.
As with all Ponzi schemes, once new affiliate investment dries up TreasureAdz will find itself unable to meet it's daily ROI obligations.
At that point whoever is actually running the scheme shuts up shop and runs with whatever remains in the kitty.
Naturally anyone with funds still trapped in the system at that point loses out.