Tradevest Review: Finance themed MLM crypto Ponzi

Tradevest fails to provide ownership or executive information on its website.
Tradevest originally operated from the website domain "tradevest.cc", privately registered on January 29th, 2023.
On or around June 30th, Tradevest switched to the domain "tradevest.biz". Tradevest's second website domain was privately registered on June 21st.
The reason for Tradevest switching domains is not clear.
Of note is the reference to "24stockoptionstrades.com" in Tradevest's website source-code:

I believe 24StockOptionsTrade also used the domain "24stockoptionstrade.com".
24StockOptionsTrade was a Ponzi scheme that launched in late 2021.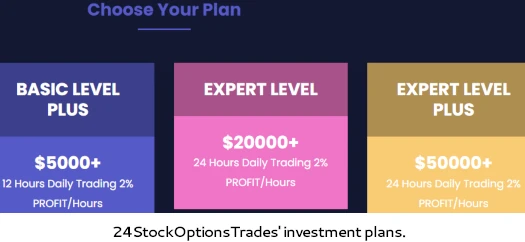 In June 2022, the BC Securities Commission in Canada issued a 24StockOptionsTrade securities fraud warning.
If it hadn't collapsed already, 24StockOptionsTrade appears to have collapsed shortly thereafter.
The takeaway is same scammers behind 24StockOptionsTrade are likely also behind Tradevest.
As always, if an MLM company is not openly upfront about who is running or owns it, think long and hard about joining and/or handing over any money.
Tradevest's Products
Tradevest has no retailable products or services.
Affiliates are only able to market Tradevest affiliate membership itself.
Tradevest's Compensation Plan
Tradevest affiliates invest USD equivalents in cryptocurrency. This is done on the promise of advertised returns:
Trade1 – invest $300 or more and receive 1% a day for 30 days
Ultra Trade – invest $5000 or more and receive 1.5% a day for 50 days
The MLM side of Tradevest pays on recruitment of affiliate recruitment.
Referral Commissions
Tradevest pays a 5% referral commission on cryptocurrency invested by personally recruited affiliates.
Residual Commissions
Tradevest hides the residual commission component of its compensation plan.
These are the only details provided:
Tradevest marketers/team leaders enjoy certain commissions/incentive based on their team volume and investment
at every level in this program.

To request for the Affiliate Compensation Agreement and enjoy our special offer, kindly contact our support to obtain the Agreement.
Joining Tradevest
Tradevest affiliate membership is free.
Full participation in the attached income opportunity requires a minimum $300 investment.
Tradevest solicits investment in various cryptocurrencies.
Tradevest Conclusion
Your first major red flag with Tradevest is the company hiding details of its investment scheme and MLM opportunity on its website.
Tradevest claims it generates external revenue via a number of random ruses:
We trade digital assets (cryptocurrencies, tokenized real estate, etc), Stock, Bond, Capital Investment, Commodities, and also Wealth Management.
No evidence of Tradevest generating withdrawal revenue via these ruses is provided. This is a second red flag.
On the regulatory front, Tradevest's passive returns investment opportunity constitutes a securities offering.
Tradevest fails to provide evidence it has registered with financial regulators. This means that at a minimum, Tradevest is committing securities fraud.
Despite operating illegally, Travest laughably claims it to be "backed by a government".
We're the only Proof-of-stake infrastructure provider to be backed by a Government.
As it stands, the only verifiable source of revenue entering Tradevest is new investment.
Using new investment to pay affiliate withdrawals would make Tradevest a Ponzi scheme.
As with all MLM Ponzi schemes, once affiliate recruitment dries up so too will ROI revenue.
This will starve Tradevest of ROI revenue, eventually prompting a collapse.
The math behind Ponzi schemes guarantees that when they collapse, the majority of participants lose money.