The Dollar Ventures Review: 5×2 matrix-based cash gifting

There is no information on The Dollar Ventures website indicating who owns or runs the business.
The Dollar Ventures website domain ("thedollarventures.com") was registered on the 10th of June 2016, however the domain registration is set to private.
As always, if an MLM company is not openly upfront about who is running or owns it, think long and hard about joining and/or handing over any money.
The Dollar Ventures Product Line
The Dollar Ventures has no retailable products or services, with affiliates only able to market The Dollar Ventures affiliate membership itself.
The Dollar Ventures Compensation Plan
The Dollar Ventures compensation plan sees affiliates gift eachother bitcoin through a 5×2 matrix.
A 5×2 matrix places an affiliate at the top of a matrix, with five positions directly under them: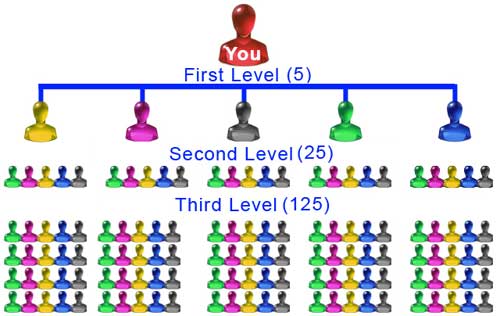 These initial five positions form the first level of the matrix. The second level of the matrix is generated by splitting each of the five positions into another five positions each (25 positions).
Note that the image above is for illustrative purposes and third level of the matrix should be disregarded.
A The Dollar Ventures affiliate begins by gifting 0.01 BTC to the affiliate who recruited them. This payment then qualifies them to receive 0.01 BTC from five recruited affiliates on the first level of their matrix.
Unlocking the second level of the matrix requires an additional 0.04 BTC gifting payment to be made. This payment qualifies an affiliate to receive 0.04 BTC from twenty-five other The Dollar Ventures affiliates.
After an affiliate's 5×2 matrix has been filled, they need to gift 0.01 BTC to open up a new matrix.
Joining The Dollar Ventures
The Dollar Ventures affiliate membership is tied to a 0.01 BTC gifting payment.
Full participation in The Dollar Ventures compensation plan requires a minimum gifting payment of 0.05 BTC.
Conclusion
Under the cliché of donating, The Dollar Ventures offers up matrix-based cash gifting.
Donations aren't made with the expectation of receiving payments, nor do they qualify you to receive payments in an MLM opportunity.
This is straight up cash gifting, with all payments made within The Dollar Ventures paid between participating affiliates.
As with all cash gifting schemes, once recruitment of new affiliates dies down so too will gifting payments.
This will see affiliates who joined last screwed, as there's nobody to pay them what they gifted to those who recruited them.
Statistically this is the largest group of affiliates at any given time. Those that profit the most are the anonymous admins, who will have preloaded The Dollar Ventures with multiple positions before it launched.
The use of bitcoin by The Dollar Ventures should also be of concern, as in the event of a collapse fund recovery chances are slim to none.