The Champ Coin Review: 9% six month ROI Ponzi points

Despite claiming to be "open and honest in our dealings", The ChampCoin provide no information about who owns or runs the business on their website.
The ChampCoin website domain ("thechampcoin.com") was privately registered on January 25th, 2017.
Further research reveals The ChampCoin marketing presentations naming Mahesh Verma as founder of the company. According to his LinkedIn profile, Verma is based out of Haryana, India.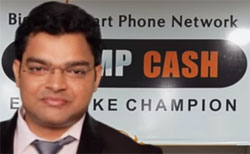 Prior to launching The ChampCoin, Verma (right) launched ChampCash.
ChampCash pays affiliates to install apps. Each install generates a referral commission, which ChampCash share with affiliates via an MLM compensation plan.
Alexa traffic statistics for the ChampCash website show a brief surge in interest in late 2016, followed by a sharp decline throughout 2017:

This decline has likely prompted the launch of The ChampCoin.
Read on for a full review of The ChampCoin MLM opportunity.
The ChampCoin Products
The ChampCoin has no retailable products or services, with affiliates only able to market The ChampCoin affiliate membership itself.
The ChampCoin Compensation Plan
The ChampCoin affiliates invest in ChampCoin points on the promise of an advertised 9% ROI every 6 months.

ChampCoin is not publicly tradeable and is only available through a The ChampCoin app.
The ChampCoin affiliates trade ChampCoin through the app, with new affiliates required to buy 50 ChampCoin from the company at the current rate.
The ChampCoin maintain complete control over the assigned value per ChampCoin.
Recruitment Commissions
The ChampCoin pay affiliates to recruit new affiliates via a unilevel compensation structure.
A unilevel compensation structure places an affiliate at the top of a unilevel team, with every personally recruited affiliate placed directly under them (level 1):

If any level 1 affiliates recruit new affiliates, they are placed on level 2 of the original affiliate's unilevel team.
If any level 2 affiliates recruit new affiliates, they are placed on level 3 and so on and so forth down a theoretical infinite number of levels.
ChampCoin cap payable unilevel levels at ten, with commissions paid out in ChampCoin per affiliate recruited on each level as follows:
level 1 (personally recruited affiliates) – 7 ChampCoin per affiliate recruited
level 2 – 5 ChampCoin per affiliate recruited
levels 3 to 7 – 4 ChampCoin per affiliate recruited
levels 8 and 9 – 3 ChampCoin per affiliate recruited
level 10 – 2 ChampCoin per affiliate recruited
Monthly ChampCoin ROI
The ChampCoin affiliates are rewarded with ChampCoin each month if they meet the following recruitment qualification criteria:
 Bronze (sign up as a The ChampCoin affiliate) – no monthly ChampCoin ROI
Silver (have 50 affiliates on level 1, 100 on level 2 and 150 on level 3 of your unilevel team) – 25 ChampCoin per month
Gold (maintain Silver and have 1500 affiliates on level 4 of your unilevel team) – 100 ChampCoin per month
Platinum (maintain Gold and have 12,000 affiliates on level 5 of your unilevel team) – 250 ChampCoin per month
Diamond (maintain Platinum and have 25,000 affiliates on level 6 of your unilevel team) – 500 ChampCoin per month
Crown Diamond (maintain Diamond and have 50,000 affiliates on level 7 of your unilevel team) – 2000 ChampCoin per month
Note that the above recruitment quotas must be "active affiliates".
I couldn't find any information as to what constitutes an active affiliate within The ChampCoin.
Joining The ChampCoin
The ChampCoin affiliate membership is free, however affiliates must buy 50 ChampCoins from the company to participate in the attached MLM opportunity.
The current value of ChampCoin is not provided on The ChampCoin website.
Conclusion
ChampCoin does appear to have some functionality through The ChampCoin app, however this isn't direct usability with third-party merchants.
An affiliate indicating to The ChampCoin they wish to purchase something and then The ChampCoin making the transaction happen in fiat currency clearly isn't third-party adoption.
That aside, ChampCoin is the same as any other MLM pump and dump altcoin. More Ponzi points than cryptocurrency, ChampCoin is worthless outside of the internal The ChampCoin exchange.
The internal value of ChampCoin is set by the company, which is how The ChampCoin are able to promise a six-month 9% ROI.
This obviously isn't how a legitimate cryptocurrency works, and is why ChampCoin isn't publicly tradeable or listed on any reputable public exchange.
With real money exchanged for worthless ChampCoin, The ChampCoin will be able to pay ROI withdrawal requests through the internal exchange as long as new money continues to flow in.
Once The ChampCoin affiliate recruitment slows down and so too with it new investment, kaboom.