TafaBot Review: Trading bot Dubai Ponzi scheme
TafaBot operates in the MLM cryptocurrency niche.
TafaBot's website domain ("tafabot.com"), was first registered in June 2021. The private registration was last updated on August 19th, 2022.
Heading up TafaBot are co-founders Samuel Benedict Ogbonnaya (CEO) and Victor Otubo (aka  Otubo Victor Ogemdi and "Dr. OVO").
Ogbonnaya, who for some reason has omitted his surname as head of TafaBot, is originally from Nigeria.
Circa 2013, Ogbonnaya was running an ecommerce platform called "ShopKudi".
ShopKudi appears to have collapsed on or around late 2013.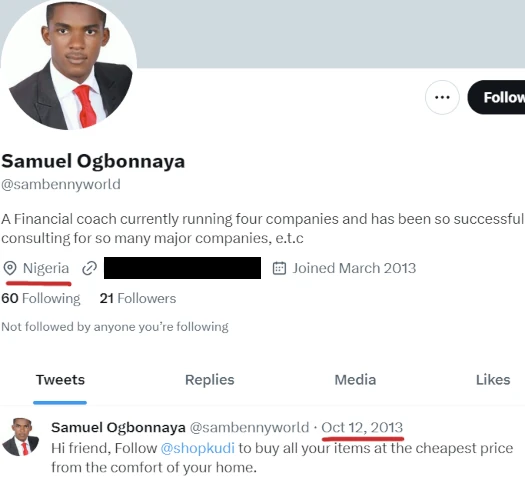 After ShopKudi, Ogbonnaya reinvented himself as a crypto bro. This saw him launch the blockchain development firm Blockchain Tech Hub in 2015.
Blockchain Tech Hub went nowhere but did lead to Ogbonnaya launching SatoWallet in 2017.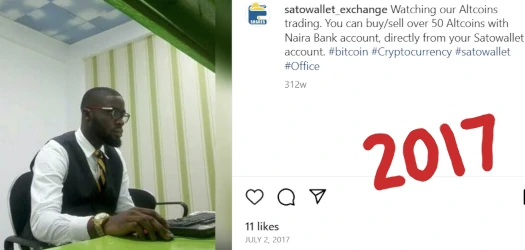 SatoWallet was a "staking" model Ponzi scheme built around an inhouse SATOS shitcoin.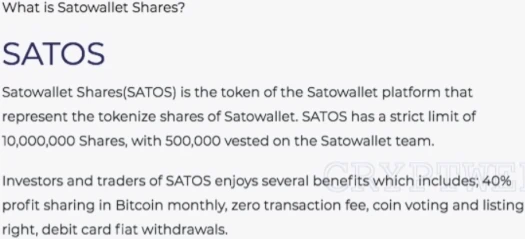 Through "SatoWallet Shares" investment positions, SatoWallet investors were pitched on returns as high as 40% a month.
SatoWallet collapsed in late 2019. Ogbonnaya blamed the collapse on "technical issues".
How much Ogbonnaya stole through SatoWallet's exit-scam is unclear but has been pegged at over a million.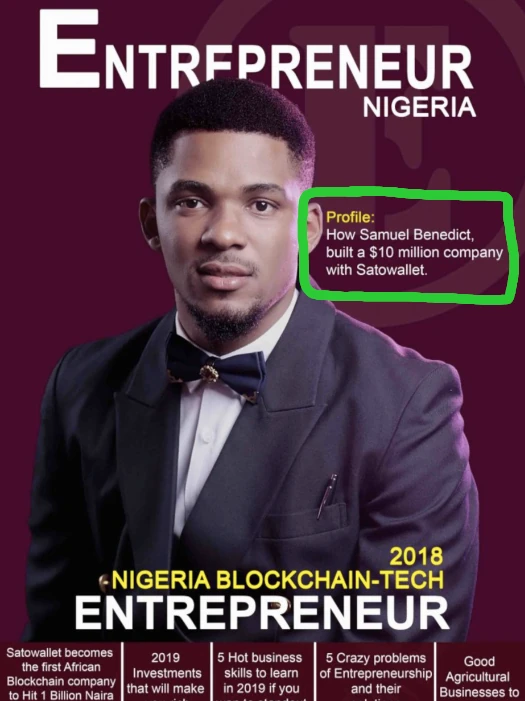 Sometime between 2017 and 2019 Ogbonnaya relocated to Dubai.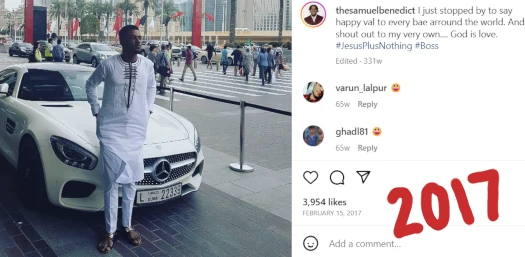 Such to the extent Ogbonnaya might have continued to defraud consumers after SatoWallet's exit-scam, it was kept low-key.
In mid 2021 Ogbonnaya launched TafaBot from the domain "tafabot.trade".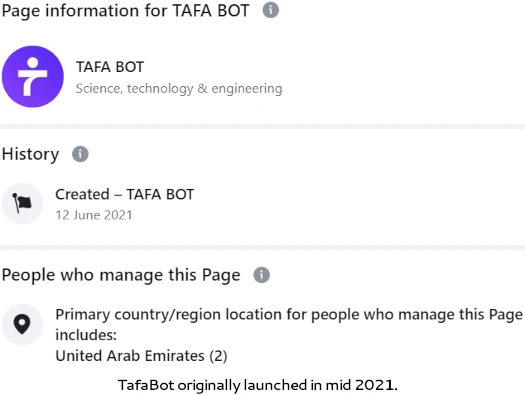 Tafabot's original incarnation saw Ogbonnaya sell a trading bot to unsuspecting consumers.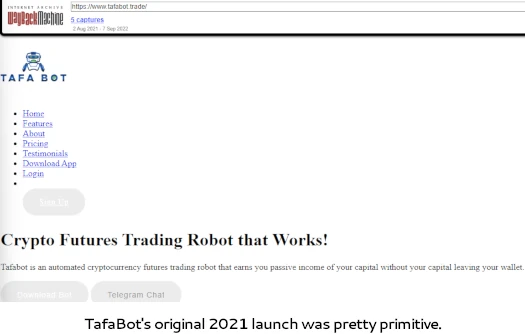 Tafabot is an automated cryptocurrency futures trading robot that earns you passive income of your capital without your capital leaving your wallet.

Tafabot was built by traders with unique trading strategies that has been proven for over 8 years to give consistent profit and minimize loss even up to 0% .
The losses Ogbonnaya scammed his SatoWallet investors out of were not disclosed.
Sometime after launching TafaBot, Ogbonnaya appears to have gotten involved in the Russian Skyway Capital Ponzi scheme.
The original TafaBot collapsed sometime after Ogbonnaya's February 2022 Skyway Capital PR appearance. If I had to guess, probably around the time of the Terra/Luna collapse in May.
This saw Ogbonnaya reboot Tafabot through the "tafabot.com" domain, which up until July had redirected to TafaBot's original "tafabot.trade" domain.
Just shy of a year on out from the reboot, Ogbonnaya still runs TafaBot from Dubai. This review is based on "version 4.0" of TafaBot's compensation plan, which suggests TafaBot has already been rebooted multiple times over the past year.
Ogbonnaya is joined by TafaBot "co-founder" Otubo Victor Ogemdi (aka Dr. OVO), also a Nigerian national.
Ogemi appears to be a failed "certified life coach" turned crypto bro.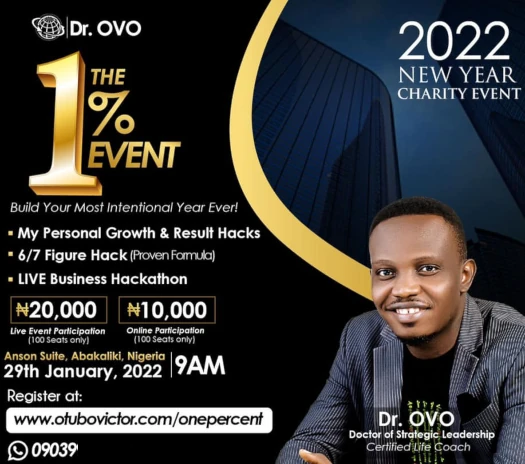 Due to the proliferation of scams and failure to enforce securities fraud regulation, BehindMLM considers Dubai to be the MLM crime capital of the world.
BehindMLM's guidelines for Dubai are:
If someone lives in Dubai and approaches you about an MLM opportunity, they're trying to scam you.
If an MLM company is based out of or represents it has ties to Dubai, it's a scam.
If you want to know specifically how this applies to TafaBot, read on for a full review.
TafaBot's Products
TafaBot has no retailable products or services.
Affiliates are only able to market TafaBot affiliate membership itself.
TafaBot's Compensation Plan
TafaBot affiliates pay a fee to access "trading bot" investment plans.
The more a TafaBot affiliate pays in fees the more they can invest:
Starter – $100 annually and allows an affiliate to invest up to $3000
Advanced – $500 annually and allows an affiliate to invest up to $25,000
Professional – $1000 annually and allows an affiliate to invest up to $100,000
Note that TafaBot charges a 10% fee on all ROI payments.
The MLM side of TafaBot pays on recruitment of affiliate investors.
Referral Commissions
TafaBot pays referral commissions via a unilevel compensation structure.
A unilevel compensation structure places an affiliate at the top of a unilevel team, with every personally recruited affiliate placed directly under them (level 1):

If any level 1 affiliates recruit new affiliates, they are placed on level 2 of the original affiliate's unilevel team.
If any level 2 affiliates recruit new affiliates, they are placed on level 3 and so on and so forth down a theoretical infinite number of levels.
TafaBot caps payable unilevel team levels at fifteen.
Referral commissions are paid as a percentage of affiliate fees paid across these fifteen levels as follows:
level 1 (personally recruited affiliates) – 20%
level 2 – 5%
level 3 – 4%
level 4 – 3%
levels 5 to 8 – 1.5%
levels 9 to 15 – 1%
Note that to earn on all fifteen levels, a TafaBot affiliate must recruit five affiliate investors.
If this requirement is not met, referral commissions are only paid on up to ten unilevel team levels.
ROI Match
TafaBot pays a ROI Match using the same unilevel compensation structure used to pay referral commissions (see above).
TafaBot's ROI Match is made up of 50% of the 10% fee charged to all TafaBot affiliates who receive a ROI:
level 1 – 10% match
level 2 – 8% match
level 3 – 6% match
level 4 – 5% match
level 5 – 4% match
levels 6 and 7 – 3% match
level 8 – 2% match
levels 9 and 10 – 3% match
level 11 – 4% match
level 12 – 5% match
level 13 – 6% match
level 14 – 8% match
level 15 – 10% match
Lifestyle Bonuses
TafaBot rewards affiliates who generate downline affiliate fees with the following one-time Lifestyle Bonuses:
generate $150,000 in downline affiliate fees and receive a Hugo Boss wrist watch
generate $1,000,000 in downline affiliate fees and receive a "5-Star Dubai couple trip" and $10,000
generate $3,000,000 in downline affiliate fees and receive a "Jetour Dashing Car"
generate $5,500,000 in downline affiliate fees and receive a Porsche Macan 2023
generate $10,500,000 in downline affiliate fees and receive a Porsche GTS 2023
generate $20,000,000 in downline affiliate fees and receive a "2-bedroom apartment in Dubai Creek Harbor"
generate $22,000,000 in downline affiliate fees and receive a Benz G Class G63 AMG 2022
generate $25,000,000 in downline affiliate fees  and receive a Ferrari F8 Tributo 2022
generate $27,000,000 in downline affiliate fees and receive a Lamborghini Urus 2022
generate $30,000,000 in downline affiliate fees and receive a 10-year Dubai visa and Rolls-Royce Cullinan 2023
generate $50,000,000 in downline affiliate fees and receive $1,000,000
Note that downline investment is only counted across fifteen levels of an affiliate's unilevel team.
Joining TafaBot
TafaBot affiliate membership costs between $100 and $1000 annually.
The more a TafaBot affiliate pays in fees the higher their income potential.
TafaBot Conclusion
TafaBot has all the ingredients of a classic MLM crypto Ponzi scheme: Dubai, a crypto bro with a string of failed projects under his belt and a trading bot.
The reality of TafaBot is that if Samuel Ogbonnaya actually had a profitable trading bot, he'd be feeding what he stole through SatoWallet and other crypto grifts into it.
On the regulatory front TafaBot's passive investment scheme triggers both securities and commodities laws.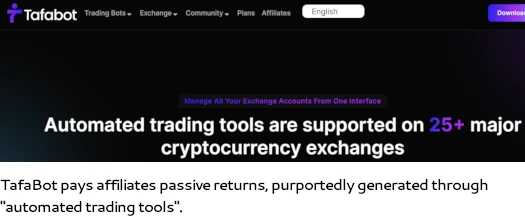 That is to say, TafaBot needs to register with securities and commodities regulators in every jurisdiction it solicits investment in.
TafaBot fails to provide any evidence it had registered with financial regulators in any jurisdiction.
This means that at a minimum, TafaBot is committing both securities and commodities fraud.
Ogbonnaya's detour to Skyway Capital is of particular interest. I'm tempted to say Russians might be behind TafaBot's 2022 reboot.
As of May 2023, SimilarWeb tracked top sources of traffic to TafaBot's website as Russia (21%), Argentina (9%), Germany (7%), Ukraine (6%) and Spain (5%).
Whether Ogbonnaya is is working with Russians or a full-blown puppet CEO remains unclear.
In any event, TafaBot is a continuation of fraud Ogbonnaya started when he got into crypto.

As it stands, the only verifiable source of revenue entering TafaBot is new investment.
Using new investment to pay daily returns to investors would make TafaBot a Ponzi scheme.
As with all MLM Ponzi schemes, when affiliate recruitment dries up so too will new investment.
This will starve TafaBot of ROI revenue, eventually prompting a collapse.
The math behind Ponzi schemes guarantees that when they collapse, the majority of participants lose money.