Spey Invest Review: Fake everything cryptocurrency trading Ponzi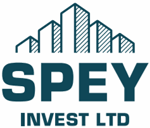 Spey Invest claim it was
set up in 2014 as the pilot online project of trading business by a group of enthusiasts headed by Daniil Solopov.

Despite the relatively young age of the Company, SPEY INVEST LTD has become well known to field-specific experts in Great Britain and also abroad as soon as one and a half years of its activity.
Two things;
First is that you probably don't know anyone who has ever heard of Spey Invest. In fact, outside of the company's own website, affiliate marketing and listings on HYIP scam sites, there is no independent third-party information about Spey Invest available.
The second is that the Spey Invest was only registered a few months ago on March 16th?
A "well-known company set up in 2014?" Yeah, no worries guys.
As for Daniil Solopov, there's Facebook and LinedIn profiles set up – but nothing concrete verifying him as an actual person.
The Facebook profile has some random photos on it but no actual content dating back to when it was created in 2014. This is more in line with a purchased profile than one that was legitimately used and created.
Solopov's LinkedIn profile cites stints with Russian HNW Investors and Mark Davies & Associates Ltd. He's also apparently co-founder of Florify, a "trendsetting online floral platform".
Solopov owns the Florify website domain (.co.uk), through a residential address in London. The Florify domain registration was last updated on May 2nd, 2017, suggesting that's when Solopov acquired it.
Oh and there's nothing about Solopov's experience in the MLM industry.
And then of course there's the fact that the image used to represent Solopov on the Spey Invest website is a stock photo (credit):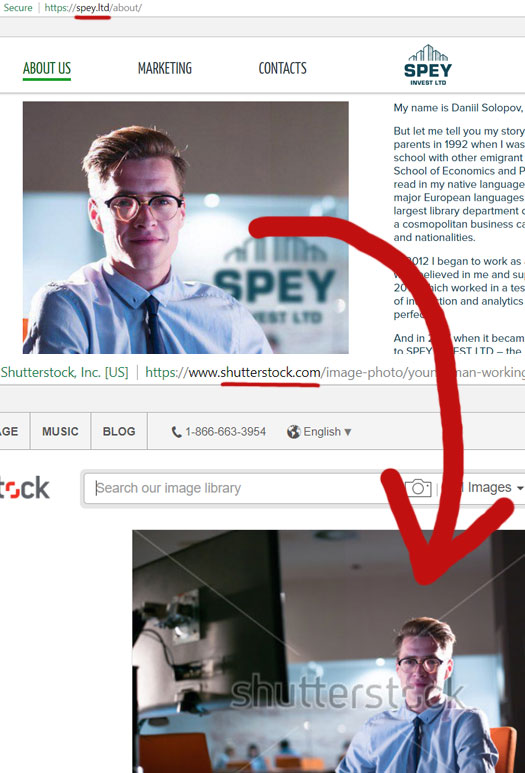 All the crafty buggers did was flip the image left-right and photoshop in the Spey Invest logo.
And if you're wondering why the signature at the bottom of Solopov's Spey Invest bio looks nothing like his name, that's because it's stolen from a Russian signature generator site: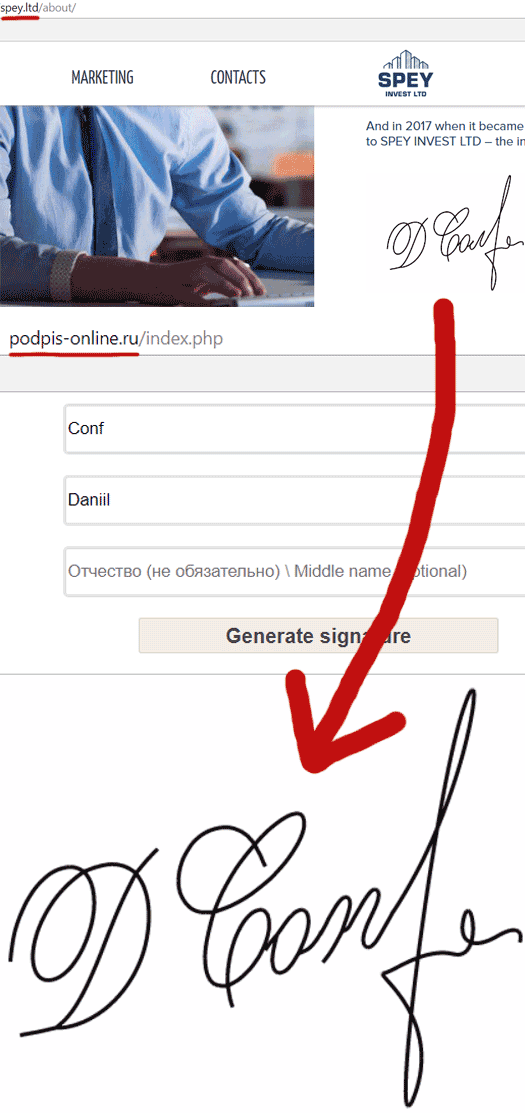 I don't know exactly what they typed to get the Solopov signature, but I got it pretty close with "Daniil Conf".
The signature site being in Russian and corporate webinars in Russian strongly suggest this is all the work of Russian scammers.
As always, if an MLM company is not openly upfront about who is running or owns it, think long and hard about joining and/or handing over any money.
Spey Invest Products
Spey Invest has no retailable products or services, with affiliates only able to market Spey Invest affiliate membership itself.
The Spey Invest Compensation Plan
Spey Invest affiliates invest money on the promise of a ROI:
Silver – invest $10 to $99 and receive a 1% daily ROI for 200 days (200%)
Gold – invest $1000 to $9999 and receive a 1.2% daily ROI for 250 days (300%)
Platinum – invest $10,000 to $50,000 and receive a 1.4% ROI for 300 days (420%)
Referral commissions on downline invested funds are paid out via a unilevel compensation structure.
A unilevel compensation structure places an affiliate at the top of a unilevel team, with every personally recruited affiliate placed directly under them (level 1):

If any level 1 affiliates recruit new affiliates, they are placed on level 2 of the original affiliate's unilevel team.
If any level 2 affiliates recruit new affiliates, they are placed on level 3 and so on and so forth down a theoretical infinite number of levels.
Spey Invest cap referral commissions down seven levels of recruitment as follows:
level 1 (personally recruited affiliates) – 7%
level 2 – 3%
level 3 – 2%
level 4 – 1%
levels 5 to 7 – 0.5%
Joining Spey Invest
Spey Invest affiliate membership is free, however affiliates must invest at least $10 to participate in the attached income opportunity.
Conclusion
The ruse behind Spey Invest's daily ROI payouts is cryptocurrency trading.
The Company specializes in trust management of finance, consulting and analytics of processes of cryptocurrency trading.
As is typical of MLM cryptocurrency niche companies making this claim, Spey Invest provide no evidence whatsoever of any cryptocurrency trading taking place.
The only verifiable source of revenue entering Spey Invest is affiliate investment. Using newly invested funds to pay off existing investors makes Spey Invest a Ponzi scheme.
As with all Ponzi schemes, once affiliate recruitment drops off so too will newly invested funds.
This will starve Spey Invest of revenue needed to pay daily ROIs, eventually prompting a collapse.
The collapse of a Ponzi schemes sees the majority of investors lose money, with Spey Invest's inevitable collapse not playing out any different.