ShareAdzClub Review: 130-180% ROI ad-based Ponzi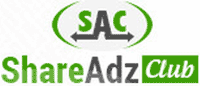 There is no information on the ShareAdzClub website indicating who owns or runs the business.
The ShareAdzClub website domain ("shareadzclub.com") was registered on the 9th of March 2015, however the domain registration is set to private.
At the time of publication, Alexa currently estimate that 25% of all traffic to the ShareAdzClub domain originates out of South Africa. Whether or not that is where the owner(s) of the company are based out of though is unclear.
An official ShareAdzClub Facebook group is linked from the company website, with Max Milward and Paula Hohio listed as the sole admins.
Whether or not these individuals are running ShareAdzClub is unclear.
As always, if an MLM company is not openly upfront about who is running or owns it, think long and hard about joining and/or handing over any money.
The ShareAdzClub Product Line
ShareAdzClub has no retailable products or services, with affiliates only able to market affiliate membership to the company itself.
Once signed up, ShareAdzClub affiliates are then able to invest in shares, with each share investment bundled with a series of advertising credits.
These advertising credits can be used to display advertising on the ShareAdzClub website itself.
The ShareAdzClub Compensation Plan
The ShareAdzClub compensation plan sees affiliates invest between $1 to $5 in shares, with the more spent on shares resulting in a higher ROI.
$1 shares = 130% ROI, no monthly fee
$3 shares = 155% ROI, $5 a month fee
$5 shares = 180% ROI, $10 a month fee
Referral commissions are paid out on share investment made by recruited affiliates, paid out down two levels of recruitment (unilevel):
level 1 (personally recruited affiliates) – 10%
level 2 – 2%
Note that 40% of all ROI payments must be reinvested back into the company.
Joining ShareAdzClub
Affiliate membership with ShareAdzClub is tied into how much an affiliate has invested with the company (see compensation plan breakdown above).
The cost of ShareAdzClub affiliate membership varies between $5 to $10 a month based on the type of shares they invest in.
Note that the following additional rules also apply:
if an affiliate has invested in at least 500 positions, a mandatory $10 a month fee is charged (includes $1 and $3 shares)
if an affiliate has invested in at least 5000 positions, a mandatory $30 a month fee is charged (irrespective of which shares are invested in)
Conclusion
With nothing being marketed or sold to retail customers and advertised ROIs paid out newly invested funds, ShareAdzClub operate a simple advertising-based Ponzi scheme.
Affiliates sign up, invest funds in shares on the epectation of advertised ROIs, with newly invested funds used to pay off existing investors.
As with all Ponzi schemes, once new affiliate investment dies down, ShareAdzClub will find itself unable to meet it's ROI obligations.
This appears to have already happened once, with ShareAdzClub stalling shortly after it initially launched in early April.
On April 10th the owner(s) of the scheme sent out the following update, advising investors of a relaunch:
BIG UPDATE THE BIGGEST RE-LAUNCH EVER!

We all know about the slow earnings that are going on our program. WE'VE GOT THE SOLUTION TO MAKES ALL SHARES MATURE WITHIN A COUPLE OF DAYS AFTER PURCHASE!!

We've got your back! We are going to do a re-launch on April 17.

Yesterday April 09 we hired 3 programers (sic) to work together to make our site even more bigger. Everything for Shareadzclub Family.

You may remember we've told you this will be the best website for the 2015 year.

We always keep our promises, and you will be happy you've joined us.

And the answer is just here, read, think, understand and share with friends.

We are bringing more features like you've never seen before in a revshare. Those feature will bring huge earnings to you and all the member os (sic) SHAREADZCLUB.
According to ShareAdzClub investors on social media, withdrawals were disabled on or around April 21st, and the scheme has been in limbo since.
Kaboom.