Shao Bank Review: Fake bank bonds ruse Ponzi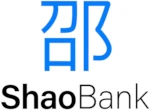 Shao Bank fails to provide ownership or executive information on its website.
Shao Bank's website domain ("shaobank.com"), was registered with bogus details on July 17th, 2022.
While Shao Bank fails to disclose who runs the company, they do name several promoters on their FaceBook page.
These include:
Kristhian Seijas (Spanish)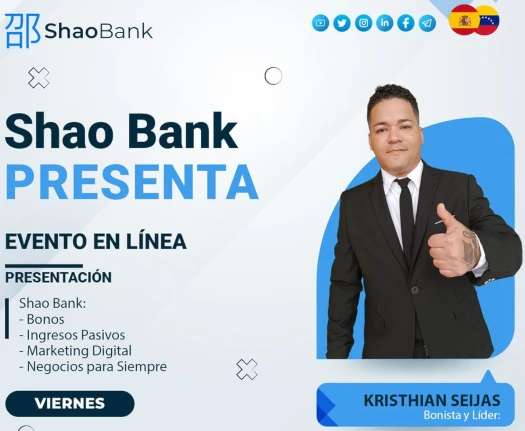 Christian Blanchart (French and German)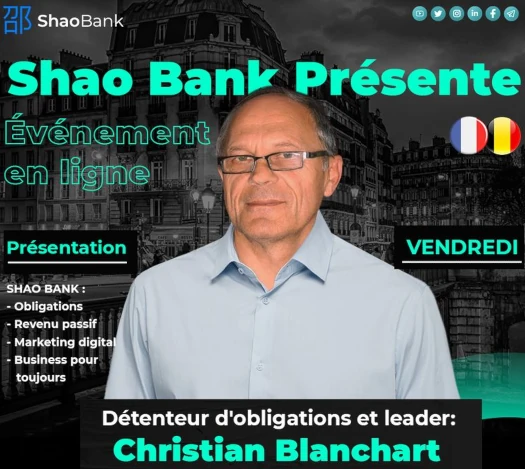 Nguyen Trung Hien (Vietnam)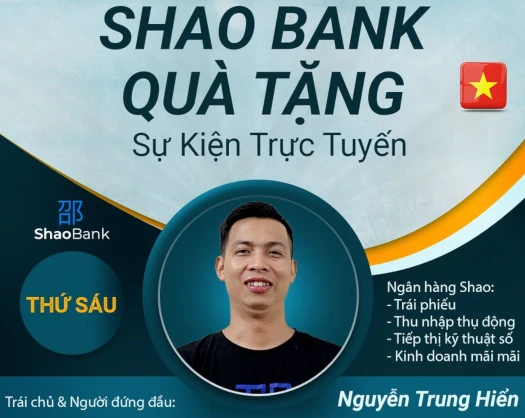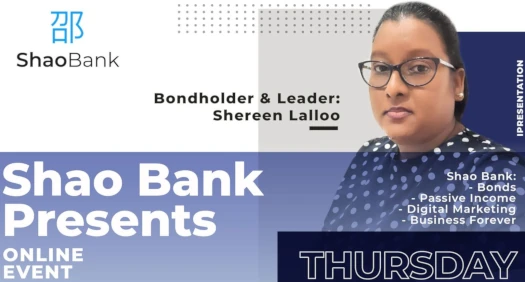 Imad Elmhassani (Morocco)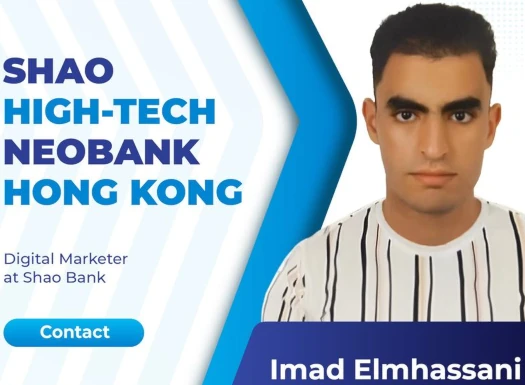 Rodrigo Nascimento Da Silva (Portuguese)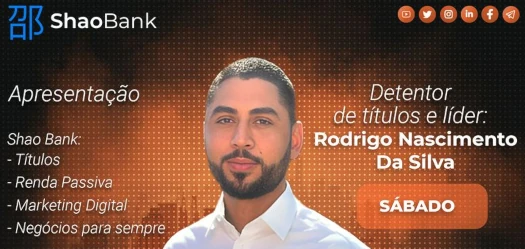 Simeon Chotilal (English)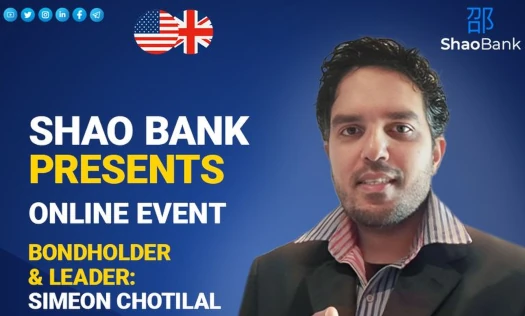 As of September 2023, SimilarWeb tracked top sources of traffic to Shao Bank's website as Russia (12%) and Ukraine (8%).
Given Shao Bank doesn't appear to have any Russian leaders, this strongly suggests it is being run by eastern Europeans.
Note that in an attempt to appear legitimate, Shao Bank provides a Hong Kong shell company certificate on its website.
Due to the ease with which scammers are able to incorporate shell companies with bogus details, for the purpose of MLM due-diligence these certificates are meaningless.
As always, if an MLM company is not openly upfront about who is running or owns it, think long and hard about joining and/or handing over any money.
Shao Bank's Products
Shao Bank has no retailable products or services.
Affiliates are only able to market Shao Bank affiliate membership itself.
Shao Bank's Compensation Plan
Shao Bank affiliates invest Hong Kong Dollars (HKD) equivalents in cryptocurrency.
This is done on the promise of a daily passive return:
BB 1720 – invest $400 to $800,000 HKD and receive 0.4% a day for 3 years
AA 3391 – invest $80,000 to $1,000,000 HKD and receive 0.45% a day for 3 years
CC2379 – invest $8000 to $800,000 HKD and receive 0.55% a day for 1 year
DD3267 – invest $40,000 to $1,000,000 HKD and receive 0.65% a day for 1 year
Shao Bank pays referral commissions via a unilevel compensation structure.
A unilevel compensation structure places an affiliate at the top of a unilevel team, with every personally recruited affiliate placed directly under them (level 1):

If any level 1 affiliates recruit new affiliates, they are placed on level 2 of the original affiliate's unilevel team.
If any level 2 affiliates recruit new affiliates, they are placed on level 3 and so on and so forth down a theoretical infinite number of levels.
Shao Bank caps payable unilevel team levels at ten.
Referral commissions are paid as a percentage of cryptocurrency invested across these ten levels as follows:
level 1 (personally recruited affiliates) – 7%
level 2 – 3%
level 3 – 2.5%
level 4 – 2%
level 5 – 1.5%
levels 6 to 8 – 1%
levels 9 and 10 – 0.5%
Joining Shao Bank
Shao Bank affiliate membership is free.
Full participation in the attached income opportunity requires a minimum $400 HKD investment.
Shao Bank solicits investment in various cryptocurrencies.
Shao Bank Conclusion
Shao Bank doesn't exist. The scam's premise is fake bonds generating revenue via a fake bank.
In addition to being run by eastern European scammers, the two biggest red flags with Shao Bank are the use of cryptocurrency…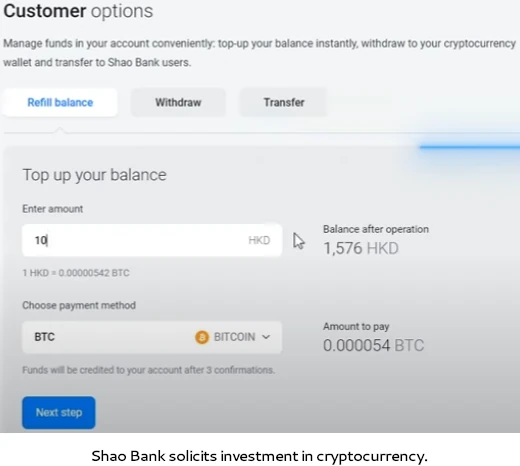 …and its provided address being that of HSBC's headquarters in Hong Kong.
Needless to say Shao Bank has nothing to do with HSBC.
We can further certify Shao Bank is a fake bank via a fraud warning issued by Hong Kong's Monetary Authority back in March;
The Hong Kong Monetary Authority (HKMA) wishes to alert members of the public in Hong Kong that Shao Bank … does not have the authorization of the Monetary Authority (MA) under the Banking Ordinance (the Ordinance) to carry on banking business, or the business of taking deposits, in Hong Kong; and Shao Bank does not have the approval of the MA to establish a local representative office in Hong Kong under the Ordinance.
Banking fraud aside, What Shao Bank boils down to is:
Make a deposit within 5 minutes and receive a fixed income every month.
As it stands, the only verifiable source of revenue entering Shao Bank is new investment.
Using new investment to pay affiliate withdrawals would make Shao Bank a Ponzi scheme.
As with all MLM Ponzi schemes, once affiliate recruitment dries up so too will new investment.
This will starve Shao Bank of ROI revenue, eventually prompting a loss.
The math behind Ponzi schemes guarantees that when they collapse, the majority of participants lose money.
Shao Bank's exit-scam of choice is likely to be an inhouse token, which it already partially issues referral commissions with: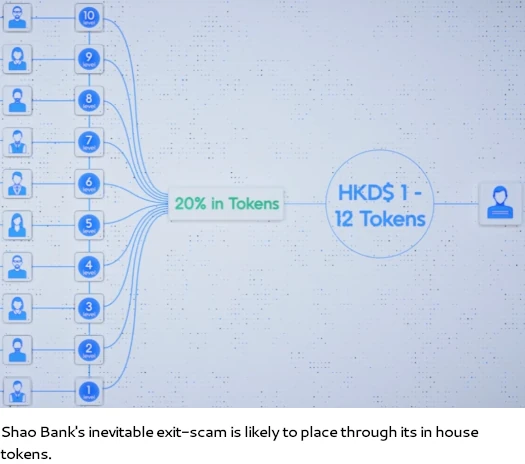 When Shao Bank inevitably switches all payments to its token, the Ponzi scheme will have effectively collapsed.