Sanki Global Review: Sanki Mayor supp with cringe marketing

Despite its far-east sounding name, Sanki Global is a US-based MLM company with a focus on Mexico.
At the time of publication Alexa cite Mexico as the predominant source of traffic to the Sanki Global website (96%).
The company does however acknowledge that it's "origins come from Japan".
The origins of Sanki and our name come from Japan.

The meaning of our name is the link between San (respect to highest degree) and Ki, (vital energy).

To ensure the absolute highest quality possible, Sanki owns, manages, and directs every aspect of our production.

This ranges from our beautiful olive and rosemary groves in Spain to our laboratories in Japan.
A corporate address in the US state of Nevada is provided on the Sanki Global website.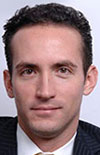 Heading up the company is Co-founder, CEO and President Alejandro Lopez Tello (right).
As per Tello's Sanki Global corporate bio, he's
a chemical engineer from the UNAM with executive education in business entrepreneurship and risk capital from the Autonomous Technological Institute of Mexico (ITAM).

He has sixteen years of experience in marketing, strategic planning, development and launching businesses.

Today he is Founder, Chairman of the Board of Directors and General Director of Sanki Global.
Of Tello's sixteen years in the MLM industry, eight have been with Sanki Global.
Sanki Global launched in 2010. Possibly due to language barriers, I wasn't able to piece together Tello's prior MLM history.
Read on for a full review of the Sanki Global MLM opportunity.
Sanki Global Products
Sanki Global operate in the health and wellness MLM niche. The company's products are manufactured by Sanki Mayor,
a global health and wellness laboratory dedicated to improve the quality of life, by offering medicalized solutions based on a combined expertise of nanotechnology, nutraceutical formulation and clinical testing.
Sanki Mayor is intertwined with Sanki Global through co-founder Bejit Edeas.
Edeas is credited as a co-founder and of Sanki Global and Scientific Director of Sanki Mayor.
On the Sanki Mayor website the company is touted as a merger between Sanki Global and Mayor, a company
established in 2001 in Lyon (France).

The laboratory started as CRO (Clinical Research Organization), realizing clinical trials for the pharmaceutical and cosmetic industry.

Products marketed on the Sanki Global website include
Belage – a dietary supplement for cellular health through rosemary and olive leaf extracts, retails at $59
Kronuit Fire – a anti-oxidant based weight loss supplement that decreases "the amount of available sugar in the bloodstream", retails at $69.50 a box
Inner 7 – "purified deep-sea water … that balances the pH of the body", retails at $59 a box
Sanki Global products are also available to sample via an $80 "Shinka Pack" ("four sticks of our two most popular products").
Note that when attempting to purchase Sanki Global products as a retail customer, the website enforces a minimum two product order requirement.
This can be two of the same product or a combination.
The Sanki Global Compensation Plan
Sanki Global fail to provide compensation plan documentation on their website.
Although I was able to source multiple presentations on which to base the following analysis, there are crucial compensation components Sanki Global seemingly does not disclose.
MLM Commission Qualification
Sanki Global affiliates qualify for MLM commissions by generating at least 50 PV every four weeks.
PV stands for "Personal Volume" and is sales volume generated by retail orders and an affiliate's own purchases.
Sanki Global Affiliate Ranks
There are twelve affiliate ranks within the Sanki Global compensation plan.
Along with their respective qualification criteria, they are as follows:
Starter – not provided
Starter Certificate – not provided
Duplicator – recruit and maintain at least four MLM commission qualified affiliates, who in turn recruit at least two MLM commission qualified affiliates each, and generate at least 100 GV every four weeks
Bronze – not provided
Silver – not provided
Gold – not provided
Platinum – not provided
Diamond – not provided
Double Diamond – not provided
Triple Diamond – not provided
Ambassador – not provided
Crown Ambassador – not provided
GV stands for "Group Volume" and is PV generated by an affiliate and their downline.
Retail Commissions
Sanki Global affiliates receive a commission on sales to retail customers.
Retail commissions are calculated as the difference between the wholesale and retail cost of products ordered.
A Sanki business presentation cites retail commissions as being as much as 65%.
Recruitment Commissions
Sanki Global affiliates are paid to recruit new affiliates down two levels of recruitment.
Personally recruited affiliates are placed on level 1 and affiliates they recruit are placed on level 2.
Using this two-level system, Sanki Global pay recruitment commissions out as follows:
recruitment of a Basic Pack affiliate generates $40 on level 1 and $20 on level 2
recruitment of an Executive Pack affiliate generates $80 on level 1 and $40 on level 2
recruitment of a Pro Pack affiliate generates $200 on level 1 and $100 on level 2
To qualify for recruitment commissions a Sanki Global affiliate must have a standing autoship order within three months of signing up.
Residual Commissions
Sanki Global pay recruitment commissions via a binary compensation structure.
A binary compensation structure places an affiliate at the top of a binary team, split into two sides (left and right):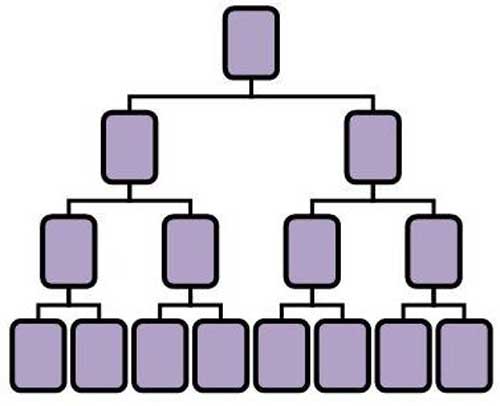 The first level of the binary team houses two positions. The second level of the binary team is generated by splitting these first two positions into another two positions each (4 positions).
Subsequent levels of the binary team are generated as required, with each new level housing twice as many positions as the previous level.
Positions in the binary team are filled via direct and indirect recruitment of affiliates. Note there is no limit to how deep a binary team can grow.
At the end of each week Sanki Global tallies up new pairings across the binary team.
A pairing is the sale or purchase of two products on both sides of the binary team.
Sanki Global refers to the sale of two products as a "carry".
Note that a single product order can contain multiple carries.
Residual commissions are paid out based on how many carry pairings a Sanki Global affiliate generates across their binary team each week.
Sanki Global do not provide residual commission rates in any of their marketing materials.
To qualify for residual commissions a Sanki Global affiliate must recruit and maintain at least two MLM commission qualified affiliates.
Coaching Bonus
The Coaching Bonus is a 25% match on residual commissions earned by personally recruited affiliates.
Savings Fund
Sanki Global take 9% of company-wide sales volume and place it into the Savings Fund.
According to the company's marketing material, the Savings Fund is calculated every 8-9 weeks and
used to provide various trips, car allowances and gifts and cash awards for those promoting in ranks.
Sanki Global do not provide any specifics regarding individual Savings Fund incentives.
Savings Fund incentives are awarded to Duplicator and higher ranked affiliates.
Joining Sanki Global
Basic Sanki Global affiliate membership is $49.
When signing up, a new affiliate has the option of adding a pack to their membership:
Basic Pack – $270
Executive Pack – $530
Pro Pack – $1150
The more expensive the pack the more products it comes with. I don't believe Sanki Global tie any compensation advantage to the packs.
Conclusion
While they do a good job of presenting executive and product information, Sanki Global falls woefully short on the business opportunity side of things.
Basic compensation disclosures are missing, such as affiliate rank qualification and residual commission rates (seriously, this is the "heart" of the compensation plan – how is it not provided?!).
For an MLM company that launched eight years ago, this is unacceptable.
On that alone I'd advise caution if considering Sankii Global.
On the product side of things while they aren't as transparent as they could be, it was nonetheless obvious Sanki Global formulates and manufactures its products in-house.
This creates an exclusivity advantage, although that's not to say Sanki Global's products, at least as far as use case goes, are unique.
Essentially you've got a nutritional supplement, weight loss supplement and water purifier.
The last is probably the weaker of the three, leaving the first two to be bought together.
Other than residual commissions paid out according to pairs, not sure why Sanki Global requires a two-box purchase minimum.
If indeed the only reason is residual commission calculation, that's potentially anti-consumer as customers might be forced to purchase more than they need.
And unless you're into weight loss, new Sanki Global customers alternatively might wind up pairing the nutritional supplement with the water purifier. For no other reason than the company forces them to purchase two boxes of something.
Note that two boxes of the supplement is possible but on a first order a retail customer might want to sample the range.
This brings us to Sanki Global's official "S3 Success Support" document, which I believe is given to all new affiliates.
The document is presented as Sanki Global's official recommendations to "succeed" in the business.
New Sanki Global affiliates are advised to make a list of thirty people, and then whittle it down to people they trust.
They're then told to cold-call these people and send them unsolicited samples.
The script Sanki Global provides for this is truly cringe:
Hi! How are things going?

Hey, I just want to confirm your address because I want to send you something"… (write down the address and verbally confirm it)… Then you continue… "Please expect the package in the next few days. Thanks, and I hope you love it…"
If I received this call out of the blue, presumably from someone I haven't heard from in a while, all sorts of alarm bells are going to go off.
Especially with this scripted followup:
Hello, (Their Name).

Just calling to check in to find out what you really liked most about the package from Sanki that I sent because I really want to get your opinion about the product and the possibilities"…
Sanki Global emphasize affiliates should "stick to the script" and not "invent or improvise".
And at this point I'm pretty sure most people would be scrambling to find any way out of the conversation.
Call it "spidey sense", a feeling of "something's not quite right here", "I have a funny feeling about this" or whatever you want. Most people at the very least are going to be suspicious.
Maybe this worked in the pre-internet days when we were connected via landlines, but in today's day and age Sanki Global's marketing strategy feels massively outdated.
Cringe aside, what's telling is retail sales aren't part of the plan.
"Possibilities" is supposed to lead to an appointment and presentation of the "ideal candidate".
Ideal candidate for what you ask?
Your downline.
Sanki Global's success blueprint is nothing more than a recruitment manual.
"Hi! I have found some products with French and Japanese technology that have been very beneficial to me."

In reply to your text message or calls, it is likely that they respond to you asking, "What is this about?" or something similar, which shows interest.

Program S3 recommends you answer in the following way:

"If i send you a video, would you be willing to watch it?"

He/she will usually say yes, and you add, "What day can I call you to find out what most interested you?"
On what planet is this going to work?
There's even a bit on "home parties" further down. But while MLM home parties are typically tools to sell products to retail customers, in Sanki Global they're just recruitment pitch meetings.
And if by some miracle you do sign someone up by "following the script", you're then supposed to get them to sign up for autoship within 30 minutes.
This is a problem.
Autoship is also required to qualify for recruitment commissions. And the 50 PV monthly requirement just happens to be two boxes of product, which I'm guessing is the autoship minimum.
There is a very real danger here that Sanki Global affiliates are focused on autoship recruitment, as dictated to them by the company itself.
As a new Sanki Global affiliate you're signed up to autoship within thirty minutes by your recruiter, and then handed a "success support" document that lays out a plan for you to do the same to others.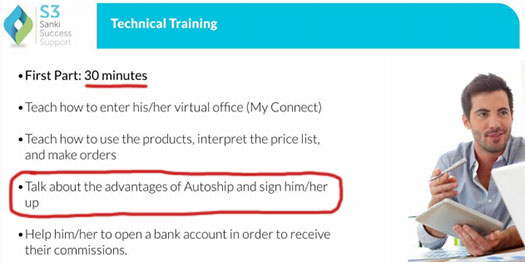 Where does retail fit into any of this.
It doesn't and thus is unlikely to be a focus for Sanki Global's affiliate-base.
The good news is as a prospective Sanki Global affiliate, ascertaining whether you're about to sign up to a pyramid scheme is easy.
Either during the awkward phone conversations or "home party", you'll want to ask your potential upline for retail sales verification.
What you're looking for are actual retail orders, weighed up against the affiliate's own monthly spend.
Be wary of the "Sure, I resold what I purchased to retail customers but have no proof" trap. It is not a substitute for verifiable retail sales records.
If your potential upline is selling about as much in retail as their own autoship each month (preferably more), then that's one hurdle you can cross off your list.
The remaining hurdles, such as compensation disclosure and outdated marketing training, are up to Sanki Global as a company to address.
Proceed with caution.
Update 8th February 2021 – As at the time of this update Sanki Global has removed the previously available S3 Success Report from their website.