Safe Trust Review: Unsafe Ponzi scheme you shouldn't trust

Safe Trust fails to provide ownership or executive information on its website.
Safe Trust's website domain ("safe-trust.net"), was privately registered on March 30th, 2023.
In an attempt to appear legitimate, Safe Trust provides an incorporation certificate for "Safe Trust Wealth LTD".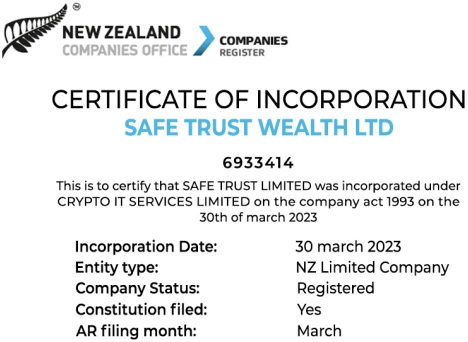 Safe Trust Wealth LTD was purportedly incorporated in New Zealand on March 30th. This ties into Safe Trust claiming to be "a financial advisory practice with office in New Zealand".
Due to the ease with which scammers are able to incorporate shell companies with bogus details, for the purpose of MLM due-diligence these certificates are meaningless.
This is emphasized in Safe Trust's marketing presentation, which states;
SAFE TRUST IS A GLOBALLY RESPECTED AND RESPONSIBLE INVESTMENT FUND INSTITUTION INCORPORATED IN NEW ZEALAND AND GOVERNED BY THE LAWS AND RULES OF THE NZ SECURITIES AND EXCHANGE COMMISSION.
There is no "New Zealand Securities and Exchange Commission". Securities in New Zealand are regulated by the Financial Markets Authority.
Beyond shell incorporation, it is unlikely Safe Trust has any actual ties to New Zealand.
In Safe Trust's website source-code we find reference to WealthPool.
WealthPool is a daily returns crypto Ponzi scheme launched in late April 2023.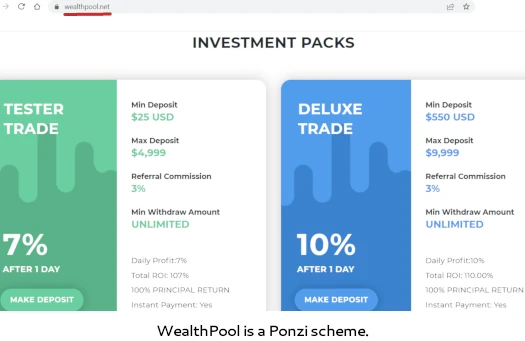 WealthPool's marketing videos are robodub narrated, which is typical of non-native English speaking admins.
WealthPool pretends to be based out of the UK and appears to have already collapsed.
The same scammers behind WealthPool are behind Safe Trust.
As always, if an MLM company is not openly upfront about who is running or owns it, think long and hard about joining and/or handing over any money.
Safe Trust's Products
Safe Trust has no retailable products or services.
Affiliates are only able to market Safe Trust affiliate membership itself.
Safe Trust's Compensation Plan
Safe Trust affiliates invest USD equivalents in cryptocurrency. This is done on the promise of advertised returns:
Economy – invest $20 or more and receive 6.2% a day
Deluxe – invest $3000 or more and receive 9.3% a day
The MLM side of Safe Trust pays referral commissions on invested cryptocurrency down three levels of recruitment (unilevel):

level 1 (personally recruited affiliates) – 3%
level 2 – 2%
level 3 – 1%
Joining Safe Trust
Safe Trust affiliate membership is free.
Full participation in the attached income opportunity requires a minimum $20 investment.
Safe Trust solicits investment in various cryptocurrencies.
Safe Trust Conclusion
Like WealthPool, Safe Trust is a simple crypto Ponzi scheme.
Safe Trust claims it generates external revenue via "a portfolio of leading digital assets."
No evidence of this portfolio is provided, much the less external revenue being generated through it.
Furthermore, Safe Trust provides no evidence it has registered with New Zealand's FMA.
Even if you bought into Safe Trust being based out New Zealand, this means the company is committing securities fraud.
Securities fraud and Ponzi schemes go hand in hand.
As with all MLM Ponzi schemes, once Safe Trust affiliate recruitment dries up so too will new investment.
This will starve Safe Trust of ROI revenue, eventually prompting a collapse.
The math behind Ponzi schemes guarantees that when they collapse, the majority of participants lose money.