RxCut Review: Pharma discounts with problematic recruitment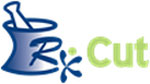 On the RxCut website the company advises that
RxCut is a registered trademark of New Millennium Consultants LLC.
Unfortunately there's more than a few companies using this name, and I was unable to find any direct link providing further information on what exactly it is New Millenium Consultants LLC does.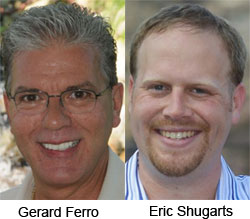 That's not to say RxCut don't disclose their executive management structure however, with the company listing Gerard Ferro (CEO) and Eric Shugarts (COO) as co-founders of their website.
As per Ferro's RxCut corporate bio;
Mr. Ferro brings over 28 years of broad-based experience in the health care industry and is known for developing cutting edge technology, systems and programs designed to reduce costs.

Mr. Ferro's last company was SUNRx Inc, which he co-founded in 2001.

Taking the helm as Chairman and Chief Executive Officer of SUNRx, Inc. from 2001 until late 2007, he significantly changed the landscape of how Pharmacy Benefit Managers (PBM's) operate today.
The idea behind RxCut appears to be very much in alignment with SunRx, which is still in operation today under different management.
Eric Shugarts is also from RxCut, at which he's credited with 'utilizing his vast information technology, PBM, and operations expertise'.
In April 2006, SUNRx announced Mr. Shugarts as their CIO to take the company's technology platform to the next level.

There, he revamped the IT operations and systems while designing and implementing enterprise cloud computing software and databases that powered the company's growth and revenue.

In 2008, he co-founded the business later acquired by Free For All®, Inc., along with his colleague and founder of SUNRx, Gerard Ferro.

As Free For All, Inc's CIO, Mr. Shugarts integrated the first prescription discount card program with the Google Health portal and developed an industry leading pharmacy search and medication pricing engine fully integrated with Google Maps.
Today RxCut use that same portal and pharmacy search and the rest, as they say, is history.
As far as MLM goes, unless I missed something RxCut appears to be a first for both Ferro and Shugarts.
Read on for a full review of the RxCut MLM business opportunity.
The RxCut Product Line
RxCut advertise their product as a "pharmacy discount savings card".
RxCut, the free prescription savings card, was created to help people across the US and Puerto Rico obtain affordable prescriptions.

The card is accepted at over 54,000 chain and independent pharmacies and provides cost savings on all FDA approved brand and generic prescriptions with savings ranging from 15% to 85%.
The cards themselves given out free of charge, with either an RxCut affiliate or the user themselves printing the card out from a supplied template.
No personal information of the user is attached to any of the RxCut cards, with the card numbers issued instead attached to an RxCut affiliate (to track usage).
Additional dental, medical and discount plans are also available, branded as "Get Benefit Relief".
Get Benefit Relief are subscription services, costing users $12.95 a month.
The RxCut Compensation Plan
The RxCut compensation plan sees affiliates paid to recruit new RxCut affiliates and sell access to the various services offered.
Recruitment Commissions
Recruitment commissions in RxCut are paid out down one level of recruitment, paying $79 per affiliate recruited.
Service Usage
Service usage commissions in RxCut are paid out using a unilevel compensation structure.
A unilevel compensation structure places an affiliate at the top of a unilevel team, with every personally recruited affiliate placed directly under them (level 1):

If any level 1 affiliates go on to recruit new affiliates, they are placed on level 2 of the original affiliate's unilevel team.
If any level 2 affiliates recruit new affiliates, they are placed on level 3 and so on and so forth down a theoretical infinite number of levels.
RxCut cap payable unilevel levels at four, with commissions paid out according to which service is being used or paid for:
Usage of the RxCut card pays out down four levels as follows:
level 1 (users of the card and personally recruited affiliates) – $1.50 per use
level 2 – 35 cents per use
level 3 – 10 per use
level 4 – 5 cents per use
Get Benefit Relief subscriptions meanwhile are only paid out down two levels:
GBR Vision and Dental subscriptions – $2.50 on level 1 and 40 cents on level 2
GBR Select and Plus subscriptions – $3.50 on level and 55 cents on level 2
Joining RxCut
Affiliate membership with RxCut is $199.
Conclusion
The use of a unilevel compensation structure definitely identifies RxCut as an MLM opportunity. This means the recruitment commissions paid out, despite being themselves single-level in nature, drags RxCut into pyramid scheme territory.
It's a bit of a shame, because otherwise RxCut is definitely one of the more unique opportunities I've reviewed over the years.
For starters their flagship product (as a service) is given away for free.
At first I thought the RxCut card was simply a rehash of an existing pharmaceutical niche program, but RxCut claim this is not the case.
In a marketing video on their website, RxCut claim to be a "full-service discount provider", insisting that they are not simply white-labeling an existing third-party discount service.
As far as I can tell, this appears to be offered through the company "Free For All Incorporated", of which Gerard Ferro is also Founder and CEO.
If Free For All Incorporated indeed offer the discount service themselves, then there's no issue with it being offered as an MLM product – because it's free to use.
The other Get Benefit Relief subscriptions are a bit more questionable, as access to discounts as an MLM product (at a cost) is generally frowned upon (think e-commerce discount portals).
There has to be more behind the Get Benefit Relief subscriptions other than mere access to discounts, otherwise nothing tangible is truly being sold or marketed.
Getting back to the recruitment commissions, at $79 a pop almost 50% of what is paid is repaid out as a commission.
This puts a pretty big question mark on the cost of RxCut affiliate membership, not to mention the issue of chain-recruitment.
As it stands I can sign up as an RxCut affiliate, pay my $199 and then get paid for nothing more than recruiting other $199 fee-paying affiliates.
What's worse is RxCut openly advertise the $199 affiliate membership fee as an "investment".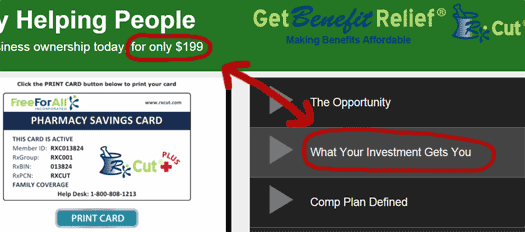 A voiceover in an official RxCut corporate marketing video advises viewers:
When you become an RxCut authorized agent, you'll receive all the tools you need to succeed.

Your $199 investment gets you the following…
That pointed out, I myself do not see RxCut affiliate membership as an investment. At least not in the SEC unregistered securities context.
Rather RxCut offer an otherwise legitimate pharmaceutical discount card, attached to a chain-recruitment opportunity.
One way to address this would be to drastically reduce the cost of RxCut affiliate membership, and tie the commission paid out not to mere recruitment of the affiliate, but use of the RxCut card.
Eg. A bonus that activates when a new affiliate is recruited, but only pays out once they've got a number of recorded uses of RxCut card attached to their affiliate account (10-20).
This, or a variation of the idea, would not only discourage those looking to just recruit and get paid, but also ensures the RxCut cards are actually being used.
Until the issue of $79 being paid out on the recruitment of new RxCut card affiliates is addressed, I'd advise anyone looking to get involved as an affiliate to check with their potential upline as to commissions paid as a result of use of RxCut cards.
If it's a negligible amount (or dwarfed by earned recruitment commissions), then think long and hard about what that will mean for the focus of your own RxCut affiliate membership.