Real Points Review: RealCoin Ponzi points cryptocurrency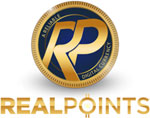 There is no information on the Real Points website indicating who owns or runs the business.
The Real Points Terms and Conditions states the company is 'owned and operated by Real Points Academy Ltd, a limited liability company registered in the British Virgin Islands'.
The Real Points website domain ("realpoints.eu") was registered on April 16th, 2016 and lists "Real Poins" as the owner. A residential address in Lemesos, Cyprus is also provided.
Further research reveals Real Points affiliates identifying Alanki Murali as founder and CEO of the company.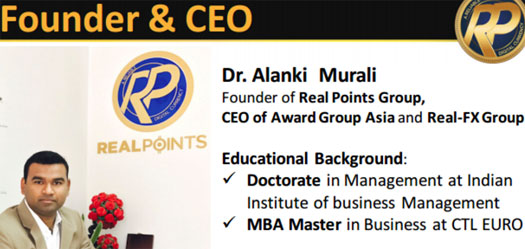 As above, Murali is also credited as CEO of Award Group Asia and Real-FX Group.
Award Group Asia appears to be based out of Hyderabad and up until recently had a website presence:

For reasons unknown the Award Group Asia website is now offline. I wasn't able to ascertain what Real-FX Group is (it's obviously not the US based real estate company bearing the same name).
Murali's full name appears to be "Murali Krishna Alanki". He is listed as the sole director of RealPoints LTD, as registered with the UK Companies House on September 22nd, 2016.
The address used to incorporate RealPoints LTD actually belongs to British Monomarks.
On their website, British Monomarks offer Post Box services and virtual office services. As such it appears Real Points has no physical presence in the UK.
Alanki's country of residence listed on the UK Companies House website is Cyprus.
Outside of Real Points marketing material, there is no information available on Murali. This is highly suspicious.
As always, if an MLM company is not openly upfront about who is running or owns it, think long and hard about joining and/or handing over any money.
The Real Points Product Line
Real Points has no retailable products or services, with affiliates only able to market Real Points affiliate membership itself.
Bundled with Real Points affiliate membership are
educational packages on Finance, Banking, Crypto Currency, exchange of digital currency, E-wallet system and High Profit trading Strategies.
These packages are distributed through "Real Academy".
The Real Points Terms and Conditions states Real Academy is
not accredited nor recognised by any private or public authority.

We are not a licenced nor regulated university, college or other form of educational institution.
The Real Points Compensation Plan
Real Points affiliates invest in points, which can be converted into the RealCoin cryptocurrency.
Beginner (€100 EUR) – 1000 points
Regular (€300 EUR) – 3000 points
Power (€500 EUR) – 5000 points
Professional (€1000 EUR) – 10,000 points
Expert (€3000 EUR) – 33,000 points
Elite (€5000 EUR) – 60,000 points
Ultimate (€10,000 EUR) – 125,000 points
The points can be converted into RealCoins, at a rate set by Real Points.
RealCoin is not publicly tradeable and its value is arbitrarily determined by Real Points.
The idea is that Real Points affiliates invest in RealCoin, Real Points jack up the price of RealCoin and affiliates cash out.
In addition to ROI payouts, Real Points affiliates are also paid a 10% commission when they recruit new affiliates who invest.
This commission is doubled to 20% in a Real Point affiliate's first month.
Residual Commissions
Real Points pay residual commissions via a binary compensation structure.
A binary compensation structure places an affiliate at the top of a binary team, split into two sides (left and right):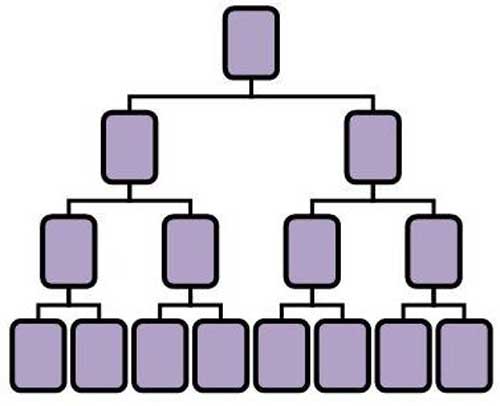 The first level of the binary team houses two positions. The second level of the binary team is generated by splitting the first two positions int another two positions each (four positions).
Subsequent levels of the binary team are generated in the same manner, with each new level housing twice as many positions as the previous level.
Positions in a binary team are filled via direct and indirect recruitment of new Real Points affiliates. There is no limit to how deep a binary team can grow.
Each Real Points affiliate investment package corresponds to a fixed investment volume amount (BV):
Beginner – 100 BV
Regular – 300 BV
Power – 500 BV
Professional – 1000 BV
Expert – 3000 BV
Elite – 5500 BV
Ultimate – 12,000 BV
At the end of each week Real Points tallies up new investment volume on both sides of the binary team. An affiliate is paid 10% of volume matched against their weaker binary side.
Leftover volume from the stronger binary side is carried over to the following week.
Joining Real Points
Real Points affiliate membership is €25 EUR plus investment in one of the following packages:
Beginner – €100 EUR
Regular – €300 EUR
Power – €500 EUR
Professional – €1000 EUR
Expert – €3000 EUR
Elite – €5000 EUR
Ultimate – €10,000 EUR
A free Rookie account is also available. After 30 days however a Rookie account must be "upgraded" to one of the above packages or it is deleted.
Conclusion
Real Points is pretty much a carbon copy clone of the OneCoin Ponzi scheme.
Same worthless Ponzi points model, same compensation plan and same bitcoin comparisons used to market the scam.
You can enjoy the profitable ground floor opportunity that was enjoyed by early Bit coin users.
The reality is, like OneCoin, Real Points has nothing to do with legitimate cryptocurrency.
RealCoin are Ponzi points system, with no value outside of the income opportunity.
The only thing you can do with RealCoin is send it to other Real Points affiliates, or cash it out for a ROI based on whatever the current set value is.
The ROI is funded by subsequently invested funds (the only verifiable source of revenue), making Real Points a Ponzi scheme.
Projected ROIs are readily provided in official Real Points compensation documentation: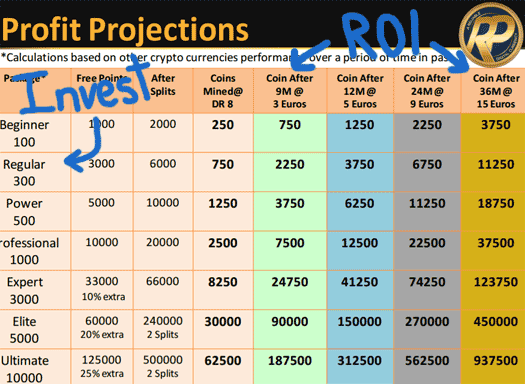 Despite the obvious securities offering, Real Points provide no indication that they are registered with a securities regulator in any jurisdiction.
Recruitment commissions add an additional pyramid layer to the business, cementing the fraudulent nature of Real Points' business model.
As with all Ponzi schemes, once affiliate recruitment dies down so too will new investment entering the scheme.
This will see Real Points unable to meet its ROI obligations, prompting a collapse.
OneCoin has arguable already collapsed, with affiliates reporting withdrawal problems as far back as March, 2016. Last month OneCoin suspended withdrawal requests through their internal exchange entirely.
Real Points will likely follow suite when the time comes, with the company's Terms and Conditions warning affiliates they can do anything they want at any time:
We do not guarantee that our Site, or any content on it, or any Product, service or feature will always be available or be uninterrupted.

We may suspend or withdraw or restrict the availability of all or any part of our Site, content, Products or features for business and operational reasons.
Murali Alanki and friends get rich selling pre-mined Ponzi points for real money. By the time affiliates realize ROI projections aren't tied to real money, it's too late.