Razzleton Review: President-elect Trump used to market Ponzi fraud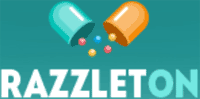 There is no information on the Razzleton website indicating who owns or runs the business.
Razzleton claim to be involved in the 'worldwide distribution of healthcare products'.
On their website, Razzleton claim:
Razzleton HealthCare Limited has been in the wholesale drug market since 1995.

Building a team of highly qualified pharmacists, skilled logistics experts and marketing specialists, we have grown from a small firm engaged in retail sales to a regional company with an annual turnover exceeding $10.000.000.
The Razzleton website domain was indeed first registered back in 1995. However back then it belonged to "Razzleton Enterprises and was used to sell personal care, nutrition and technology products.
As far back as January 2014 the "razzleton.com" was up for sale.
Around August 2015 the domain was parked with GoDaddy.
On or around December 2015 a new Razzleton website went live, promising ROIs of up to 0.6% a day.
This coincides with a domain registration update on the 4th of December, 2015. This is likely when the current owners took possession of the Razzleton domain.
This means the claim that Razzleton, as represented on the Razzleton website today, has been around since 1995 is completely bogus.
Note that the above can verified dependently by anyone through Archive.org's Wayback Machine.
The owner of the Razzleton website is listed as "Jayden Woods", with an address in the UK also provided. The same address appears on the Razzletn website.
Further research reveals a number of companies using this address, suggesting Razzleton exists in the UK in name only.
A search of the UK Companies House database reveals Razzleton Healthcare Limited was only incorporated on the 8th of September 2016 (so much for being around since 1995).
Jayden Woods is listed as the sole Director of the company, along with a residential address in London.
A UK incorporation costs about £20 GBP and requires nothing more than an address in the UK (can be virtual).
One of the companies that uses the same address as Razzleton is "Russian Trading Company Limited". As per their LinkedIn profile, Russian Trading Company Limited operate in the financial services industry.
Alexa currently estimate that Russia is the largest source of traffic to the Razzleton website.
There is no information publicly available on Jayden Woods in connection to Razzleton, outside of his name appearing on the Razzleton domain registration.
The official Razzleton Facebook group was created on September 8th by a profile bearing the name "Alexander Walker".
The Alexander Walker profile is bogus, having only been created in September itself. Other than a profile-picture change to Razzleton marketing material, there is no activity on the account.
In summation, the corporate history provided on the Razzleton website is all made up. Neither Jayden Woods or Alexender Walker actually exist and the company is likely run by Russian scammers (further evidenced by Telegram and VKontakte links on the Razzleton website).
As always, if an MLM company is not openly upfront about who is running or owns it, think long and hard about joining and/or handing over any money.
The Razzleton Product Line
Razzleton has no retailable products or services, with affiliates only able to market Razzleton affiliate membership itself.
The Razzleton Compensation Plan
The Razzleton compensation plan sees affiliates invest money on the promise of a ROI of up to 300% a month.
Beginner – invest $10 to $1000 and receive a 2.1% daily ROI for 15 days (includes principal)
Stability invest $1001 to $10,000 and receive a 2.3% daily ROI for 30 days (includes principal)
Pro – invest $10,001 to $100,000 and receive a 2.9% daily ROI for 55 days (includes principal)
Antibiotik – invest $100 to $1000 and receive a 150% ROI after 15 days
Lab R&D – invest $15,000 to $20,000 and receive a 300% ROI after 30 days
Referral commissions are available on funds invested by recruited affiliates, paid out down three levels of recruitment (unilevel):
level 1 (personally recruited affiliates) – 7%
level 2 – 2%
level 3 – 1%
Note that the above referral commissions are also paid out on ROI payments to downline affiliates.
Razzleton affiliates who invest at least $500 and focus on affiliate recruitment can apply to become "Representatives".
Razzleton Representatives are paid an increased referral commission rate:
level 1 – 10%
level 2 – 3%
level 3 – 1%
Joining Razzleton
Razzleton affiliate membership is free, however affiliates must invest at least $10 to participate in the attached income opportunity.
Qualifying as a Representative affiliate requires an investment of at least $500.
Conclusion
Razzleton represent that the ROIs they pay affiliates are sourced from a pharmaceutical investment portfolio.
The investment portfolio is managed by our specialists with strong team in pharmaceutical, which allows effective analysis of the situation in wholesale of medicines.
This claim fails the logic test.
If Razzleton's anonymous owners were able to legitimately generate a 300% ROI every 30 days, even a modest bank loan would make them insanely rich in a short period of time.
Yet here they are, soliciting $10 investments from the general public.
The reality of Razzleton is the only verifiable source of revenue entering the company is invested affiliate funds.
The use of which to pay existing Razzleton affiliates a ROI constitutes a Ponzi scheme.
Perhaps more concerning than Russian scammers posing as pharmaceutical investors to rip gullible investors off, is the use of President-elect Donald Trump to market the scam: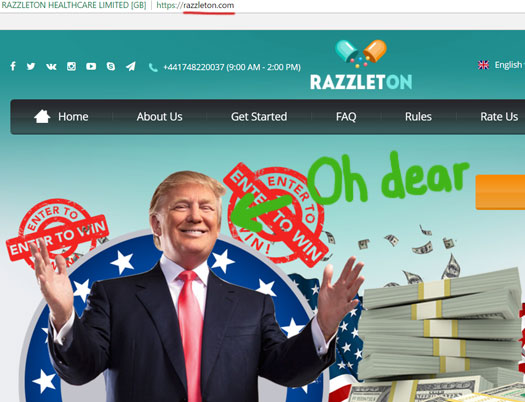 RazzletOn marketing material even goes so far as to claim Trump recommends the company:

Regardless of what you think about Trump politically, it should be obvious he has nothing to do with the Razzleton Ponzi scheme.
As with all Ponzi schemes, once recruitment of new affiliates dries up Razzleton will collapse.
With the shortest investment maturity period being 15 days, that gives the anonymous Razzleton admins plenty of time to cut and run.
By the time affiliates realize the scheme has collapsed (likely by way of perpetually withdrawal request), it'll be too late.
Best of luck getting your money back from Russian scammers with phony Donald Trump endorsements.