Profits25 Review: €25 EUR advertsing-based Ponzi scheme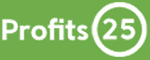 There is no information on the Profits25 website indicating who owns or runs the business.
The Profits25 website domain ("profits25.com") was registered on the 25th of March 2013, however the domain registration is set to private.
Further research reveals that Profits25 is likely being run out of France.
The Profits25 website is hosted by a French company. and much of the Profits25 promotional material available is also in French.
Alexa meanwhile currently estimate that 35.3% of traffic to the Profits25 website originates out of France. Italy (8.7%) and Belgium (6.5%) round out of the top three sources of traffic, indicating Profits25 is being marketed primarily in neighboring European countries.
As always, if an MLM company is not openly upfront about who is running or owns it, think long and hard about joining and/or handing over any money.
The Profits25 Product Line
Profits25 has no retailable products or services, with affiliates only able to market affiliate membership to the company itself.
The Profits25 Compensation Plan
The Profits25 compensation plan sees affiliates invest €25 EUR on the promise of an advertised €35 EUR ROI.
You purchase advertising coupons at a price of only 25€ apiece. Then those coupons are remunerated every week until they reach a value of 35€.
The ROI is paid out weekly, with Profits25 affiliates required to click company-supplied advertisements in order to qualify.
Profits25 affiliates can also earn referral commissions by recruiting new investors, paid out down four levels of recruitment (unilevel):
level 1 (personally recruited affiliates) – 10%
level 2 – 5%
level 3 – 3%
level 4 – 2%
Joining Profits25
Affiliate membership with Profits25 is free, however affiliates must invest at least €25 EUR in order to participate in the income opportunity.
As such, the defacto cost of Profits25 affiliate membership is €25 EUR.
Note that any additional investment made when signing up will add to this amount.
Conclusion
With nothing being marketed or sold to retail customers, Profits25 is a stock-standard revenue-sharing scheme.
Utilizing a Ponzi scheme business model, Profits 25 simply shuffles newly invested funds to pay off existing investors.
The advertising bundled with Profits25 investments is neither here nor there, serving only as pseudo-compliance.
The only advertisers in advertising-based Ponzi schemes are the investors themselves. What you wind up with is a closed-loop, where only investors are advertising to other investors.
And the only reason other investors are viewing and/or clicking the ads, is because if they don't they can't participate in the attached Ponzi scheme.
As with all Ponzi schemes, once new €25 EUR investments in Profits25 dies down, the scheme will find itself unable to meet it's €35 EUR ROI obligations.
At that poi the scheme collapses, with anyone who hasn't yet ripped off subsequent investors losing out.
Statistically in a Ponzi scheme this is guaranteed to be the vast majority of participating investors.