Plus Profit Review: Credit cards and recruitment

There is no information on the Plus Profit website indicating who owns or runs the business.
The Plus Profit website domain ("plusprofit.net") was registered on the 3rd of February 2016, with Tiger Stand Corporation listed as the owner. An address in the US state of California is also provided.
Tiger Stand Corporation's website appears to be defunct, with no information about the company provided on the Plus Profit website.
Corporate records reveal Tiger Stand Corporation was incorporated in Delaware back in 2005. James Koh is listed as the sole registered agent.
Koh also incorporated Plus Profit Inc. in California on April 21st, 2015.
Why there is no information about James Koh on the Pure Profit website is unclear.
Read on for a full review of the Plus Profit MLM opportunity.
The Plus Profit Product Line
Plus Profit has no retailable products or services.
On the Plus Profit website, the company claims to be "sponsored by American Standard Wallet".
On their website, American Standard Wallet claim they are
a company that makes it very easy for you to make mass payments of all sorts, and have customers in a wide range of industries, with the number of end users amounting to millions.
The company states it was founded in 2005 and is headquartered in the US state of California. There is no information on the American Standard Wallet website about who owns or runs the company.
One of the services American Standard Wallet offer is a Mastercard credit card:
We can create co-branded debit and credit card programs in addition to offering you services such as Check Delivery and Payment by Cash.
Each Plus Profit affiliate receives one of these cards when they sign up for personal use, along with additional cards to use as affiliate recruitment tools.
On his LinkedIn profile, James Koh cites himself as the Chairman of both Tiger Stand Corporation (Plus Profit) and American Standard Wallet: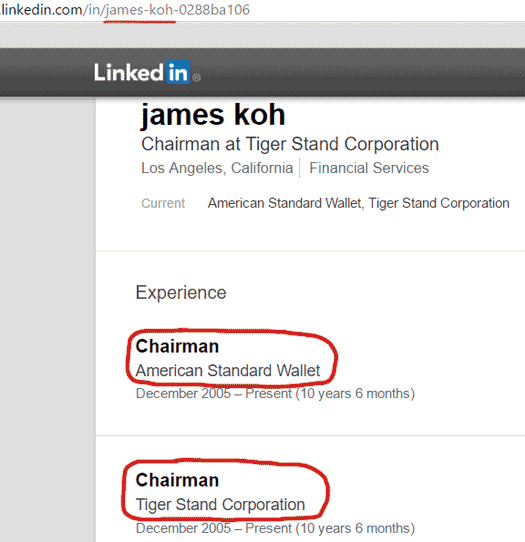 Why Koh is not acknowledged as the owner of Plus Profit or American Standard Wallet on their respective websites is unclear.
The Plus Profit Compensation Plan
The Plus Profit compensation plan pays affiliates to recruit new affiliates. Commissions are also paid when recruited affiliate use the American Standard Wallet credit card they receive when they sign up.
Recruitment Commissions
Plus Profit affiliates are paid to recruit new affiliates.
How much of a recruitment commission is paid out is determined by how much a newly recruited affiliate spends on their Plus Profit membership:
recruit a Gold Membership affiliate ($150) and earn a $30 recruitment commission
recruit a Diamond Membership affiliate ($450) and earn a $90 recruitment commission
recruit a Platinum Membership affiliate ($1050) and earn a $210 recruitment commission
Plus Profit affiliates also earn recruitment commissions if their recruited affiliates upgrade their affiliate membership to a higher level.
An additional $20 is payable as a Plus Profit affiliate recruits their first sixteen affiliates:
recruit 2 affiliates = $5 commission
recruit 4 affiliates = $3 commission
recruit 6 affiliates = $2 commission
recruit 8 affiliates = $2 commission
recruit 10 affiliates = $2 commission
recruit 12 affiliates = $2 commission
recruit 14 affiliates = $2 commission
recruit 16 affiliates = $2 commission
Residual Recruitment Commissions
Residual recruitment commissions in Plus Profit are paid out via a binary compensation structure.
A binary compensation structure places an affiliate at the top of a binary team, split into two sides (left and right):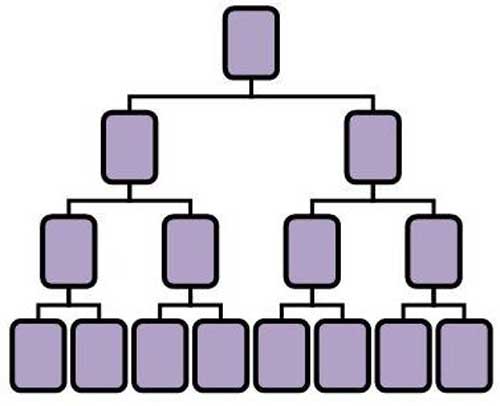 Each side of the binary starts off with one position, with the next level generated by splitting each of the positions into another two positions each.
Subsequent levels of the binary are generated in the same manner, with each level housing double the positions of the previous level.
Positions in the binary are filled via direct and indirect recruitment of affiliates.
How much of a commission earned based on how much a Plus Profit affiliate spent on their membership:
Gold affiliates earn $1.75 per recruited affiliate
Diamond affiliates earn $2.25 per recruited affiliate
Platinum affiliates earn $2.75 per recruited affiliate
Note that Plus Profit cap binary earnings down twenty levels.
American Standard Wallet Mastercard Spending Bonus
When recruited affiliates use their MasterCard, Plus Profit collects an "interchange fee".
The Plus Profit compensation plan represents the interchange fee as an average of 3%.
Plus Profit split half of this 3% with affiliates, with the affiliate balance paid out via the binary team (capped at 20 levels).
Other card fees paid out to Plus Profit affiliates through the binary team include:
a 50 cent ATM withdrawal fee
a 50 cent card loading fee
a 50 cent card activation fee
a $1 card to card transaction fee
20 cents every time a card is used to pay for something
$7 out of the $10 monthly card service fee
Global Pool Bonus
Every time a new Plus Profit affiliate is recruited, the company puts $5 into a Global Pool.
The Plus Profit compensation plan says the pool will be shared equally each quarter with "chosen members".
No chosen member qualification criteria is provided.
Joining Plus Profit
Affiliate membership with Plus Profit is tied to the purchase of one of three affiliate packages:
Gold Membership – $150
Diamond Membership – $450
Platinum Membership – $1050
The primary difference between these three affiliate memberships is income potential through the Plus Profit compensation plan.
Conclusion
In MLM you need to have a tangible product or service marketed to retail customers.
Plus Profit does offer a tangible service (credit, even if offered through a separate company), however the service is tied to affiliate recruitment.
Affiliates sign up and pay a fee, with commissions paid when they recruit others who do the same.
Affiliates who pay higher fees and buy in at the Diamond or Platinum levels are given additional card, which they use to recruit new affiliates with.
Nothing is being marketed or sold to retail customers, making Plus Profit a pyramid scheme.
As with all such schemes, once recruitment of new affiliates dies down, so too will commissions paid out.
An argument could be made that affiliates using the card will sustain commissions, however this is dependent on affiliates at the bottom of the scheme continuing to pay a monthly $10 card service fee.
Additionally given only Plus Profit affiliates are using the card, card-related commissions are effectively defacto residual recruitment commissions.
Oh and the lack of disclosure on the relationship between Tiger Stand Corporation, Plus Profit and American Standard Wallet is pretty shady too. This is MLM and you need to be transparent about such things.
American Standard Wallet is presented as a third-party merchant on the Plus Profit website, when this is entirely not the case.
Information on James Koh's corporate history is also missing (MLM or otherwise), which for an MLM company just isn't good enough.