Pluggle Review: Trademark infringement with pyramid recruitment

Pluggle provide no information on their website about who owns or runs the business.
The Pluggle website domain ("pluggle.com.ph") was registered on April 6th, 2017. Alexis Palma is listed as the owner, with an address in Quezon City, Philippines also provided.
Possibly due to language-barriers, I was unable to find anything further on Palma.
Alexa currently estimates that 69% of traffic to the Pluggle website originates from the Philippines. That and the Philippine domain choice suggest Pluggle is operated from and primarily marketed within the Philippines.
As always, if an MLM company is not openly upfront about who is running or owns it, think long and hard about joining and/or handing over any money.
Pluggle Products
Pluggle has no retailable products or services, with affiliates only able to market Pluggle affiliate membership itself.
The Pluggle Compensation Plan
Pluggle affiliates pay a ₱1000 PHP ($19.80 USD) joining fee and are paid to recruit others who do the same.
Sign Up Bonus
When a Pluggle affiliate signs up they are paid ₱100 PHP ($2 USD).
The affiliate then receives ₱100 PHP ($2 USD) for every affiliate they personally recruit.
Login Bonus
A Pluggle affiliate receives ₱100 PHP ($2 USD) each time they login daily for twelve days (paid once per day).
Pluggle affiliates also receive ₱100 PHP ($2 USD) when downline affiliates login (again for 12 days), paid down two levels of recruitment:
₱60 PHP ($1.20 USD) paid when a personally recruited affiliate logins in and
₱40 PHP (80 cents USD) when their personally recruited affiliates log in (level 2)
Note that the Login Bonus is capped at ₱1300 PHP ($25.70 USD).
Residual Recruitment Commissions
Pluggle pay residual recruitment commissions via a binary compensation structure.
A binary compensation structure places an affiliate at the top of a binary team, split into two sides (left and right):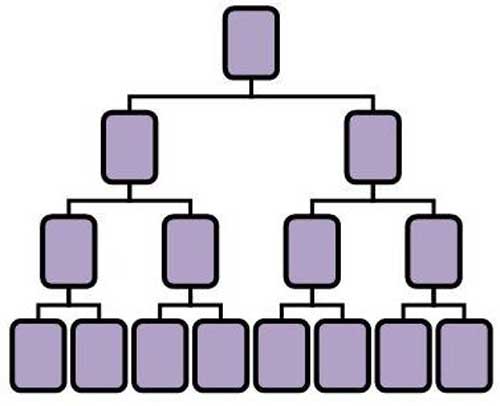 The first level of the binary team houses two positions. The second level of the binary team is generated by splitting these first two positions into another two positions each (4 positions).
Subsequent levels of the binary team are generated as required, with each new level housing twice as many positions as the previous level.
Positions in the binary team are filled via direct and indirect recruitment of affiliates. Note that there is no limit to how deep a binary team can grow.
Commissions are paid based on pairing of newly recruited affiliates using a 1:1 ratio (one counted from either side of the binary team).
Pluggle affiliates receive ₱100 PHP ($2 USD) per paired recruited affiliates, capped at ₱3000 PHP ($59.30 USD) a day.
A bonus ₱400 PHP ($7.90 USD) is also paid out on the first pair paid on each level of the binary team across the first ten levels.
Joining Pluggle
Pluggle affiliate membership costs ₱1000 PHP ($19.80 USD)
Pluggle only accept bitcoin for payment of affiliate membership fees.
Conclusion
Pluggle's logo is quite obviously a Google ripoff, with the company website representing it operates in the advertising market.
To that end logos of several reputable companies are displayed, inferring that they have a business relationship with Pluggle.
The Pluggle compensation plan meanwhile has nothing to do with advertising, suggesting none of these purported relationships exist.
Pluggle operates as a simple pyramid scheme. You pay ₱1000 PHP and are paid directly and residually to recruit others who do the same.
Although advertising features on the Pluggle website, it is not part of the compensation plan (retail or otherwise).
As with all pyramid schemes, once Pluggle affiliate recruitment slows down so too will commissions paid out. That's if the company isn't shut down for trademark infringement first.
Either way, Pluggle being shut down or collapsing will result in the majority of affiliates losing money.