Passport4Success Review: Better Bid penny auctions

Passport4Success launched in mid 2014 and are based out of the US state of California.
The company operates in the MLM penny auction niche, with Ruben Rivera credited as the Founder and Lead Distributor of the company.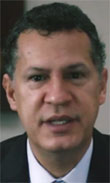 Why Rivera (right) doesn't hold an executive management position within Passport4Success is unclear.
According to Rivera's Passport4Success bio:
It was while he was with McDonnell Douglas that he was exposed to Network Marketing through a friend and saw the tremendous potential of the industry.

He is a seasoned network marketer of over 22 years building massive organizations in the tens of thousands. He has been on the corporate side of multi-level marketing for over 7 years.

Prior to Passport 4 Success he was the VP of sales for a $900 Million dollar multi-level coffee company overseeing daily operation.
The coffee company referred to above is Organo Gold. Why or when Rivera left Organo Gold is not clear.
Read on for a full review of the Passport4Success MLM business opportunity.
The Passport4Success Product Line

Passport4Success market penny auction bids for their Better Bid penny auction platform.
Better Bid operate lowest unique bid auctions, which sees the lowest unique bid placed winning the auction.
Auctions end when a fixed number of bids have been placed, at which point the lowest unique bid is calculated.
Retail bids for Better Bid cost 50 cents each.
The Passport4Success Compensation Plan
The Passport4Success compensation plan sees affiliates spend between $195 to $7665 on affiliate membership, with commissions paid on the recruitment of other affiliates and sale of penny auction bids.
There are five levels of Passport4Success affiliate membership available as follows:
Associate – $195
Executive – $595
Director – $1095
Director 3 Pack – $3285
Director 7 Pack – $7665
Recruitment Commissions
Passport4Success affiliates are paid to recruit new affiliates down three levels of recruitment (unilevel).

Specific commissions paid out are not provided, but the official Passport4Success compensation plan material does state that if a Director affiliate is recruited, a $200 commission is paid out.
If a Director is recruited on levels 2 or 3 a $50 commission is paid out.
Percentage wise $200 is approximately 18% of the $1095 cost of Director. $50 is 4.5%, with these percentage payouts presumed to be the same or similar across the other available affiliate packages.
Residual Recruitment Commissions
Residual recruitment commissions are paid out in Passport4Success via a binary compensation structure.
A binary compensation structure places an affiliate at the top of two binary teams, split into left and right: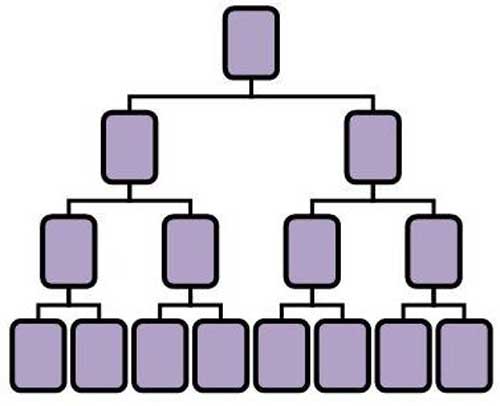 Positions in the binary team are filled via affiliate recruitment, with one affiliate on the left matched with one affiliate on the right paying out a commission.
How much of a commission is paid out is determined by what affiliate package a newly recruited affiliate has purchased.
The official Passport4Success compensation plan material quotes a $50 commission paid out on the recruitment of two matched Director affiliates (4.5%). Presumably a similar percentage is paid out when other level affiliates are matched.
Note that Passport4Success affiliates are capped at 20 matches or $1000 a day, whichever comes first.
A 10% matching bonus on the binary earnings of personally recruited affiliates is also available.
Revenue Sharing
Passport4Success take funds spent on Better Bid bid purchases and pay them out through a revenue-sharing pool.
Payments are made on Mondays, Tuesdays, Thursdays, Fridays and Saturdays, with each affiliate given 90 revenue sharing payments before "retail sales requirements take effect".
What these requirements are is not disclosed.
Joining Passport4Success
Affiliate membership with Passport4Success is available at five different pricepoints:
Associate – $195
Executive – $595
Director – $1095
Director 3 Pack – $3285
Director 7 Pack – $7665
The primary difference between these pricepoints is income potential through the Passport4Success compensation plan.
Conclusion
Despite the obvious issues with the Passport4Success business model on the compliance side of things, the official corporate marketing spiel pitches the opportunity on legal compliance:

Naturally who these lawyers are is not disclosed.
Amazingly, despite the wrap MLM penny auctions have for charging affiliates thousands of dollars to participate in closed-loop opportunities, Passport4Success does exactly that.
Affiliates sign up and then fork over between $195 to $7665 (!!!), in exchange for income potential and a bunch of worthless Better Bid penny auction bids.
Why do I say worthless?
As per the official Passport4Success compensation plan material;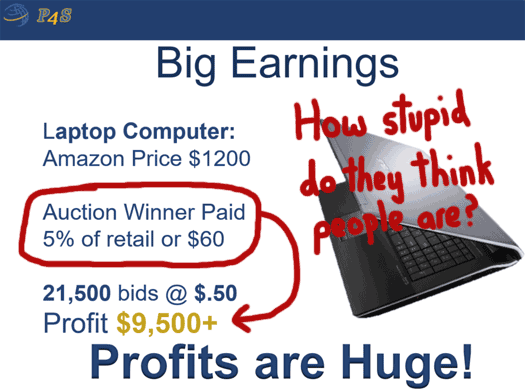 One guy gets a laptop for $60 (plus bid costs), with everyone else losing $9500.
How stupid do Passport4Success think their customers are?
And as a Passport4Success affiliate, for how long do you think any customers you might nab are going to empty their wallets to the tune of thousands of dollars only to have nothing to show for it?
This of course lends itself to a complete lack of retail activity taking place, which is reflected in Better Bid's penny auctions being a ghost town.
What your then left with is affiliates pumping money into a scheme, hoping to get a >100% daily ROI paid out before the 90 times retail requirements cap kicks in.
All you're doing is shuffling new affiliate fees to pay off existing affiliates.
The rest of the Passport4Success compensation plan deteriorates into a recruitment fest, with affiliates directly and indirectly compensated to recruit new participants into the scheme.
Once that recruitment slows down, the scheme collapses. The recruitment commissions cease immediately, with the daily ROIs following soon after (there will likely be some lag before the kitty runs dry).
But uh remember, "lawyers" have totally signed off on Passport4Success and there's "HUGE PROFITS!" to be had by all.
Riiiiiiiiiiiiiight.