Pandex Review: Japanese billionaires aren't running Ponzi scams

Pandex provide no credible information on their website about who owns or runs the business.
The Pandex website domain ("pandex.org") was first registered on January 4th, 2016. The registration was recently updated on June 19th, suggesting this is when the current owner(s) took possession of it.
Sharleen Lewis is listed as the domain owner, with what appears to be a bogus address in Kingstown, Saint Vincent (post office, no street address).
No information on Lewis outside of the domain registration ties her to Pandex, strongly suggesting this is also a bogus identity.
As far as porky pies go, the "about company" section of the Pandex website is one of the best I've seen to date.
Pandex was created as a subsidiary company in 2001 as a result of a merger between Osaka and Kyoto Stock Exchanges and started its activity on the leading Japanese stock, commodity and financial markets.

Mr Minoru Mori, a Japanese billionaire, became the new owner.

As the company's capital was predominantly private with the controlling stake remaining with Mr Mori, the company continued to be a closed joint-stock company with only few being able to access its services.

The company had successfully been handling all its functions for the following seven years working within the mentioned business focus.

Due to the mortgage crisis in the US in 2008 resulting in the bigger international one, Pandex managed to take the vacant places in the exchange business globally.

With regards to the unique business strategy and trading technology, Pandex has significantly increased its sphere of interests and number of big trading partners.

This allowed the company to reach the financial turnover of 3 billion 840 million USD between 2008-2009, which is why Pandex has confidently gained a seat among the biggest exchange players in the world.
Naturally there's no third-party sources of information to verify any of this.
Someone has a put a bit of effort into Pandex's fictional backstory though, as Minoru Mori was actually a Japanese billionaire.
Obviously with Pandex coming about long after Mori's death in 2012, there's no mention of it on Mori's Wikipedia entry.
Today Pandex claims its run by Marko Milosevic, who's purportedly backed by Hiroshi Mikitani, another Japanese billionaire.
Marko Milosevic is the name of the son of former Serbian President Soloban Milosevic.
Hiroshi Mikitani is the founder, CEO and Chairman of Rakuten, the largest e-commerce site in Japan.
Obviously neither have anything to do with Pandex. The provided history of Pandex is a complete work of fiction.
A marketing video titled "Pandex Conference" was uploaded to the official Pandex YouTube channel on November 22nd, 2017.
The man conducting the presentation identifies himself as "Mark" ("Marko") and claims to be the President of Pandex.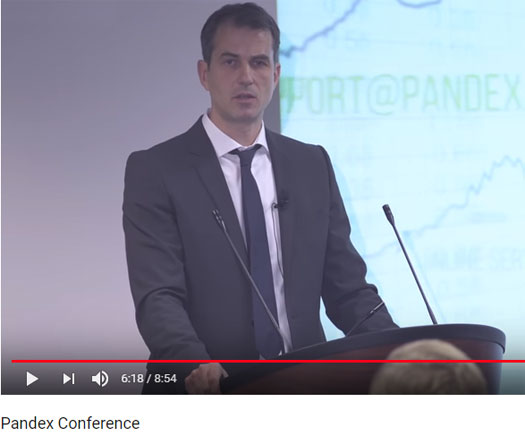 I have entertained the idea that Marko Milosevic is this man's real name, but given Pandex's flagrant use of other well-known indivudal's names, have concluded it unlikely.
It's far more likely that whoever this guy is he's only fronting Pandex for its real owner(s).
The whole conference appears to be scripted (lots of awkward pauses), including prepared questions from actors in the audience (you can see some of them reading their questions).
According to Alexa Russia is the top European source of traffic to the Pandex website, so that's probably a good place to start.
As always, if an MLM company is not openly upfront about who is running or owns it, think long and hard about joining and/or handing over any money.
Pandex Products
Pandex has no retailable products or services, with affiliates only able to market Pandex affiliate membership itself.
The Pandex Compensation Plan
Pandex affiliates invest $100 or more on the promise of an advertised ROI.
SGX – invest $100 or more and receive a 17.01% monthly ROI
Lime – invest $500 or more and receive a 26.67% monthly ROI
NASDAQ – invest $1000 or more and receive a 32.76% monthly ROI
Cryptocurrency – invest $5000 or more and receive a 42% monthly ROI
Referral commissions are available on funds invested by downline affiliates, paid out via a unilevel compensation structure.
A unilevel compensation structure places an affiliate at the top of a unilevel team, with every personally recruited affiliate placed directly under them (level 1):

If any level 1 affiliates recruit new affiliates, they are placed on level 2 of the original affiliate's unilevel team.
If any level 2 affiliates recruit new affiliates, they are placed on level 3 and so on and so forth down a theoretical infinite number of levels.
Pandex cap referral commissions down seven unilevel team levels.
How many levels a Pandex affiliate earns referral commissions down is determined by how much they have invested:
invest up to $4000 and receive 5% on level 1 (personally recruited affiliates), 2% on level 2 and 1% on level 3
invest $4001 to $30,000 and receive 6% on level 1, 2% on level 2 and 1% on levels 3 and 4
invest $30,001 to $200,000 and receive 7% on level 1, 3% on level 2, 2% on level 3 and 1% on levels 4 and 5
invest $200,001 to $1,500,000 and receive 8% on level 1, 6% on level 2, 3% on level 3, 2% on level 4 and 1% on levels 5 and 6
invest $1,500,001 or more and receive 9% on level 1, 6% on level 2, 3% on level 3 and 2% on levels 4 to 7
Joining Pandex
Pandex affiliate membership is free.
Full participation in the Pandex income opportunity however requires a minimum $100 investment.
Conclusion
If it wasn't already obvious, Japanese billionaires aren't taking time out from running their already sucessful companies, to launch Ponzi schemes fronted by nervous east European actors.
Pandex itself claims to be a multi-billion dollar company, yet there's no evidence anywhere in the world that it exists beyond it's own website.
With that out of the way, what we're left with is cookie-cutter Ponzi fraud.
Pandex's ROI ruse sees it claim to generate revenue trading
shares, bonds, warrants and derivatives on stock and base commodity actives
non-ferrous metals
high-tech stock and
cryptocurrencies
No evidence of any trading whatsoever exists. The names of its traders provided on the Pandex website are also nobodies within their purported respective industries.
But uh yeah, almost $4 billion in trading revenue annually. Sure thing guys.
The reality of Pandex is the only verifiable source of revenue entering the company is new affiliate investment.
Using new investment to pay off existing investors makes Pandex a Ponzi scheme.
As with all Ponzi schemes, once affiliate recruitment slows down so too will new revenue entering the company.
This will see Pandex unable to meet its ROI obligations, eventually prompting a collapse.
The math behind a Ponzi schemes dictates that when they inevitably collapse, the majority of investors lose money.