OXO Worldwide Review: Magical hologram stickers…

OXO Worldwide launched in 2013 and operate in the health and wellness MLM niche.
For reasons unknown, OXO Worldwide do not list where they operate from on their website (or any social profiles that I could see).
An address in the US state of Nevada is provided in OXO WorldWide's Privacy Policy, however further research reveals this to be a virtual mailing address provided by Regus.
In this same Privacy Policy, OXO Worldwide claim to be "owned and operated by OXOgenix International Ltd". The website address provided in the policy for OXOgenix International however points right back to the OXO Worldwide website, so I'm not sure what's going on there.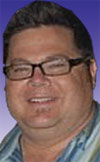 In any event OXO Worldwide list Douglas Yates (right) as President and Chief Operating Officer.
As per Yates' OXO Worldwide corporate bio;
Over the past few years, he has spent more than $450,000 on training and tools, learning from some of the top leaders in the more one billion dollar Internet Marketing industry.

Moreover, Douglas has lead or participated in many product launches, usually generating more revenue in a single launch then the product(s) sold the previous year.
The only MLM opportunity I was able to peg Yates to was something called Global TV Studios, circa 2012.
Yates is credited as Global TV Studios' "Office Director", with the company itself appearing to have marketed a video editing tool.
Global TV Studios will offer some of the most amazing HD Video and Audio Technology products ever sold through the network marketing industry.
Not exactly sure what happened there, but the opportunity appears to have flopped and Global TV Studios is not around today.
A year later Yates went on to launch OXO Worldwide.
Of minor note is that Global TV Studios' "Senior Executive Director", Steve E. Smith, is credited as OXO Worldwide's Master Distributor today. Whether or not any other Global TV Studios executives joined Yates in OXO Worldwide is unclear.
Read on for a full review of the OXO Worldwide MLM business opportunity.
The OXO Worldwide Product Line
OXO Worldwide market what they call "quantum infused holograms".
The holograms do not introduce foreign or new substances into your body.

There are no drugs or chemicals and the holograms don't create anything that your body doesn't already have.

The holograms just influence and balance the body's cellular frequencies (or energy flow) which allows the cells to repair themselves (by design) and to resonate at their properly designed frequencies.
OXO Worldwide market three of these holograms as follows:
RealTime "XP528" Energy – "real energy that lasts all day" ($69)
RealTime Sleep – "supports deep restful sleep" ($69.99)
RealTime Relief – "supports the body's ability to relieve pain and aids in recovery" ($59.99)
The holograms are sold in packs of 40 and are designed to be used once and then disposed of.
The OXO Worldwide Compensation Plan
The OXO Worldwide compensation plan pays affiliates to make retail sales of the company's products. Affiliates are also encouraged to build a downline and earn from orders these affiliates purchase each month.
Commission Qualification
In order to qualify for commissions, OXO Worldwide affiliates are required to purchase at least 100 PV worth of product each month and recruit at least two affiliates:
To be considered active, a distributor must purchase a minimum of 100 PQV within 30 days of the end of the commission period.

Commission Qualified is defined as an "Active" distributor (100 PQV) that has at least 2 "Active", personally sponsored distributors, one placed in the left leg and one placed in the right leg of the binary tree.
PV stands for "Product Volume" and is a point metric generated whenever products are either purchased by affiliates or sold to retail customers.
OXO Worldwide Affiliate Ranks
There are seven affiliate ranks within the OXO Worldwide compensation plan.
Along with their respective qualification criteria, they are as follows:
Bronze (entry rank) – purchase at least 100 PV of product each month and recruit and maintain at least 2 affiliates who do the same
Silver – maintain 100 PV a month in product purchases and recruit and maintain at least four affiliates who do the same (2 on either side of the binary)
Gold – maintain 100 PV a month in product purchases and recruit and maintain at least six affiliates who do the same (3 on either side of the binary)
Platinum – maintain 100 PV a month in product purchases and recruit and maintain at least eight affiliates who do the same (4 on either side of the binary)
Diamond – maintain 100 PV a month in product purchases and recruit and maintain at least ten affiliates who do the same (5 on either side of the binary)
Double Diamond – maintain 100 PV a month in product purchases and recruit and maintain at least twelve affiliates who do the same (6 on either side of the binary)
Black Diamond – maintain 100 PV a month in product purchases, recruit and maintain at least fourteen affiliates who do the same (7 on either side of the binary) and have at least one Diamond or higher ranked affiliate in each unilevel leg
Retail Commissions
Retail commissions in OXO Worldwide are paid on orders by retail customers and that of preferred customers.
Retail customers are able to place orders with OXO Worldwide either through an affiliate directly or through their replicated storefront.
Commissions on these orders are paid as the difference between the wholesale and retail price of the product.
A preferred customer is a retail customer who agrees to sign up for a monthly autoship order, in exchange for access to wholesale pricing.
Commissions preferred customer orders are paid through the residual commission components of the OXO Worldwide compensation plan (the same as recruited affiliate product orders).
Of note is that OXO Worldwide also incorrectly attempt to characterize affiliate purchases of product as retail sales:
Distributors can purchase OXOww products at the wholesale price and sell them to their customers at the suggested retail price.

They earn the difference between the retail price and the wholesale price.
Reselling products an affiliate has bought does not constitute a retail sale within an MLM compensation plan. It is an external sale that has nothing to do with the MLM business opportunity.
Residual Commissions
Residual commission sin OXO Worldwide are paid out via a binary compensation structure.
A binary compensation structure places an affiliate at the top of a binary team, with two positions directly under them: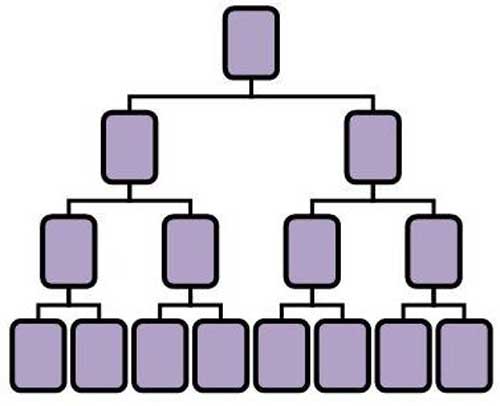 These two initial positions form the start of two sides, left and right.
Sales are tracked through both sides of binary, with commissions paid out per calculated cycles daily.
A cycle occurs when 100 PV of sales volume is matched up on both sides of the binary, with each cycle paying $20.
How many binary cycles an affiliate can earn from weekly is capped by their affiliate rank:
Bronze – 373 cycles ($7500)
Silver – 500 cycles ($10,000)
Gold – 625 cycles ($12,500)
Platinum – 750 cycles ($15,000)
Diamond – 875 cycles ($17,500)
Double Diamond – 1000 cycles ($20,000)
Black Diamond – 1250 cycles ($25,000)
Matching Bonus
The Matching Bonus in OXO Worldwide is paid out on residual binary commissions earned by downline affiliates, payable through a maximum seven levels of recruitment.
Note that only Bronze or higher ranked affiliates can qualify for the Matching Bonus.
The exact amount of sales volume matched and paid out on is a floating percentage, "based on a total amount of seventy percent (70%) of total company CV" (commissionable volume).
How many levels of recruitment an OXO Worldwide affiliate can earn a Matching Bonus on is determined by their affiliate rank:
Bronze – 1 level
Silver – 2 levels
Gold – 3 levels
Platinum – 4 levels
Diamond – 5 levels
Double Diamond – 6 levels
Black Diamond – 7 levels
Generation Bonus
In OXO Worldwide generations are tracked via a unilevel style compensation structure.
A unilevel compensation structure places an affiliate at the top of a unilevel team, with every personally recruited affiliate placed directly under them (level 1).

These recruited affiliates form the start of unilevel legs, with each leg representing one individual personally recruited affiliate.
A generation in OXO Worldwide's compensation plan is defined when a Platinum or higher ranked affiliate is found in any one unilevel leg.
Once found, all affiliates from level 1 until the Platinum or higher ranked affiliate form the first generation of that leg.
The second generation is capped when another Platinum or higher ranked affiliate is found further down the leg. Note that if no second Platinum or higher ranked affiliate is found, then the second generation extends to the end of that unilevel leg.
Again, generation calculation in a unilevel leg is done so independently of any other unilevel leg.
How many generations in total an OXO Worldwide affiliate can earn on, is again determined by their affiliate rank:
Bronze – 1 generation
Silver – 2 generations
Gold – 3 generations
Platinum – 4 generations

Diamond – 5 generations

Double Diamond – 6 generations

Black Diamond – 7 generations
Joining OXO Worldwide
Affiliates can join OXO Worldwide as either a regular affiliate ($49 a year) or a Gold Package affiliate ($99).
Gold Package affiliates purchase the Gold affiliate rank for 90 days and do not have to pay the annual $49 fee ("indefinitely waived for the first 10,000 GOLD package purchasers").
Note that at least one OXO Worldwide presentation claimed that the first 10,000 Gold rank purchasing affiliates were "grandfathered" in at the rank "for life".
Conclusion
To kick off our conclusion of the OXO Worldwide MLM opportunity, let's start with the elephant in the room: the hologram products themselves.
Does sticking a bit of plastic, sorry, "a hologram", on your body produce anything other than placebo results?
No idea. But if you're reading this and considering OXO Worldwide affiliate membership, you fall within a narrow band of people who do.
I suspect the small subset of people OXO Worldwide's products are going to appeal to is the reason the compensation plan is so heavily geared towards recruitment of affiliates and monthly affiliate purchase of products.
Our first red flag is the encouragement of OXO Worldwide affiliates, by the company itself, to cannibalize what precious retail customers might exist and turn them into affiliates.
The preferred customers can hold a spot in the binary genealogy. The sponsor is encouraged to help their preferred customers become distributors.
If a preferred customer wishes to become an affiliate there's nothing wrong with that, but OXO Worldwide should not be actively seeking to convert retail customers into affiliates.
Regardless of the product, the quickest way to turn me off something is to have an affiliate ram it down my throat whenever I make contact to put in a product order.
Not to mention in MLM it's bad business to focus on converting retail product orders to affiliate orders. You're working against yourself there, as every MLM company needs retail orders to survive.
Next up we have the commission qualification requirements, which literally demand affiliates purchase products each month.
Do I really need to point out just how much of a compliance no-no this is?
With no retail qualifiers whatsoever, OXO Worldwide appear to be actively encouraging chain-recruitment. That being commissions generated by affiliate spending, which in the absence of retail sales means affiliates are only earning via recruitment of new affiliates (who purchase products).
And what's worse, affiliate autoship is openly touted as means to maintain commission qualification:
The (autoship) program assists those interested in ensuring they meet qualification requirements for certain bonuses and commissions.
Nevermind whether an affiliate is actually going to use the purchased product or not, buy buy buy! in order to remain commission qualified (read: to earn commissions on your recruited downline who are buying each month for the same reason).
And that's only the tip of the compliance iceberg, with OXO Worldwide actively selling affiliate ranks for $50 (on top of the $49 base affiliate fee).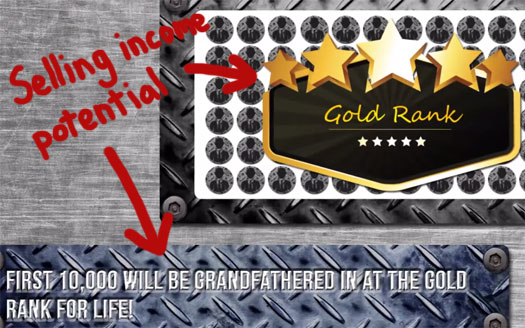 Not only is income potential through the binary directly tied to the purchase of the rank, but as an added incentive affiliate fees are waived for life.
Whether it's limited to the first 10,000 affiliates, 100,000 or 10, selling affiliate ranks in MLM is definite "pay to play" territory and should be avoided at all costs.
All in all, when you combine the lack of retail focus (retail volume qualifiers for rank advancement would be a welcome addition), chain-recruitment possibility, buying of ranks, pay to play nature of commission qualification and limited marketing viability for OXO Worldwide's holograms, I'm not seeing much to like here.
Even if you do manage to carve out a decent-sized retail sales business, you've then got the entire OXO Worldwide compensation plan actively working against you to instead focus on affiliate recruitment.
To what extent OXO Worldwide pressure retail customers to become affiliates is unclear, but the fact that it's mentioned at all in their official compensation plan documentation is a worry.
Approach with caution.