Orius Capital Review: 2.8% daily ROI crypto AI bot Ponzi scheme

Orius Capital operates in the cryptocurrency MLM niche.
The company claims to be based out of Hong Kong and headed up founder and CEO Diago Lopez Vea.
Vea has no digital footprint outside of Orius Capital, so there's a question mark on whether he actually exists or not.
Orius Capital's marketing videos appear to be populated with actors. I'm basing this on none of them seeming to exist outside of the videos themselves.
In contrast to the non-Asians used in Orius Capital's marketing efforts, their Asian counterparts do exist. Or at least one of them does.
Enge Chee Seng is cited as Orius Capital's COO of Asia Market.
Seng featured in a recent video purportedly depicting an Orius Capital  marketing event held in Vietnam last month.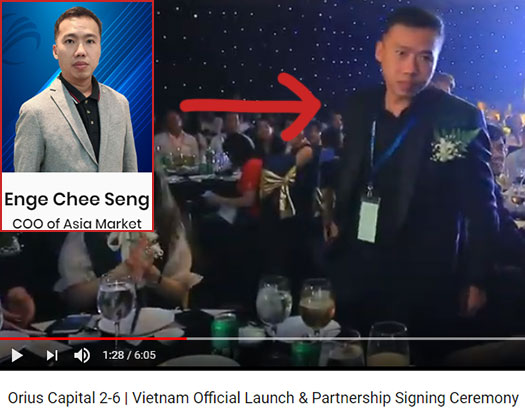 Diago Lopez Vea wasn't at the event.
In fact beyond the badly cropped image on their website, there doesn't appear to be any other footage of Vea in relation to Orius Capital.
The Hong Kong corporate address provided on Orius Capital's website belongs to Get Started HK Limited.
According to their website, Get Started HK Limited offers Hong Kong company formation services.
Thus it appears Orius Capital has no actual physical presence in Hong Kong. Their incorporation there appears to be that of a meaningless shell company.
Despite Orius Capital's focus on marketing in Vietnam, Alexa currently pegs the US as the top source of traffic to their website (37%).
Canada comes second at 15%, followed by Vietnam at 10%.
Read on for a full review of the Orius Capital MLM opportunity.
Orius Capital Products
Orius Capital has no retailable products or services, with affiliates only able to market Orius Capital affiliate membership itself.
Orius Capital's Compensation Plan
Orius Capital affiliates invest funds on the promise of advertised returns.
Basic – invest $200 and receive a 200% ROI minus $90 in fees
Advance – invest $500 and receive a 210% ROI minus $225 in fees
Elite – invest $1000 and receive a 220% ROI minus $450 in fees
Business – invest $5000 and receive a 225% ROI minus $2250 in fees
Pro – invest $10,000 and receive a 230% ROI minus $4500 in fees
VIP – invest $20,000 and receive a 235% ROI minus $9000 in fees
Executive – invest $50,000 and receive a 240% ROI minus $22,500 in fees
Master – invest $100,000 and receive a 245% ROI minus $45,000 in fees
Orius Capital affiliates receive 8% of funds invested by personally recruited affiliates.
They also receive 2% of returns paid out on funds invested by personally recruited affiliates.
Orius Capital Affiliate Ranks
There are four affiliate ranks within Orius Capital's compensation plan.
Along with their respective qualification criteria, they are as follows:
Supervisor – recruit at least two affiliates who have each invested
Manager – recruit at least five affiliates who have each invested at least $1000 and generate $5000 in weaker binary team side volume each month
Director – invest at least $10,000 yourself, recruit at least ten affiliates who have each invested at least $1000 and generate $50,000 in weaker binary team side volume each month
Founder – maintain an active $10,000 investment, recruit at least fifteen affiliates who have each invested at least $1000 and generate $100,000 in weaker binary team side volume each month
Residual Commissions
Orius Capital pays residual commissions via a binary compensation structure.
A binary compensation structure places an affiliate at the top of a binary team, split into two sides (left and right):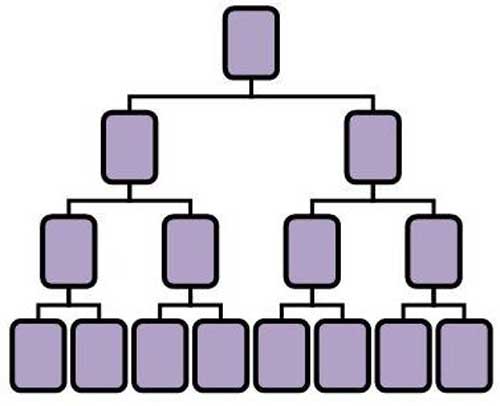 The first level of the binary team houses two positions. The second level of the binary team is generated by splitting these first two positions into another two positions each (4 positions).
Subsequent levels of the binary team are generated as required, with each new level housing twice as many positions as the previous level.
Positions in the binary team are filled via direct and indirect recruitment of affiliates. Note there is no limit to how deep a binary team can grow.
At the end of each day Orius Capital tallies up new investment volume on both sides of the binary team.
Residual commissions are paid out as a percentage of funds invested on the weaker binary team side.
Orius Capital determines residual commission rates by affiliate rank:
Supervisors are paid a 5% residual commission rate
Managers are paid a 6% residual commission rate
Directors are paid a 7% residual commission rate
Founders are paid an 8% residual commission rate
Joining Orius Capital
Orius Capital affiliate membership is tied to a minimum $200 investment.
Orius Capital only accepts bitcoin and ethereum for investment.
Conclusion
Orius Capital claims to generate external revenue through a "trading bot & signals". The company also claims to have a "strategic partnership" with Orus Bank, a fictional entity purportedly based out Belize.
No verifiable evidence exists of Orius Capital using trading revenue or any other source of external revenue to pay affiliates.
Furthermore Orius Capital's business model fails the Ponzi logic test.
If Enge Chee Seng and his co-conspirators were able to legitimately generate a consistent 2.8% daily return, what do they need your money for?
Even a modest starting amount would soon balloon into a fortune at 2% a day compounded.
Yet here's Ormius Capital, selling access to such a return for just $200. Riiiiiiiiiiight.
Owing to the passive nature of Orius Capital's investment opportunity, quite clearly it is offering a security.
Orius Capital is not registered to offer securities in any jurisdiction it operates in, namely the US and Canada.
In addition to securities fraud, the rest of Orius Capital's compensation plan is a pyramid scheme.
Affiliates sign up, invest and are then paid to recruit new affiliate investors.
As with all MLM Ponzi schemes, once affiliate recruitment slows down so too will new investment.
This will starve Orius Capital of ROI revenue, eventually prompting a collapse.
The math behind Ponzi schemes guarantees that when they collapse, the majority of participants lose money.