OneOkada Review: Black garlic supplement toxic to cancer cells?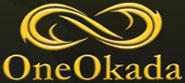 OneOkada operates in the supplement MLM niche and is based out of Quezon City in the Philippines.
Heading up OneOkada is Alexander Salvador, who cites himself as "emperor" of the company.
In Salvador's OneOkada corporate bio he's credited with
decades of his experiences in both traditional and network marketing businesses.
Possibly due to language barriers, I was unable to verify Salvador's MLM history.
Update 3rd April 2019 – A February 16th Manila Standard article identifies Alexander Salvador as an architect by trade.
The article identifies Forever Living and GoldQuest (later rebranded QNet) as companies Salvador promoted in the 1990s.
Two years later, Salvador along with 80 leaders from GoldQuest established another company called Power Homes Unlimited Corp. which was later ordered closed by the Securities and Exchange Commission for soliciting investments from the public.
In 2011 Salvador launched OneGoal.
OneGoal was an MLM company selling Gravitrol, touted as a cancer treatment. It collapsed in 2012. /end update
What I was able to verify is that in addition to launching OneOkada, Salvador (right) also runs the Cut & Fix hair salon chain in the Philippines.
On the OneOkada website, Salvador is cited as
the man behind the success of the most profitable salon brand for the past 5 years, the CUT & FIX INTERNATIONAL SALON.
Read on for a full review of the OneOkada MLM opportunity.
OneOkada Products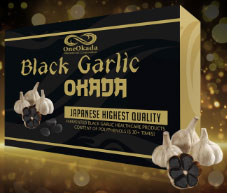 OneOkada market a range of nutritional supplements. The company's flagship product is Okada Japanese Black Garlic.
As above, OneOkada claim their black garlic supplement is "toxic to 14 kinds of cancer cells".
Other supplements featured on the OneOkada website include;
Gravitrol – a graviola leaf extract supplement that "prevents, manages and fights cancer"
Pure Nature C – a camu-camu extract supplement that contains the "world's highest vitamin c content"
Maca Power – a maca root extract supplement that "promotes fertility" and "helps prevent osteoporosis"
Okada Plus – an andrographis paniculata supplement that's "highly effective against diabetes"
Okada White – "gives your liver the best of health"
Lex Coffee – "world's healthiest coffee"
Wonder Soap – soap that "whitens and moisturizes skin, removes dead skin, controls pimples, helps in healing wounds, eliminates foot odor, helps control hair fall, prevents dandruff, prevents underarm odor and serves as a feminine wash alternative"
Ashitaba – a "super drink" with 18 added superfoods
OneOkada provide no documented evidence for any of the medical claims they make about their products.
The company also fails to provide retail pricing for any of their supplements on their website.
The OneOkada Compensation Plan
OneOkada affiliates sign up and purchase one of three affiliate packages:
Warrior Package – 3888 PHP
Imperial Package – 8888 PHP
Supreme Package – 18,888 PHP
Retail resell commissions are available but the main focus of OneOkada's compensation plan is affiliate package recruitment.
Note that OneOkada affiliates can only earn up to the affiliate package they've bought in at.
I.e. Imperial Package affiliates are paid the same commission rate on downline Imperial Package or Supreme Package volume.
Retail Commissions
OneOkada doesn't have true retail commissions. Instead, affiliates are expected to resell products they've personally purchased.
There is no verification of or requirement that this takes place.
Matrix Commissions (Warrior Package)
OneOkada's 3888 PHP Warrior Package serves as a feeder for the rest of the compensation plan.
Commissions are paid on Warrior Package recruitment, via a 4×10 matrix.
A 4×10 matrix places a OneOkada affiliate at the top of a matrix, with four positions directly under them: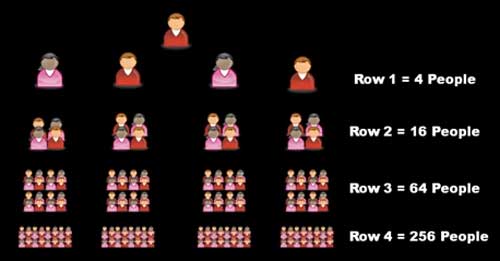 These four positions form the first level of the matrix. The second level of the matrix is generated by splitting these first four positions into another four positions each (16 positions).
Levels three to ten are generated in the same manner, with each new level housing four times as many commissions as the previous level.
Positions in the matrix are filled via direct and indirect recruitment of OneOkada affiliates.
Although not explicitly stated, I believe Imperial and Supreme Package affiliates also receive a matrix position.
Thus recruitment of any OneOkada affiliate fills at least one matrix position.
Commissions are paid on filled matrix positions as follows:
level 1 (4 positions to fill) – 1000 PHP generated per position filled, passed up to immediate upline (the affiliate who recruited you)
level 2 (16 positions to fill) – commissions disappear (the compensation plan mentions "goodwill" but fails to elaborate)
level 3 and deeper – 1200 PHP paid per position filled
Note that funds are set aside on level 6 and level 10 to pay for Imperial and Supreme Packages respectively.
I believe this is mandatory if an affiliate has not already purchased these packages.
Recruitment Commissions
OneOkada Imperial and Supreme Package affiliates are paid directly and residually on affiliate recruitment.
recruit a new Imperial Package affiliate and receive 500 PHP
recruit a new Supreme Package affiliate and receive 1500 PHP or 3000 PHP worth of OneOkada products
Residual recruitment commissions are paid out via a binary compensation structure.
A binary compensation structure places an affiliate at the top of a binary team, split into two sides (left and right):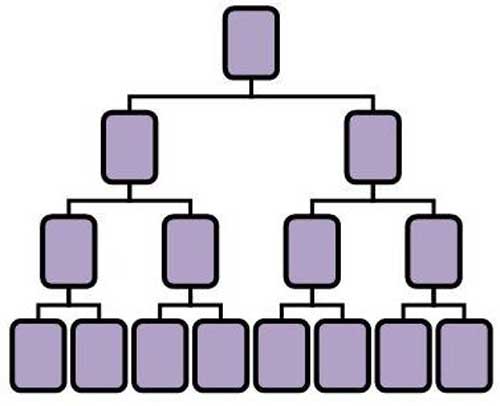 The first level of the binary team houses two positions. The second level of the binary team is generated by splitting these first two positions into another two positions each (4 positions).
Subsequent levels of the binary team are generated as required, with each new level housing twice as many positions as the previous level.
Positions in the binary team are filled via direct and indirect recruitment of affiliates. Note there is no limit to how deep a binary team can grow.
Residual recruitment commissions are paid based on paired recruiting of OneOkada affiliates across the binary team.
two recruited Imperial Package affiliates generates a 1000 PHP commission
two recruited Supreme Package affiliates generates a 2500 PHP commission
A matching bonus is paid on residual recruitment commissions, based on how much a OneOkada affiliate signed up for:
Supreme Package affiliates earn a 10% match when their binary team generates 100,000 PHP in residual recruitment commissions
Finally, for every ten pairs of recruited binary team affiliates
Imperial Package affiliates receive a 1000 PHP product voucher
Supreme Package affiliates receive a 2500 PHP product voucher.
Residual Commissions
OneOkada pays Imperial and Supreme Package affiliates residual commissions on downline repeat purchase volume.
Residual commissions are paid out via a unilevel compensation structure.
A unilevel compensation structure places an affiliate at the top of a unilevel team, with every personally recruited affiliate placed directly under them (level 1):

If any level 1 affiliates recruit new affiliates, they are placed on level 2 of the original affiliate's unilevel team.
If any level 2 affiliates recruit new affiliates, they are placed on level 3 and so on and so forth down a theoretical infinite number of levels.
OneOkada caps payable unilevel team levels at ten.
How many levels a OneOkada affiliate earns on is based on their personal recruitment efforts:
Merchants (recruit at least one affiliate) – 6% on up to six unilevel team levels
Ronin (recruit at least three affiliates) – 7% on up to seven unilevel team levels
Samurai (recruit at least six affiliates) – 8% on up to eight unilevel team levels
Shogun (recruit at least nine affiliates) – 9% on up to nine unilevel team levels
Emperor (recruit at least twelve affiliates) – 10% on up to ten unilevel team levels
Gold Emperor (recruit at least three Emperor ranked affiliates) – 12% on up to ten unilevel team levels
Platinum Emperor (recruit at least five Emperor ranked affiliates) – 15% on up to ten unilevel team levels
Diamond Emperor (recruit at least seven Emperor ranked affiliates) – 18% on up to ten unilevel team levels
Note that Gold Emperor and higher ranks are only available to Supreme Package affiliates.
Incentives
OneOkada rewards Supreme Package affiliates with incentives, based on residual recruitment pairing in their binary team.
generate 400 binary team recruitment pairs and receive "travel incentives"
generate 500 binary team recruitment pairs and receive "car incentives"
generate 1000 binary team recruitment pairs and receive "SUV incentives"
Joining OneOkada
OneOkada affiliate membership is tied to the purchase of an affiliate package:
Warrior Package – 3888 PHP
Imperial Package – 8888 PHP
Supreme Package – 18,888 PHP
In addition to varying products bundled with the packages, purchasing an Imperial or Supreme Package upfront increases an affiliates income potential.
Conclusion
OneOkada is your typical product-based pyramid scheme, with some alarming claims made about its products.
Typically we see affiliates making health claims about products. Occasionally however MLM companies get caught out too.
OneOkada is shamelessly one of those companies. Multiple health claims about cancer and other diseases are made about its products on OneOkada's website and social media accounts.
OneOkada provides zero evidence to back up any of its medical claims. There aren't even links to studies pertaining to included ingredients in general (still not acceptable but better than nothing).
Not knowing what the heck black garlic was (beyond the obvious), I looked it up.
Turns out it's just regular garlic that's been heated 'over the course of several weeks'.
lack garlic is made when heads of garlic are aged under specialized conditions of heat and humidity.

Bulbs are kept in a humidity-controlled environment at temperatures that range from 60 to 77 °C (140 to 170 °F) for 60 to 90 days.
This does change the taste and composition of the garlic, however it's not like it turns into some sort of super medicine.
The primary use of black garlic is culinary for its flavor. It is not widely used or known for any medicinal properties.
There are a few claims here and there regarding black garlic and the prevention of cancer (lots of "thought to"), but nothing concrete.
Next up graviola leaf, which you might otherwise know as soursop leaves.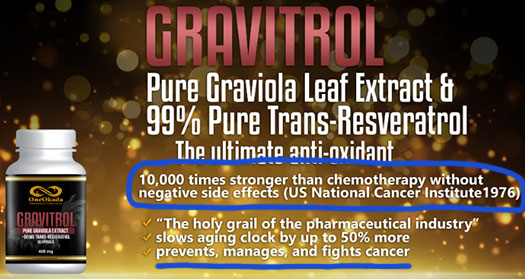 As of 2017 the FDA calls bogus on any graviola leaf treatment related claims.
Cancer Treatment Centers of America, quoting Dr. Kellman, Clinical Director of Naturopathic Medicine at CTCA Atlanta hospital, states
While research suggests soursop can fight cancer, it has not been studied in humans.

As a result, there is no evidence of its safety or efficacy.

Soursop has been associated with many unsubstantiated claims, says Daniel Kellman, ND, FABNO, Clinical Director of Naturopathic.
In a 2018 SFGate article, graviola leaves are noted for their antioxidant benefits… but nothing you wouldn't be already getting from a balanced diet.
there's really no reason to go out of your way to supplement graviola for antioxidant benefits since a well-balanced diet already contains plenty of antioxidants from foods like fruits and vegetables.
10,000 times stronger than chemotherapy? Total bullshit.
OneOkada is selling health store grade nutritional supplements with absolutely farcical medical claims.
OneOkada is registered with the Philippine FDA through to November 2019 (License Number: LTO-3000002401198), however only as a "food trader".
OneOkada is not authorized to market, sell or distribute products that treat or cure any medical conditions.
It seems the Philippine FDA has yet to catch up with OneOkada. In the meantime be aware that there is absolutely no documented evidence of any of their claims.
I did see some "so and so took one of our products and look, COMPLETELY HEALED!" nonsense on OneOkada's Facebook page.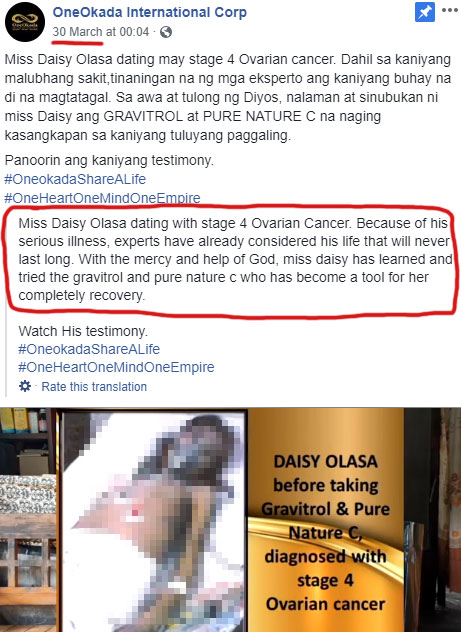 This is anecdotal evidence (at best) and is not a substitute for verifiable medical studies.
One possible explanation for Salvador's fixation on cancer is the fact that 'his mother, an aunt and a sister all died of cancer between 2007 and 2011.'
Sad as that may be, it's not justification for using unverified medical claims to peddle OneOkada's supplements.
Salvador began marketing Gravitrol in 2011, he's had more than enough time to get it approved by the FDA for cancer treatment.
That he hasn't should tell you everything you need to know about its efficacy.
Moving onto OneOkada's compensation plan, while retail is possible it's clearly not a focus.
The core focus of OneOkada's compensation plan is to sign up with a package and then recruit others who do the same.
Retail can be ignored, and probably will be. Bogus marketing claims and no retail pricing on the OneOkada website clearly demonstrate the company is going after a specific market (affiliates).
Residual volume is generated through repeat purchases by recruited affiliates. This and through raw recruitment numbers is how one advances through the OneOkada compensation plan ranks.
The encouragement of OneOkada affiliates to sign up with seven positions is further evidence of recruitment focus over retail.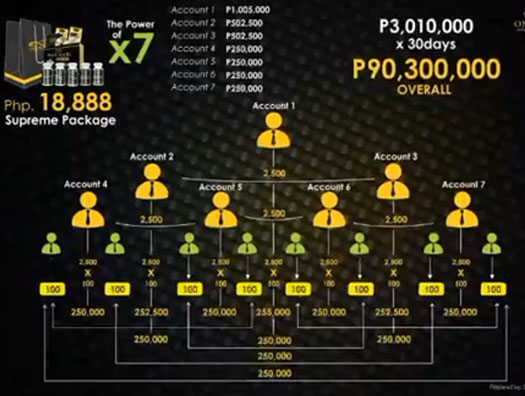 Also for some reason OneOkada seem to think they came up with the binary compensation system:
pioneered the revolution of the binary system thru its EXTREME MATCHING REWARD SYSTEM which introduces UNLIMITED matching bonus.
Sorry to break it to you guys but the MLM binary compensation model has been around for a while.
Additional elements of OneOkada's  compensation plan I didn't cover due to a lack of provided information, include:
mention of a OneOkada coin (cryptocurrency);
a stock market IPO;
something about buying into a Cut & Fix franchise; and
"288K Stockist" (no idea)
I really can't see a company whose whole marketing strategy is based on medical woo going public. As for launching its own OneOkada coin, why?
There's no need to exit-scam here because OneOkada isn't using nor lends itself to cryptocurrency.
There's literally no advantage to launching their own shitcoin, other than making it more difficult for OneOkada affiliates to request refunds (no idea if that's even possible).
As for Cut & Fix franchises and whatever a 288K Stockist is, both sound like top rank perks that are probably only relevant to OneOkada affiliates with huge downlines. Not really selling points within the MLM opportunity itself.
Pyramid schemes require chain recruitment to stay afloat, and thus when OneOkada recruitment slows down the company is going to find itself struggling to stay afloat.
That's if the Philippine SEC doesn't investigate and make a move first.
And for the love of god, if you're a cancer patient please do not give up prescribed treatment for OneOkada's magic supplements.