Nominex Review: Crypto exchange with NMX token Ponzi

Nominex operates in the cryptocurrency MLM niche.
Nominex's website domain ("nominex.io"), was first registered in November 2017.
The private registration, revealing only Russia as the address of the owner, was last updated on July 4th, 2021.
In an attempt to appear legitimate, Nominex provides a Seychelles incorporation certificate on its website.
For the purpose of due-diligence, basic incorporation in any jurisdiction is meaningless.
Emphasizing this is the corporate address in Seychelles that Nominex provides.
This address is used by multiple companies, suggesting Nominex only exists in Seychelles as a shell company.

Heading up Nominex is CEO Pavel Shkitin (right).
According to his Facebook profile, Shkitin is based out of Saratov, Russia.
Thus it is confirmed Nominex is a Russian company pretending to be based out of Seychelles.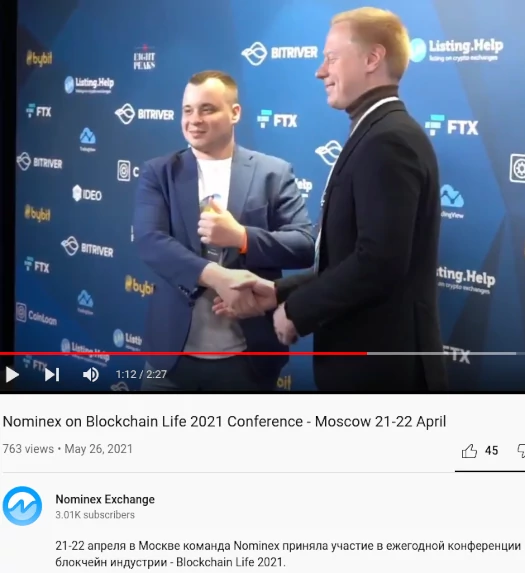 Prior to reinventing himself as a crypto bro and heading up Nominex, Shitikin had a programming and sales background.
At the time of publication Alexa ranks top sources of traffic to Nominex's website as Argentina (16%), Russia (15%) and Costa Rica (11%).
Read on for a full review of Nominex's MLM opportunity.
Nominex's Products
Nominex has no retailable products and services.
Nominex affiliates are only able to market Nominex affiliate membership itself.
Outside of its MLM opportunity, Nominex runs a cryptocurrency exchange.
Nominex's Compensation Plan
Nominex affiliates invest in NMX tokens on the promise of an annual return of "over 145%".
Nominex affiliates can also invest NMX and USDT, on the promise of a 500% ROI.
Nominex solicits investment in NMX tokens in various tether packages (USDT):
Starter – up to 100 USDT
Partner – 100 USDT
Pro – 300 USDT
VIP – 1000 USDT
Elite – 5000 USDT
Max – 10,000 USDT
The MLM side of Nominex pays commissions on recruitment of affiliate investors.
All commissions and bonuses are paid out in NMX tokens.
Referral Commissions
Nominex affiliates receive a percentage of USDT invested by personally recruited affiliates.
Referral commission rates are determined by how much a Nominex affiliate has invested:
Starter and Partner – 20% referral commission rate
Pro – 25% referral commission rate
VIP – 30% referral commission rate
Elite – 35% referral commission rate
Max – 40% referral commission rate
Referral commissions are also paid on NMX returns paid to personally recruited affiliates.
Again ROI referral commission rates are determined by how much a Nominex affiliate themselves has invested:
Starter – no ROI referral commissions
Partner – 5% ROI referral commission rate
Pro – 8% ROI referral commission rate
VIP – 10% ROI referral commission rate
Elite – 15% ROI referral commission rate
Max – 20% ROI referral commission rate
Residual Commissions
Nominex pays residual commissions via a binary compensation structure.
A binary compensation structure places an affiliate at the top of a binary team, split into two sides (left and right):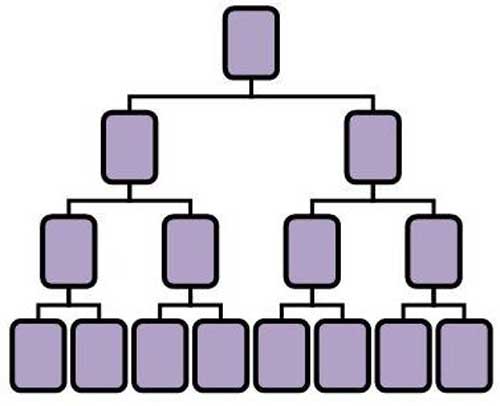 The first level of the binary team houses two positions. The second level of the binary team is generated by splitting these first two positions into another two positions each (4 positions).
Subsequent levels of the binary team are generated as required, with each new level housing twice as many positions as the previous level.
Positions in the binary team are filled via direct and indirect recruitment of affiliates. Note there is no limit to how deep a binary team can grow.
Nominex pays residual commissions as a percentage of returns paid to their weaker binary team side. That is the side that receives less in daily returns.
Residual commission rates are determined by how much a Nominex affiliate has invested:
Starter tier affiliates do not receive residual commissions
Partner tier affiliates receive a 5% residual commission rate
Pro tier affiliates receive an 8% residual commission rate
VIP tier affiliates receive a 10% residual commission rate
Elite tier affiliates receive a 15% residual commission rate
Max tier affiliates receive a 20% residual commission rate
Fee Commissions
Nominex affiliates earn a percentage of fees collected from their personally recruited affiliates.
Fee commission rates are not disclosed.
Joining Nominex
Nominex affiliate membership is free.
Full participation in the attached MLM opportunity requires a minimum 100 USDT investment.
Nominex Conclusion
Nominex claims its management team are
3 musketeers fighting for you and for the Great crypto Justice.
In reality they're just running another MLM crypto Ponzi scheme – which ultimately will primarily benefit themselves.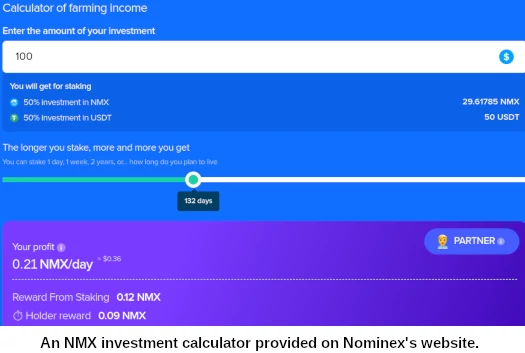 Such that there's any legitimacy to Nominex's exchange, it's undermined by their NMX token Ponzi scheme.
Nominex affiliates invest in NMX tokens, park them with the company on the promise of a passive return, and eventually cash out subsequently invested funds.
The more a person stakes NMX-LP, the more NMX tokens from the pool he will receive.
Thankfully Nominex haven't bothered with the "staking isn't investing" pseudo-compliance.
Tokens received for affiliate activity are indistinguishable from tokens for staking: they can, for example, be reinvested to staking.
NMX itself is a BEP-20 token. These take a few minutes to set up at little to no cost.
The MLM side of Nominex focuses on recruitment of new affiliate investors. This adds an additional pyramid layer to the scheme.
As of April 2021 or so NMX has been publicly tradeable.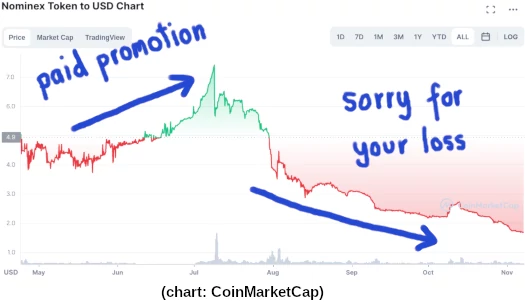 Above you can see a pump to $7.33, after which comes the inevitable shitcoin dump to $1.66 and falling.
I was able to peg the June NMX run up to aggressive social media marketing by Nominex, both on crypto websites and YouTube.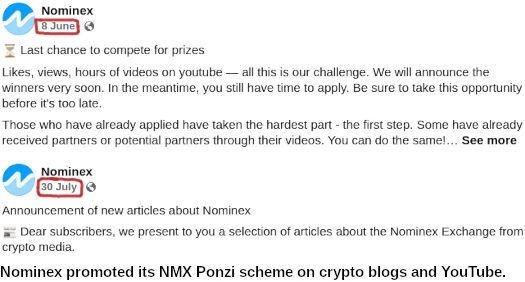 In a blog post on its website, Nominex revealed  revealed they were paying upwards of $10,000 for NMX token YouTube videos.
The problem is outside of Nominex NMX is worthless. Any value through the exchange is dwarfed by the attached investment scheme.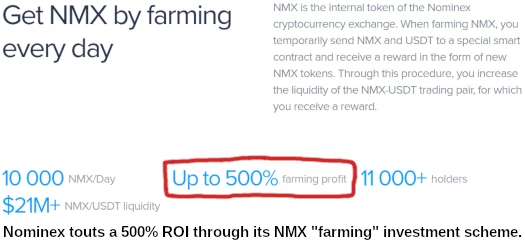 Said investment scheme, by virtue of it being a Ponzi scheme, will inevitably collapse.
Nominex has implemented incentives to prevent affiliates from cashing out…
To motivate a person not to sell tokens, we need to show additional profitability.

We have already implemented the mechanics – the more a person stakes, the more they earn NMX tokens.
…but those are stop-gap measures.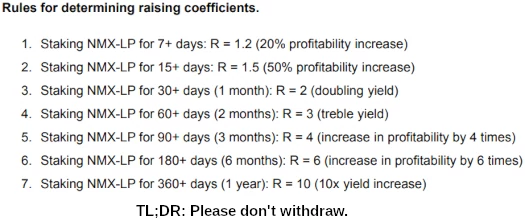 They can't put off the inevitable withdrawals exceeding new investment scenario.
Whenever that happens, watch out for something like this:

And/or Nominex will simply disappear. Be it disabled withdrawals or admins doing a runner, Nominex affiliates will be left bagholding worthless NMX.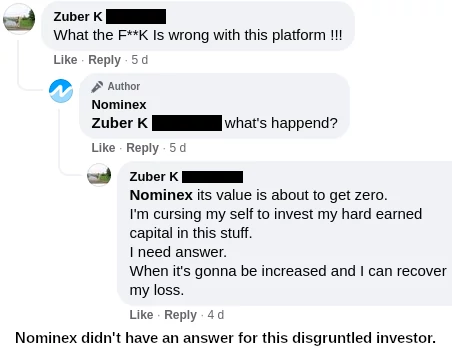 On the regulatory front, Nominex's NMX token investment scheme constitutes a securities offering.
This requires Nominex to be registered with financial regulators, which they are not (again, shell incorporation in Seychelles is meaningless).
The Bank of Russia has taken a more proactive role in identifying and issuing securities fraud warnings of late.
Beyond that however Russian authorities have thus far failed to follow up with enforcement.
In the meantime math is math and, irrespective of whether Nominex collapses or authorities shut it down, the majority of investors in Ponzi schemes always lose out.