NeVetica Review: Pet care with disclosure issues

NeVetica operates in the pet supplies MLM niche.
The company is was founded in 2018 and is based out of Maryland in the US.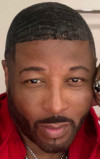 Heading up NeVetica is founder and CEO Lance London (right).
So the story goes;
In 2016, Dr. London arrived home and found Rocky lifelessly laying on his garage floor. After rushing him to the veterinarian, he discovered that Rocky had a massive, life-threatening stroke.

The prognosis was grim and the veterinarian advised Dr. London to put Rocky down.

Rocky had been a part of Dr. London's life for 17 years at the time of his stroke, so it was vital to Dr. London that every effort be made to save Rocky's life.

Dr. London started researching every available option to improve a pet's health and quality of life.

His research led him to two important findings. The first was what pet parents feed their pet plays a huge part in them maintaining great overall health.

He also read about the importance of supplementing our pet's diet with daily vitamins.

While Rocky never fully recovered from the stroke, he did live for another 2 years with some quality of life. This of course meant everything to Dr. London.

When the stroke first happened, Rocky was barely able to walk. After being on the raw food diet and taking nutraceuticals/vitamins for some time, he became more mobile and active.

Seeing Rocky improve prompted Dr. London to further research the pet industry.

He quickly realize the pet industry was not only recession proof, but that it was also a great market to tap into because of peoples' love for their pets.

Pet owners comprise 70% of American households, and the pet industry has seen steady growth for the last 18 years.

This gave Dr. London the vision and motivation that he needed to start the company that you know today.
As far as I can tell NeVetica is London's first venture as an MLM executive.
In addition to NeVetica, London also owns and operates Carolina Kitchen and TKO Burger.
Read on for a full review of the NeVetica MLM opportunity.
NeVetica's Products
NeVetica claims it markets
innovative products (that) combine high-quality ingredients with the added benefit of customization to help pets maintain longer, healthier lives
Pet products featured on NeVetica's website include:
Waterless Shampoo – "No-Rinse Waterless Shampoo offers a two-fold benefit of not only cleaning the skin, but also of potentially healing it", retails at $29.99 a bottle
Anti Itch Pet Spray – "created to help soothe irritated skin, while leaving your pet's coat soft and shiny", retails at $24.99
Paw Protector – "an excellent way to provide support for your pet's dry, chapped paws", retails at $22.99 a tub
Wet-A-Way – "absorbs fresh liquid stains from flooring with a unique, fast-acting powder", retails at $24.99 for small and $29.99 for large
Dental Chews – "combats tartar, but also battles bad breath", retails at $27.99 (available in small or large)
Water Additive Mouthwash – "this product supports healthy teeth and gums and it may also help soothe and upset stomach", retails at $19.99 for a small bottle and $24.99 for large
Skin & Coat – "formulated with ingredients to support beautiful, healthy skin and fur for your pet", retails at $34.99 a tub
Multivitamin – "filled with essential vitamins, minerals and nutrients to support the overall well-being of your pet", retails at $34.99 a tub
Hip & Joint – "aims to promote and maintain good joint health", retails at $35.99 for a small tub and $45.99 for large
Digestive Support – "infused with ingredients to support your pet's digestive system", retails at $34.99 a tub
Calming Support – "fortified and infused with green tea extract and lemon balm powder to help keep your pet relaxed", retails at $34.99 a tub
An official marketing presentation claims all of NeVetica's
products are of the highest quality, made in the USA, and manufactured exclusively by NeVetica.
NeVetica's Compensation Plan
NeVetica fail to provide a copy of their compensation plan on their website.
The following analysis is put together based on a "short version" compensation video NeVetica provide on their YouTube channel.
NeVetica Affiliate Ranks
There are fourteen affiliate ranks within NeVetica's compensation plan.
Pet Consultant
Senior Pet Consultant
Area Pet Consultant
Regional Pet Consultant
Director
Area Director
Regional Director
National Director
Vice President
President
International President
Diamond
Blue Diamond
Black Diamond
Note that NeVetica does not provide qualification criteria for any of their ranks.
Retail Commissions
NeVetica appears to cap retail commissions at "up to 35%" a week.
You can earn upwards to a 35% cash bonus once a week on every NeVetica pet product you sell.
What happens if a retail customer puts more than one order in a week is unclear.
First Order Bonus
The First Order Bonus pays up to 15% on volume generated by new preferred customers.
NeVetica calculates the First Order Bonus using a unilevel compensation structure.
A unilevel compensation structure places an affiliate at the top of a unilevel team, with every personally recruited affiliate placed directly under them (level 1):

If any level 1 affiliates recruit new affiliates, they are placed on level 2 of the original affiliate's unilevel team.
If any level 2 affiliates recruit new affiliates, they are placed on level 3 and so on and so forth down a theoretical infinite number of levels.
Pet Consultants through to Area Directors earn up to 15% on three unilevel team levels (includes their own preferred customers)
Regional Directors and higher also earn 15% on levels 1 to 3. They earn an additional 5% starting from level four, until another Regional Director is found in each unilevel team leg.
If no Regional Director is found, the First Order Bonus pays out the full depth of the leg.
Residual Commissions
NeVetica pays residual commissions using the same unilevel compensation structure used to pay the First Order Bonus (see above).
NeVetica caps payable residual commissions at six unilevel team levels:
level 1 (personally recruited affiliates) – 2%
level 2 – 2%
level 3 – 5%
level 4 – 6%
level 5 – 8%
level 6 – 10%
Note that the above unilevel team levels are restricted by rank. NeVetica however fails to provide specific residual commission level qualification criteria.
Turbo Infinity Bonus
President and higher ranked NeVetica affiliates qualify for the Turbo Infinity Bonus.
The Turbo Infinity Bonus starts from level 7 of the unilevel team and theoretically pays down an infinite number of levels.
It sounds like a generational bonus, which would then be presumably rank-based. Nevetica however once again fail to provide any further details.
Income Match Bonus
The Income Match Bonus pays a matching percentage of "part of your downline's income".
The Income Match Bonus is tracked across the unilevel team, paying on up to 6 generations per unilevel team leg.
Pet Consultants through to Presidents earn a match of up to 25%
International Presidents earn a match of up to 33%
NeVetica do not define what an Income Match Bonus generation is. Nor do they provide information on how many generations each rank is paid on.
Leadership Advancement Bonus
The Leadership Advancement Bonus is a one-time rank achievement bonus, starting at National Director.
qualify at National Director and receive $1000
qualify at Vice President and receive $2000
qualify at President and receive $4000
qualify at International President and receive $7500
qualify at Diamond and receive $15,000
qualify at Blue Diamond and receive $40,000
qualify at Black Diamond and receive $100,000
Global Pool Bonus
NeVetica takes 1% of company-wide sales revenue and places it into the Global Pool.
NeVetica shares the Global Pool Bonus with "top leaders in the company" every quarter. Specific qualification criteria is not provided.
Sponsored Incentive Trips
NeVetica rewards qualified "top leaders" with an annual "all expenses vacation".
Top leader qualification is not provided.
Executive Leadership Council
Verbatim from NeVetica's compensation video;
When you qualify for the Executive Leadership Council, the company will fly you on an all-expenses paid trip to an exclusive meeting with other executive council members and the President of NeVetica.

Plus you'll receive gifts at the national NeVetica conventions.
NeVetica do not disclose Executive Leadership Council qualification criteria.
Coming Soon Bonuses
NeVetica's compensation video details three "coming soon" bonuses.
Management Level Ranking Bonus
Matching Management Level Ranking Bonus
Car Bonus
Based on a lack of disclosure from NeVetica, whether these bonuses were ever implemented is unclear.
Joining NeVetica
NeVetica do not disclose affiliate membership costs on their website.
Third-party sources quote NeVetica distributor costs starting at $225 and costing as much as $690.
Note that I was unable to personally verify these figures.
Conclusion
NeVetica's stated goal is to
educate pet parents on the best ways to care for their pets, and to bring quality products to the market place.
It's a shame the company doesn't place the emphasis on educating consumers about their MLM opportunity.
NeVetica's biggest problem is disclosure of the finer points of its MLM opportunity. This includes providing a full copy of their compensation plan, along with what it costs to sign up as a distributor.
Failing to do so is anti-consumer and a potential violation of the FTC Act.
Based on what is disclosed, no glaring red flags stood out but there's a big black hole with respect to NeVetica affiliate rank qualification.
I'm also unsure what the story is with weekly limiting of retail commissions.
There's no mention of retail volume qualifiers in NeVetica's compensation video. The company also doesn't disclose whether recruited affiliates are counted as "customers".
These are potential pyramid scheme red flags, which is why it's important for MLM companies to be transparent regarding their compensation plan.
Having launched in 2018, there is simply no excuse for NeVetica to only provide a "short version" compensation video on their website.
One other potential red flag is income projections from the company itself.
The cited "short version" compensation video NeVetica provides was uploaded to YouTube on October 16th, 2018.
At [4:15] into the video "projected revenue" is displayed on screen, to illustrate potential Global Pool Bonus payouts.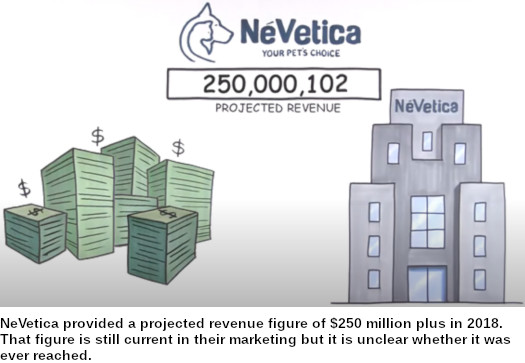 Considering two years have passed, it'd be interesting to know if NeVetica got anywhere close to the projected $250,000,000+ revenue it provided.
It is also unclear what NeVetica based this 2018 revenue projection on. This is important because making unsubstantiated income claims and/or representations is again a violation of the FTC Act.
Moving onto NeVetica's products, as a pet owner myself I didn't see anything out of the ordinary. NeVetica offers a specific subset of pet supplies, spanning general health and wellness.
What I did take issue was the companies "pet assessment", which when combined with NeVetica's use of stock photo imagery, comes across as a veterinary replacement.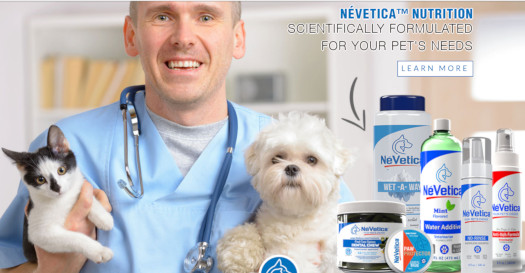 This is dangerous for obvious reasons.
NeVetica's pet assessment is a marketing tool to recommend the company's products.
The assessment itself is free and asks respondents a series of questions related to their pet's health:
On the backend, as explained by a NeVetica distributor in a YouTube marketing video;
The assessment that the pet parent took, is going through a set of algorithms  … identifying the gaps in your pet's lifestyle.

Gaps in their diet. Gaps in their nutrition, based on upon the questions that you answered.

A customized regimen of suggested NeVetica products and services will pop up right on your app after you take the assessment.
There is nothing on NeVetica's website assessment form to clarify it is not a substitute for a veterinary consult.
Nor does NeVetica disclose any information about the "algorithms" it uses to prescribe its products and services.
Again, I don't have a problem with nutritional supplements and general care products for pets. NeVetica's choice to use a pet assessment model however leaves a lot to be desired.
All up if you already know your pet's care requirements (hopefully via a trip to vet), check out NeVetica's offering and compare to what's available locally or on the internet.
As far as NeVetica's MLM opportunity goes, pending a review of their compensation and joining costs disclosures, and a new marketing approach (or at the very least a "this is not a substitute for veterinary advice" disclosure" – approach with caution.