MyDigital6 Review: Chain email scam model + bitcoin

MyDigital6 provides no information on their website about who owns or runs the company.
The MyDigital6 website domain ("mydigital6.is") was privately registered on May 3rd, 2018.
Marketing videos on the MyDigital6 website are hosted on "The Wealth Paladin" YouTube channel.
Two of the five videos on the channel are MyDigital6 promos.
The other three videos market heartworm prevention in pets, the Coinbase cryptocurrency exchange and an outdoor misting system.
The male voice-over on all five videos is clearly the same person.
The heartworm prevention video is an affiliate marketing attempt that links to a website.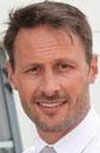 The provided author of that website is Jeff  Battershaw (right).
Battershaw is based out of Florida in the US and cites himself as 'an author, 20 year naturopath, video creation/SEO ranking specialist, and professional crypto trader'.
Early last year Battershaw was promoting the My 1 Dollar Business pyramid scheme.
In 2016 Battershaw promoted the Easy Cash 4 Ads gifting scheme and Crowd Rising Ponzi scheme.
More recently, Battershaw was promoting a matrix-based litecoin pyramid scheme.
That doesn't appear to have worked out.
Of note is a MyDigital6 promo video uploaded to one of Battershaw's YouTube channels two years ago.

Marketed as a "GoFundMe alternative", MyDigital6 appears to have its roots going back to 2016.
I couldn't find any marketing material back that far however, suggesting Battershaw's initial launch two years ago was a flop.
Read on for a full review of the MyDigital6 MLM opportunity.
MyDigital6 Products
MyDigital6 has no retailable products or services, with affiliates only able to market MyDigital6 affiliate membership itself.
MyDigital6 affiliate membership provides access to "digital products".
The MyDigital6 Compensation Plan
New MyDigital6 affiliates sign up and receive an "invite email".
This invite email contains payment details for six existing MyDigital6 affiliates.
The new affiliate pays $21 worth of bitcoin to the six affiliates directly.
the first affiliate receives $1
the second affiliate receives $2
the third affiliate receives $3
the fourth affiliate receives $4
the fifth affiliate receives $5
the sixth affiliate receives $6
Once all six payments have been confirmed, the affiliate can then earn commissions via the same "invite email".
This is done by the newly recruited affiliate removing the sixth affiliate from the list they received, moving the other five affiliates down a place and inserting themselves at the top of the list ($1 position).
The newly recruited affiliate then spams this email out in the hopes of receiving payments.
The theory is that payments will increase over time as others they recruit move their name down the list (toward the $6 position).
Joining MyDigital6
MyDigital6 affiliate membership is tied to a $21 gifting payment in bitcoin.
Conclusion
Battershaw shamelessly promotes MyDigital6 as an update of the illegal chain letter scam model.
MyDigital6 has taken the old school and highly profitable chain letter modality of thirty years ago and transformed into an easy, workable, state of the art bitcoin learning program.
Chain letters are those things your parents used to get in the mail back in the 70s, 80s and to a lesser extent the 90s.
An unsolicited letter would arrive in the mail, on which was a list of people begging for money.
You paid them, added your name to the list and then started sending out letters of your own.
It didn't take long for this pyramid scheme to be exposed and declared illegal across the world.
MyDigital6 is the same model, only digitalized. Not that that's anything new… but Battershaw would have you believe taking payments in bitcoin somehow legitimizes the fraudulent business model.
It doesn't.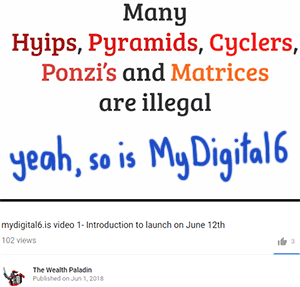 MyDigital6 is just as much an illegal wire fraud scam as the mail fraud chain letters of old.
Don't just take my word on it though.
Here's Battershaw himself unintentionally spelling out his fraudulent intentions in a MyDigital6 promo video;
As a veteran online and networking marketer, author, professional crypto day trader, I have seen thousands and I mean thousands of bogus opportunities come across the internet.

Especially since early 2016 when bitcoin started its rise in popularity.

Hundreds of millions of dollars have been stripped away from so many by deceitful, ill-intended and highly talented crooks.

Shysters using highly innovative copy & simple or tech-savvy sites with thievery on their mind.
Well said Jeff.
Great advice for anyone who thinks they're going to strike it rich in pyramid schemes like MyDigital6.