Monk Trading Investment Review: Daily ROI BTC Ponzi

Monk Trading Investment provides no information on its website about who owns or runs the company.
Monk Trading Investment's website domain ("monktradinginvestment.com") was privately registered on January 19th, 2021.
Despite not existing until a few months ago, Monk Trading Investment claims it was founded in 2014.
Monk Trading also falsely represents basic UK incorporation as making it
a registered investment company and also licensed by the United Kingdom Government.
UK incorporation is dirt cheap and effectively unregulated. It is a favored jurisdiction for scammers looking to incorporate dodgy companies.
Securities in the UK are regulated by the FCA. Basic incorporation is not the same as registering with the FCA.
For the purpose of performing MLM due-diligence, basic UK incorporation is meaningless.
A YouTube channel named Monk Trading Investment Ltd has two official marketing videos.
Both are poorly narrated via text-to-voice; one in Russian and one in English.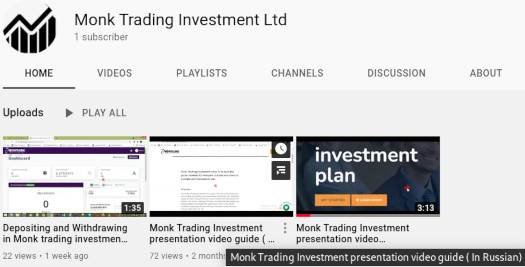 In the third video on the left, at [1:10] the admin's email address is revealed.

It's not complete but there's enough to make out the name "Theresa Ndidiamaka".
Unfortunately I wasn't able to link the name to a specific individual. It is worth noting though that Ndidiamaka is a Nigerian surname.
Towards the bottom of Monk Trading Investment's website is a quote from CEO Alex Ferneld.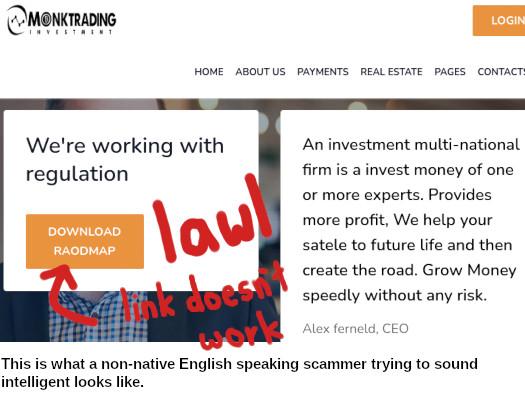 Needless to say this person doesn't exist.
As always, if an MLM company is not openly upfront about who is running or owns it, think long and hard about joining and/or handing over any money.
Monk Trading Investment's Products
Monk Trading Investment has no retailable products or services.
Monk Trading Investment affiliates are only able to market Monk Trading Investment affiliate membership itself.
Monk Trading Investment's Compensation Plan
Monk Trading Investment affiliates invest USD equivalents in bitcoin on the promise of advertised returns.
Starter Plan – invest $50 to $1999 and receive 2% a day for 6 days (112% ROI)
Amateur Plan – invest $2000 to $4999 and receive 2.2% a day for 6 days (113.2% ROI)
Professional Plan – invest $5000 to $10,999 and receive 2.5% a day for 6 days (115% ROI)
Expert Plan – invest $11,000 or more and receive 3.2% a day for 7 days (122.4% ROI)
Mining Contract – invest $15,000 or more and receive 3% a day for 60 days
Monk Trading Investment pays referral commissions on invested funds down three levels of recruitment (unilevel):

level 1 (personally recruited affiliates) – 20%
level 2 – 5%
level 3 – 10%
Joining Monk Trading Investment
Monk Trading investment affiliate membership is free.
Full participation in Monk Trading Investment's income opportunity requires a minimum $50 investment in bitcoin.
Conclusion
Here's how Monk Trading Investment claim to generate advertised returns:
The multidirectionality of the applied efforts determines the high profitability of the investment placement process in our company.
Rightio.
The introduction to this review alone should be enough to prove Monk Trading Investment is a blatant scam. But if it isn't, there's also the business model.
Monk Trading Investment has no verifiable source of external revenue.
All they're doing is recycling invested funds, which makes Monk Trading Investment a Ponzi scheme.
As with all MLM Ponzi schemes, when affiliate recruitment dries up so too will new investment.
This will starve Monk Trading Investment of ROI revenue, eventually prompting a collapse.
The math behind Ponzi schemes guarantees that when they collapse, the majority of participants lose money.