Mia Review: Malaysian spot gold trading scheme

Mia fails to provide a corporate address on their website. The same website identifies Antonio Ferez as founder of the company.
Ferez is represented by a heavily photoshopped image (touch-up) and, according to Mia;
is a well-known macroeconomics analyst and a foreign exchange trading expert in Southeast Asia.

In 2007, he earned his first bucket of gold from the stock market at the age of 25 and managed to multiply his personal wealth by 57 times based on his business acumen and professional handling of capital.
The problem is outside of Mia marketing material (circa 2017-2018), Ferez has no professional digital footprint.
This is not what you'd expect of someone claiming to be "well-known" in macroeconomics and foreign  exchange professional circles.
Nonetheless Ferez does appear to be a real person (here's what he was up to in 2012-2014), however there's a big question mark on his claimed professional background.
Similarly Jensen Choong, cited as Mia's CEO, also has no digital footprint outside of Mia.
At the time of publication Alexa cites Malaysia (41%) and Singapore (37%) as primary sources of traffic to the Mia website.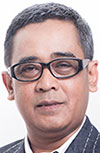 Mia's link to Malaysia appears to be Dato Paduka Zamri Nazir (right) who, you guessed, doesn't have a verifiable history out side of Mia's marketing material either.
I'm going to go out on a limb and suggest Mia is being operated out of Malaysia and is likely run by Malaysians. Antonio Ferez and Jason Choong are in all likelihood just puppets.
Whether Mia has any operations in Singapore beyond recruitment of investors is unclear.
Read on for a full review of the Mia MLM business opportunity.
Mia Products
Mia has no retailable products or services, with affiliates only able to market Mia affiliate membership itself.
The Mia Compensation Plan
Mia affiliates invest funds on the promise of passive returns, supposedly derived through spot gold trading.
Specific ROI averages cited by Mia, based on past performance, range from 12% to 16% a month.
Another marketing slide suggests that total ROI payouts are capped at 24.5% per investment. After which new investment must be made.
Mia Affiliate Ranks
There are four affiliate ranks within Mia's compensation plan.
Along with their respective qualification criteria, they are as follows:
regular affiliate – sign up and invest in at least one Mia Pax
Manager – personally invest at least $3000, recruit at least four investing affiliates and convince others to invest a total of $150,000 or more (split $105,000 and $45,000 or more via a binary team)
Agency Manager – personally invest at least $5000, recruit at least five investing affiliates and have three Manager ranked affiliates in your downline (one in three separate unilevel team legs)
Regional Manager – personally invest at least $10,000, recruit at least six investing affiliates and have three Agency Manger ranked affiliates in your downline (one in three separate unilevel team legs)
Note how much a Pax investment costs is not disclosed. Mia's marketing material however suggests is it $10,000 or less.
Recruitment Commissions
Mia pays affiliates to recruit new affiliates via a unilevel compensation structure.
A unilevel compensation structure places an affiliate at the top of a unilevel team, with every personally recruited affiliate placed directly under them (level 1):

If any level 1 affiliates recruit new affiliates, they are placed on level 2 of the original affiliate's unilevel team.
If any level 2 affiliates recruit new affiliates, they are placed on level 3 and so on and so forth down a theoretical infinite number of levels.
Recruitment commissions generated within the unilevel team are paid out of funds invested by directly and indirectly recruited affiliates.
Mia caps payable unilevel team levels, based on how much an affiliate has invested:
invest in 1 Pax and receive 5% on level 1 (personally recruited affiliates) and 4% on level 2
invest in 2 Pax and receive 5% on level 1, 4% on level 2, 3% on level 3 and 1% on level 4
invest in 3 Pax and receive 5% on level 1, 4% on level 2, 3% on level 3 and 1% on levels 4 to 6
Manager ranked affiliates receive 5% on level 1, 4% on level 2, 3% on level 3, 1% on levels 4 to 6 and 0.5% on levels 7 and 8
Infinity Profit
Manager and higher ranked affiliates receive an additional 1.5% or higher bonus on downline investment.
Managers receive a 1.5% Infinity Profit rate
Agency Managers receive a 3% Infinity Profit rate
Regional Managers receive a 4.5% Infinity Profit rate
Manager Leadership Bonus
The Manager Leadership Bonus is an additional percentage paid on ROI payments made to recruited affiliates.
Manager and higher ranked Mia affiliates receive a 0.5% Manager Leadership Bonus rate.
Regional Managers receive 1% on level 1 and 0.5% on levels 2 and 3.
Joining Mia
Mia affiliate membership is tied to investment in a Pax.
Mia don't disclose the minimum investment amount on their website or in their marketing material.
Conclusion
It's been a while since we've come across a Malaysian trading scam.
Mia ticks all the boxes:
shell company in AU/NZ used to launder money through
involvement of at least on Datuk
the pretense that Mia investors can't lose money and
puppet management who are clearly in over their heads
Mia as an international financial platform. A sustainable financial channel was built for you to create an endless stream of passive income.
The above is quoted from Mia's official marketing material and highlights the central problem of trading-based MLM companies.
If scammers like Datuk Paduka Zamri Nazir were able to legitimately generate a consistent stream of "endless passive income" – then what do they need your money for?
As long as you invest YOU'LL PROFIT THROUGH MIA!
With respect to Mia's purported trading, your first red flag is Mia's "world class trader", James Harrison;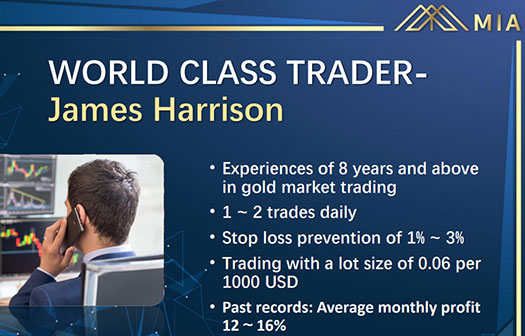 Sure thing guys.
Apparently Mia contracts Mr. Harrison through FintechFX, a generically named company registered in Australia.
Naturally FintechFX wasn't incorporated till October 2017, some six months after Mia surfaced.
Oh and another red flag, FintechFX was incorporated as "My Group Fintech Co Pty Ltd".
The two addresses initially provided for FintechFX are residential and leased office space in Melbourne, Australia. They've since switched them out for another residential address in Sydney (nothing suss).
No confirmation that FintechFX has actual business operations at any of these addresses.
Malaysian scams are notorious for incorporating in AU/NZ because ASIC and NZCO tend not to do anything until the scams have collapsed.
The scams are careful not to recruit investors in AU/NZ, and so there's actually not a lot the regulators can do except delist the shell companies once they're aware of them.
This is why, despite having ASIC/NZCO equivalents in Malaysia, it's rare to see a Malaysian scam incorporated in Malaysia itself.
Malaysian scams that are similar to MIA we've covered in the past include FX United (whose three Datuk owners were arrested back in Feb) and VenusFX (owners arrested March 2017).
There have been plenty more we haven't covered, mostly because they target non-English speaking investors.
If you go through the comments of our FX United and VenusFX reviews, you'll find the same arguments you're likely to come up against when pointing out Mia's fraudulent business model.
"Oh but you have complete control over your money at all times!"
"The owners are reputable businessmen, I know this for a fact because I saw them in a YouTube video!"
"These guys have a verifiable trading history, just look at these MSPaint graphs someone cobbled together!"
In the end these trading schemes all collapse just the same, resulting in the majority of investors losing money.
As for Mia, it seems it's well on the way to collapse. Last month the company sent out the following memo to its affiliates;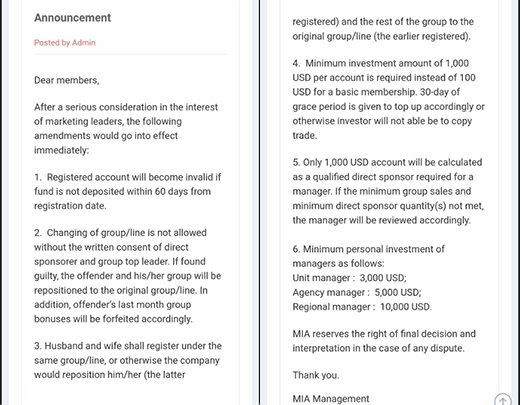 It  seems as whereas previously a minimum $100 investment was required to qualify for ROI payments, that has now been raised to $1000.
When that fails and people start to bail… shouldn't be long before Mia's withdrawals stop working altogether.