MetaBlocks Review: Bot-Z reboot Ponzi scheme

MetaBlocks fails to provide ownership or executive information on its website.
MetaBlocks' website domain ("metablocks.online"), was privately registered on April 10th, 2023.
It should be noted that MetaBlocks the MLM company has nothing to do with the Metablocks the US marketing agency.
Our final intro note is that MetaBlocks' website was created on the cheap.

It's a simple mirroring of the JumpX theme, sold by EnvyTheme for $25.
Something else we find in MetaBlock's website source-code is references to "Bot-Z":

Bot-Z is the predecessor to MetaBlocks, running on the same website template.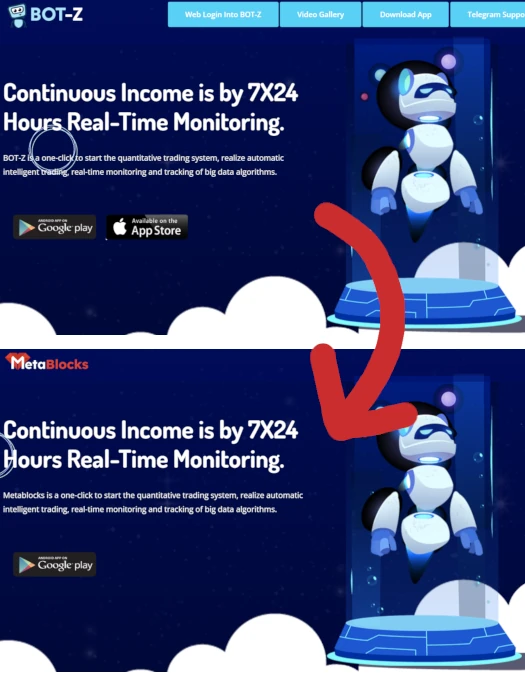 The linked Bot-Z YouTube channel reveals Bot-Z launched on or around October 2021. SimilarWeb currently tracks negligible traffic to Bot-Z's website, indicating is has collapsed.
Bot-Z appears to be have been run by Indian scammers. The same scammers are behind MetaBlocks.
As always, if an MLM company is not openly upfront about who is running or owns it, think long and hard about joining and/or handing over any money.
MetaBlocks' Products
MetaBlocks has no retailable products or services.
Affiliates are only able to market MetaBlocks affiliate membership itself.
MetaBlocks' Compensation Plan
MetaBlocks affiliates invest USD equivalents of cryptocurrency. This is done on the promise of advertised returns:
MB1 – invest $15 and receive $1034
MB2 – invest $40 and receive 3234
MB3 – invest $80 and receive 4968
MB4 – invest $160 and receive 9936
MB5 – invest $320, ROI not disclosed
MB6 – invest $640, ROI not disclosed
MB7 – invest $1280, ROI not disclosed
MB8 – invest $2560, ROI not disclosed
The MLM side of MetaBlocks pays on recruitment of affiliate investors.
Residual Commissions (unilevel)
A unilevel compensation structure places an affiliate at the top of a unilevel team, with every personally recruited affiliate placed directly under them (level 1):

If any level 1 affiliates recruit new affiliates, they are placed on level 2 of the original affiliate's unilevel team.
If any level 2 affiliates recruit new affiliates, they are placed on level 3 and so on and so forth down a theoretical infinite number of levels.
MetaBlocks caps payable unilevel team levels at twenty.
A 20% commission is paid on new investment by personally recruited affiliates (level 1).
A 1% residual commission is paid on new investment across levels two to twenty of the unilevel team.
Residual Commissions (matrix)
MetaBlocks pays residual matrix commissions via a 2×11 matrix.
A 2×11 matrix places an affiliate at the top of a matrix:

These two positions form the first level of the matrix. The second level of the matrix is generated by splitting these first two positions into another two positions each (4 positions).
Levels three to eleven of the matrix are generated in the same manner, with each new level of the matrix housing twice as many positions as the previous level.
Positions in the matrix are filled via direct and indirect recruitment of MetaBlocks affiliates.
A 1% commission in paid on funds invested by affiliates recruited into a MetaBolocks affiliate's matrix on levels 1 to 10. Level 11 pays 1.25%.
Lifetime Rewards
MetaBlocks rewards affiliates for filling a 2×11 matrix with a Lifetime Reward:
invest at MB1 and fill a matrix to receive an Android mobile phone and $300
invest at MB2 and fill a matrix to receive an Apple Ipaid [sic] and $800
invest at MB3 and fill a matrix to receive an Apple MacBook or iPhone and $1500
invest at MB4 and fill a matrix to receive a "motor bike" and $3000
invest at MB5 and fill a matrix to receive a "Dubai tour" and $5000
invest at MB6 and fill a matrix to receive a "sedan car" and $10,000
invest at MB7 and fill a matrix to receive an "SUV car" and $20,000
invest at MB8 and fill a matrix to receive a Mercedes-Benz and $50,000
Joining MetaBlocks
MetaBlocks affiliate membership is free.
Full participation in the attached income opportunity requires a minimum $15 investment.
MetaBlocks solicits investment in various cryptocurrencies.
MetaBlocks Conclusion
MetaBlocks bangs on about "quantitative trading" on its website.
The system uses artificial intelligence algorithms to automatically match quantitative trading strategies that are suitable for the current market situation, eliminating the problem of unprofessional judgments of quantitative trading users' trends and failure to match in time using corresponding strategies.
Like Bot-Z, MetaBlocks has nothing to do with trading.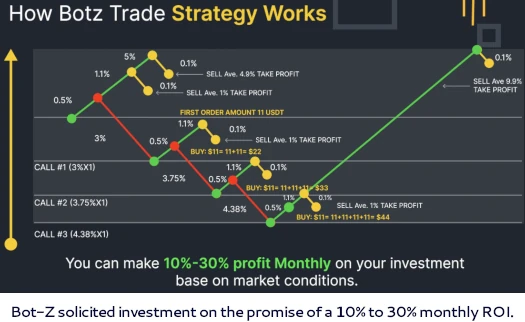 Both schemes simply recycle newly invested funds to pay off existing investors.
Seeing as there's still references to Bot-Z all over MetaBlocks website, it's a particularly lazy reboot.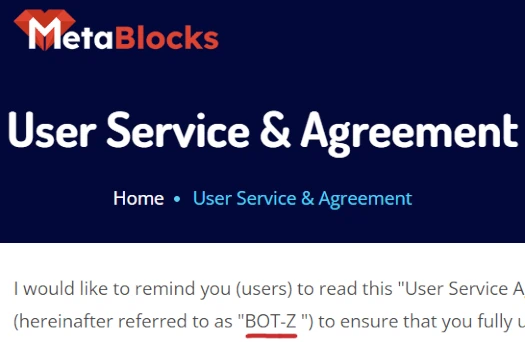 This is indicative of a quick cash grab which will probably disappear sooner rather than later.
As with all MLM Ponzi schemes, once MetaBlocks affiliate recruitment dries up so too will new investment.
This will starve MetaBlocks of ROI revenue, eventually prompting a collapse.
The math behind Ponzi schemes guarantees that when they collapse, the majority of participants lose money.