MavWealth Review: E-currency penny auctions with Ponzi ROIs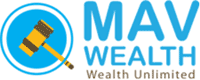 There is no information on the MavWealth website indicating who owns or runs the business.
The MavWealth website domain ("mavwealth.com") was first registered on December 2nd, 2015. The registration details were recently updated a few days ago on January 7th.
An address in the UK is provided on the MavWealth website. Further research however reveals this address actually belongs to British Monomarks.
British Monomarks claim to be "London's premier post box address provider". As such it appears MavWealth exists in the UK in name only.
As always, if an MLM company is not openly upfront about who is running or owns it, think long and hard about joining and/or handing over any money.
The MavWealth Product Line
MavWealth has no retailable products or services, with affiliates only able to market MavWealth affiliate membership itself.
Once signed up MavWealth affiliates invest $50 to $99,999 to participate in the attached income opportunity.
Bundled with each investment are penny auction bids, which can be used on penny auctions hosted on the MavWealth website.
The MavWealth Compensation Plan
The MavWealth compensation plan sees affiliates invest $50 to $99,999 on the promise of a daily 100 day ROI.
Explorer – invest $50 to $9999 and receive a daily ROI of up to 1.5%
Pro – invest $10,000 to $49,999 and receive a daily ROI of up to 1.75%
Achiever – invest $50,000 to $99,999 and receive a daily ROI of up to 2%
In order to qualify for a ROI, each day a MavWealth affiliate must use one penny auction bid on the company's penny auction platform.
Referral Commissions
MavWealth affiliates earn a referral commission on funds invested by affiliates they've personally recruited as follows:
Explorer affiliates earn a 5% referral commission
Pro affiliates earn a 10% referral commission
Achiever affiliates earn a 15% referral commission
Residual Commissions
Residual commissions in MavWealth are paid out via a binary compensation structure.
A binary compensation structure places a MavWealth affiliate at the top of a binary team, split into two sides (left and right):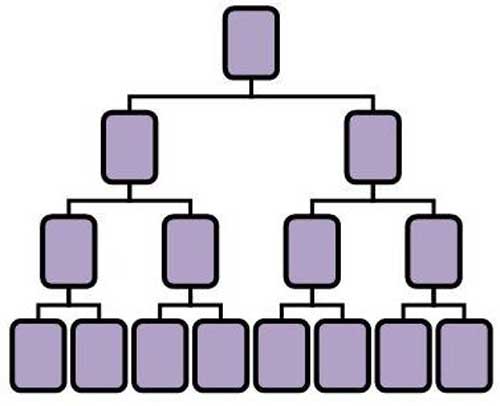 The first level of the binary team houses two positions. The second level of the binary team is generated by splitting the first two positions into another two positions each.
Subsequent levels of the binary team are generated as required, with each new level housing twice as many positions as the previous level.
Positions in the binary team are filled via direct and indirect recruitment of new MavWealth affiliates. There are no depth restrictions on a binary team.
At the end of each day MavWealth tallies up new investment volume on both sides of the binary team.
An affiliate is paid a percentage of funds matched on both sides of their binary team.
How much of a percentage is paid out is determined by how much a MavWealth affiliates themselves has invested:
Explorer affiliates are paid a 5% binary commission, capped at $1000 a day
Pro affiliates are paid a 10% binary commission, capped at $5000 a day
Achiever affiliates are paid a 15% binary commission, capped at $10,000 a day
Unmatched binary volume is carried over the following day, wherein the matching process is repeated.
Joining MavWealth
MavWealth affiliate membership is tied to a $50 to $99,999 investment.
The MavWealth FAQ also mentions an "Agent" affiliate option costing $50,000:
I want to be an agent, but I cannot do one time investment of $50000?

We have kept a minimum condition of $50000 to ensure that we have Agents who are serious of joining us, believe in the potential of our product and are fully focused on the growth of our network.

If you think you have other capabilities and qualities which can distinguish you, reach out to our support team and we should be able to discuss this out.
Any additional financial benefits provided to MavWealth Agent affiliates are not publicly disclosed.
Conclusion
MavWealth recycles invested affiliate funds through penny auctions, a daily ROI and referral commissions.
There is no external source of revenue, making MavWealth a Ponzi pyramid hybrid.
MavWealth's penny auctions are neither here nor there. Populated with various e-currency amounts, they essentially function as a lottery bonus for affiliates who have invested.
Offering affiliate's back their own money is logistically far easier to manage than the Chinese dropship facades we saw back in 2012/2013.
The daily "cashback" serves as a vehicle to offer MavWealth affiliates a daily ROI of up to 2%. This is just new investment recycled to pay off existing investors.
Both the referral and residual commissions add a pyramid component to MavWealth, as the company needs a constant source of newly invested funds to fend off collapse.
Once affiliate recruitment dies down, MavWealth will be unable to meet its daily ROI obligations. The 100 day maturity period gives MavWealth's anonymous admins plenty of time to make a quiet getaway.
MavWealth appears to have taken off last year, which was most likely an initial batch of low investment test deposits.
As confidence in the scam grows, higher investment amounts will generate even higher liabilities. Don't expect MavWealth to survive more than one or two 100 day cycles in 2017.
As is typical of Ponzi schemes, the majority of MavWealth affiliates will lose money when the scheme goes under.