Mail Out Ad Review: Obviously fraudulent 300 day Ponzi ROIs

Mail Out Ad provide no information on their website about who owns or runs the business.
The Mail Out Ad website domain ("mailoutad.com") was registered on November 21st, 2017. Details used to register the Mail Out Ad domain are bogus (no registrant name, incomplete address).
Provided on the Mail Out Ad website are incorporation documents for Seychelles, the Dominican Republic, the UK and the US (Delaware).
I was able to verify the UK and US incorporation documents are fake (no such incorporated company).
Given this, it's highly likely that the Seychelles and Dominican Republic documents are also fake.
A UK-based corporate address provided on the Mail Out Ad website actually belongs to Level 39.
According to their website, Level 39 provide workspace to "fast-growth tech companies".
Use of Level 39's facilities is restricted to members only, with there being no indication whoever is running Mail Out Ad is a member.
There's also nothing about a forwarded mailing address on the Level 39 website, suggesting the Mail Out Ad admin has just copy and pasted the address.
At the time of publication Alexa estimate that the US is the largest source of traffic to the Mail Out Ad website (54%).
This suggests that whoever is running the company is also likely based out of the US.
As always, if an MLM company is not openly upfront about who is running or owns it, think long and hard about joining and/or handing over any money.
Mail Out Ad Products
Mail Out Ad has no retailable products or services, with affiliates only able to market Mail Out Ad affiliate membership itself.
The Mail Out Ad Compensation Plan
Mail Out Ad affiliates invest funds on the promise of an advertised ROI:
Package 1 – invest $100 and receive a $300 after 300 days
Package 2 – invest $500 and receive a $1650 ROI after 300 days
Package 3 – invest $1000 and receive a $3600 ROI after 300 days
Package 4 – invest $3000 and receive a $11,700 ROI after 300 days
Package 5 – invest $5000 and receive a $21,000 ROI after 300 days
Package 6 – invest $10,000 and receive a $45,000 ROI after 300 days
ROI payments are made every 10 days until the total advertised amount has been paid out.
Note that all Mail Out Ad commission withdrawals attract a 10% "admin fee".
Referral Commissions
Mail Out Ad pay affiliates a 10% commission on funds invested by personally recruited affiliates.
Residual Commissions
Mail Out Ad pay residual commissions via a binary compensation structure.
A binary compensation structure places an affiliate at the top of a binary team, split into two sides (left and right):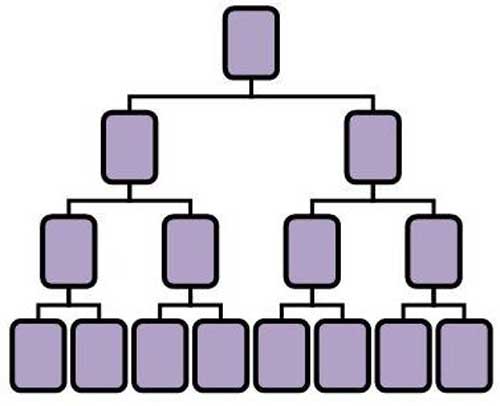 The first level of the binary team houses two positions. The second level of the binary team is generated by splitting these first two positions into another two positions each (4 positions).
Subsequent levels of the binary team are generated as required, with each new level housing twice as many positions as the previous level.
Positions in the binary team are filled via direct and indirect recruitment of affiliates. Note there is no limit to how deep a binary team can grow.
At the end of each day Mail Out Ad tallies up new investment volume on both sides of the binary team.
Affiliates are paid a 10% commission on matched funds, with leftover funds on the stronger binary side carried over.
Joining Mail Out Ad
Mail Out Ad affiliate membership is free, however affiliates must invest at least $100 to participate in the attached income opportunity.
Conclusion
The ruse behind Mail Out Ad's ROI payments is… well, there isn't one.
The company claims to markets "ad & bitcoin based products", however there's no evidence of any products provided (other than general branded merchandise).
Pretty much everything else about Mail Out Ad is fraudulent, including the company's business model.
For starters, quite clearly Mail Out Ad are offering a passive investment opportunity.
Even if we ignore the fact that the Delaware incorporation is non-existent, with a predominantly American investor base, Mail Out Ad has to register itself with the SEC.
No such registration exists.
The most obvious reason for that is the sole verifiable source of revenue entering the company is new affiliate investment, the use of which to pay existing affiliates a ROI makes Mail Out Ad a Ponzi scheme.
To recap, Mail Out Ad is a Ponzi scheme run by persons unknown, with a bogus website domain registration and provided incorporation documents.
As with all Ponzi schemes, once affiliate recruitment dies down so too will new investment revenue.
This will see Mail Out Ad unable to meet its ROI obligations and eventually prompt a collapse.
The 300 day ROI maturity window gives the anonymous Mail Out Ad admin(s) plenty of time to cut and run.
Unfortunately by the time affiliates realize Mail Out Ad has collapsed, it'll be far too late to recover their losses.