Lotto Spring Review: Another Euro gaming opp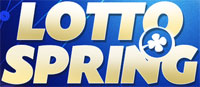 There is currently no information on the Lotto Spring website indicating who owns or runs the business.
The Lotto Spring website domain ("lottospring.com") was registered on the 21st of November 2014, with Jamie Mather or Nexus Group listed as the domain owner.
A PO Box address in the British Virgin Islands is also provided, but it would appear Lotto Spring exists there in name only.
On his Twitter profile, Mather lists his location as Malta – which is presumably where Lotto Spring is being operated from.
Nexus Group is a company that appears to be owned by Mather, also run out of Malta.

On his personal website, Mather (right) describes himself as an online marketing consultant, stage speaker, trainer, business partner, event creator and business consultant.
My Mission for 2015 is to team up with REAL Businesses and help them become something much bigger than they are today.

If you're a business anywhere in the world who wants to evolve and grow their sales, digital presence, do something new and crazy, or turn their little deli shop in to the most renowned sandwich shop in the western spiral arm of the galaxy, then you need to check my skills and story.

If my skills and your requirements match, then we should already be on the phone.
As per a Facebook update posted on the 25th of July, Mather appears to currently promoting Lotto Spring in Russia:
So glad to be in Moscow again, in the summer it's my favourite city on earth. Some good friend's to meet with, some good contacts to share my new project opportunity with.
Various Lotto Spring marketing presentations identify Jamie Mather as the CEO of the company.
Read on for a full review of the Lotto Spring MLM business opportunity.
The Lotto Spring Product Line
Lotto Spring has no retailable products or services, with affiliates only able to market Lotto Spring affiliate membership itself.
The Lotto Spring Compensation Plan
The Lotto Spring compensation plan sees affiliates pay monthly fees for tickets into various prize draws.
In addition to lottery winnings, Lotto Spring affiliates also earn residual commissions when affiliates in their downlines win prizes.
Lotto Spring Mega Draws
placed in syndicate with 49 other affiliates (50 total)
Lotto Spring Mega 5 (every Tuesday) – €1 million EUR (€4 million distributed to syndicate)
Lotto Spring Mega 10 (first 3 Fridays of every month) – €2 million EUR (€8 million distributed to syndicate)
Lotto Spring Mega 50 (last Friday of the month) – €10 million EUR (€40 million distributed to syndicate)
Second place across all draws pays €200,000 and third place €100,000.
Euro Million Draws
Using the numbers drawn in the Euro Millions lottery each week, Lotto Spring run their own lesser draw as follows:
Match 2 = €5 EUR
Match 2+1 = €10 EUR
Match 1+2 = €15 EUR
Match 3 = €20 EUR
Match 2+2 = €25 EUR
Match 3+1 = €25 EUR
Match 3+2 = €100 EUR
Match 4 = €150 EUR
Match 4+1 = €1000 EUR
Match 4+2 = €10,000 EUR
Every Lotto Spring affiliate is given two tickets a week to participate in the Euro Millions draw.
Lotto Spring Blitz
Each time an affiliate in the matrix pays their monthly fee, 100 Blitz Points is issued to the affiliate who's matrix they are in.
If that affiliate was personally recruited, the Blitz Points are doubled to 200.
Pro Lotto Spring affiliates earn more points, however how much has not yet been publicly disclosed.
In any event, every 300 points generated creates a single Lotto Spring Blitz ticket.
These tickets are then entered into a weekly €50,000 EUR draw:
Match 0 = €1
Match 1 = €3
Match 2 = €10
Match 3 = €100
Match 4 = €1000
Match 5 = €50,000
The Lotto Spring Blitz draw is based off the first five numbers of the weekly Euro Million draw.
MLM Commissions
Residual commissions in Lotto Spring are paid out on winnings by recruited affiliates in a matrix.
The size of matrix Lotto Spring use has yet to be disclosed, but we do know it houses 19,500 positions.
The closest I was able to get to that was a 5×6 matrix, which houses 19,530 positions. The 30 difference might just have been rounding down to the nearest whole number.
Regardless of the size used though, positions in the matrix are filled via direct or indirect recruitment of affiliates.
Commissions are then paid out when an affiliate in the matrix wins a prize draw.
A flat 5% is paid out when an affiliate wins a prize, with this amount increased to 10% if that affiliate was personally recruited.
Joining Lotto Spring
Basic Lotto Spring affiliate membership is €33 EUR a month.
If an affiliate personally recruits and maintains at least 3 basic fee-paying affiliates, this monthly fee is waived.
VIP Lotto Spring affiliate membership is €66 EUR a month.
If an affiliate personally recruits and maintains at least 3 VIP fee-paying affiliates, again the monthly fee is waived.
Note that if a VIP Lotto Spring affiliate recruits and maintains 3 basic affiliates, they receive a €33 discount each month.
Conclusion
I don't know if something's in the water or what, but this is the third or fourth lottery-based MLM opportunity I've reviewed over the past few weeks.
As with the others, the biggest problem with Lotto Spring is the lack of retail activity taking place within the opportunity.
You have only affiliates signing up, paying monthly fees and then those monthly fees the only recorded source of revenue.
Which raises an interesting question, since Lotto Spring are advertising draws running into the tens of millions of Euro each month.
Where is the money coming from?
Either Lotto Spring are simply fudging the prize numbers, or all they're doing is attaching themselves to an existing lottery.
Not that there's anything particularly wrong with doing so, but then I'd be taking any win statistics not published with full disclosure of what lotteries they are playing in with a grain of salt.
Despite the question of where prize funds are being sourced from, the image presented by Lotto Spring thus far is that they themselves are running the draws (at least on the ticketing side of things, as they do disclose usage of third-party weekly draw numbers).
What happens if there aren't enough affiliates to cover these fixed draw prizes? What if nobody wins, do Lotto Spring keep the money that month?
And then there's the whole British Virgin Island registration. BVI is a known tax-haven, and coupled with a lottery opportunity that may or may not offer disclosure (the one's I've reviewed recently have failed pretty hard in this area), we're not off to a great start.
Throw in a lack of retail and gaming license issues (both on the corporate end and affiliate promotion of Lotto Spring), and there's a minefield of red-flags that should be taken into consideration.
Approach with extreme caution.
Update 5th October 2015 – On July 27th Jamie Mather contacted me about the above Lotto Spring review:
Hi OZ

Just read your review of ProSpring and wanted to expend to you a chance to get the facts.

I'm very happy to answer your questions and be open and transparent to you with this business opportunity.

However I would like your word that these facts will be used correctly and not twisted around to cause "adwords Drama".

I assure you at this stage that our opportunity is 100% above board and I am very up front about my identity and role. As it is only 1 week in to pre launch and we have not passed all the information at this stage. All will become 100% clear prior to anyone being asked to part with 1c in payment.

Lets Talk

Regards

Jamie Mather
My response was as follows:
Hi Jamie,

No idea what "adwords drama is". If you want to publicly respond to the issues raised in the review, the best way to do so via the comments system.
I never heard back from Mather, nor did he attempt to address what he felt was incorrect about the above review.
Since then, it appears the Lotto Spring brand has been abandoned and the site taken offline.
The opportunity has been rebranded as "ProSpring" with an advertised launch date of around October 14th.
I've had a few requests to review ProSpring but as far as I can tell, it's the exact same opportunity reviewed above. If there are any evident changes to the Lotto Spring compensation plan, I have yet to seem them.
In line with the lack of information provided by Lotto Spring during prelaunch, the ProSpring website offers no concrete information about the opportunity.
Instead visitors to the ProSpring website are urged to "secure their position" based on nothing more than vague marketing spiels.