Legend Holdings Corp Review: Scammers hijack company name

Legend Holdings serves up quite the unverifiable company history on its website;
Legend Holdings Corporation was founded in 1984 by Liu Chuanzhi and 10 other researchers with funding from the Computing Institute of the Chinese Academy of Sciences.

Starting from the IT industry, Legend Holdings has gone through the development of over three decades, and now it is a leading diversified investment holding company in China.

It builds up a unique business model of "strategic investments + financial investments" with synergy between the two-wheel-drive businesses.
Naturally no information on Liu Chuanzhi is provided. Legend Holdings Corp's website does have a "from the Chairman" link but, rather conveniently, it's currently broken.
The Chinese Academy of Sciences is an actual institution, but there's no link with Liu Chaunzhi.
Liu Chuanzhi is the name of Lenovo's founder. If I didn't know any better I'd say whoever is behind Legend Holdings Corp has "borrowed" the name.
Supporting this is Legend Holdings Corp's website domain ("legendholdingscorp.com"), being first registered in March 2020.
The domain registration is private and was last updated in March 2021.
Looking a little deeper into the name, it seems there's an actual Legend Holdings operating from "legendholdings.com.cn". This Legend Holdings is headed up by Liu Chuanzhi
Legends Holdings Corp's website appears to be modeled after the genuine Legend Holdings website. It has nothing to do with the actual Legend Holdings or Liu Chuanzhi.
One breadcrumb I found was a Facebook page titled "Legend Holdings". Up until February 2021 it was going by SmartWorkz.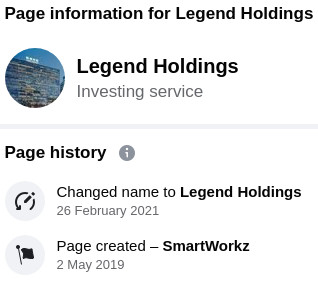 SmartWorkz appears to be a short-lived 2019 Ponzi scheme that targeted the Philippines.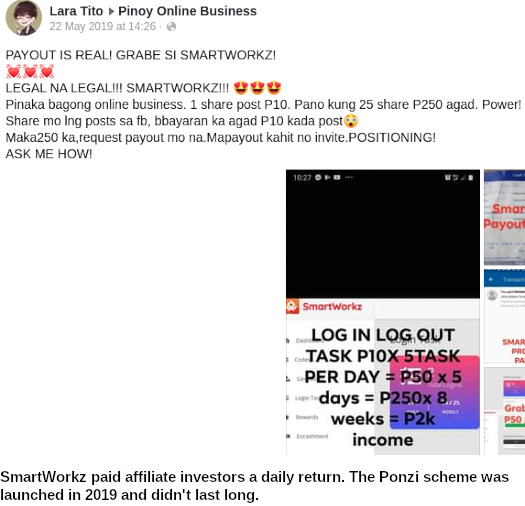 References to the SmartWorkz Ponzi scheme have been scrubbed off the internet over the past month or so.
As always, if an MLM company is not openly upfront about who is running or owns it, think long and hard about joining and/or handing over any money.
Legend Holdings Corp's Products
Legend Holdings Corp has no retailable products or services.
The company's affiliates are only able to market Legend Holdings Corp affiliate membership itself.
Legend Holdings Corp's Compensation Plan
Legend Holdings Corp affiliates invest funds on the promise of advertised returns:
Bronze – $200
Silver – $400
Gold – $800
Platinum – $1400
Diamond – $2000
Returns appear to be the same regardless of how much is invested.
Specific return rates are determined by how long a Legend Holdings Corp affiliate leaves funds in the company:
invest for 4 weeks and receive a 20% ROI paid out over 4 weeks
invest on the 5th of a month and receive a 25% ROI on the 30th of the same month
invest for one month and receive a 30% ROI
invest for three months and receive a 32% ROI
invest for six months and receive a 35% ROI
The three and six month investment options compound invested funds and earnings monthly.
Residual Commissions
Legend Holdings Corp affiliates who have invested qualify for residual commissions.
Legend Holdings Corp pays residual commissions via a unilevel compensation structure.
A unilevel compensation structure places an affiliate at the top of a unilevel team, with every personally recruited affiliate placed directly under them (level 1):

If any level 1 affiliates recruit new affiliates, they are placed on level 2 of the original affiliate's unilevel team.
If any level 2 affiliates recruit new affiliates, they are placed on level 3 and so on and so forth down a theoretical infinite number of levels.
Legend Holdings Corp caps payable unilevel team levels at fifteen.
Residual commissions are paid out at 3% of returns paid to affiliates across these fifteen unilevel team levels.
Joining Legend Holdings Corp
Legend Holdings Corp affiliate membership is free.
Participation in the attached income opportunity however requires a minimum $200 investment.
Conclusion
Legend Holdings Corp is full of delicious engrish.
Flying High in unified accord, we're painting the future.

The completion of heredetary succession at legend holdings.
From the introduction of this review I'm assuming "synergy between the two-wheel-drive businesses", is some attempt to pretend the company is involved in auto production.
Hitching itself to Legend Holdings is an attempt to lend legitimacy to what is otherwise a simple Ponzi scheme.
Legend Holdings Corp affiliates invest funds on the promise of advertised returns.
In the absence of any verifiable source of external revenue, those returns are paid from subsequent investment.
Residual commissions adds an additional pyramid layer to the scheme.
As with all MLM Ponzi schemes, once affiliate recruitment dries up so too will new investment.
This will starve Legend Holdings Corp of ROI revenue, eventually prompting a collapse.
The math behind Ponzi schemes guarantees that when they collapse, the majority of participants lose money.