KryptoGlobe Review: 4ArtCoin Ponzi points

KryptoGlobe operates in the cryptocurrency MLM niche.
The company provides bogus executive information on its website, so who actually runs the company is unknown.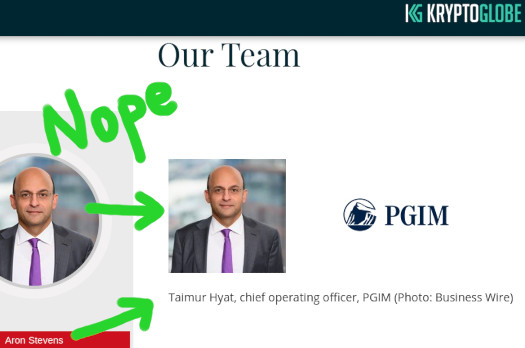 There is a corporate address in Germany provided on KryptoGlobe's website. Given the bogus executive information provided however, it's doubtful the address is actually used by KryptoGlobe.
KryptoGlobe's website domain ("kryptoglobe.com") was privately registered on November 30th, 2019.
As always, if an MLM company is not openly upfront about who is running or owns it, think long and hard about joining and/or handing over any money.
KryptoGlobe's Products
KryptoGlobe has no retailable products or services, with affiliates only able to market KryptoGlobe affiliate membership itself.
KryptoGlobe's Compensation Plan
KryptoGlobe affiliates use cryptocurrency to invest in 4ArtCoin. Commissions are paid when they recruit others who do the same.
KryptoGlobe pays commissions via a unilevel compensation structure.
A unilevel compensation structure places an affiliate at the top of a unilevel team, with every personally recruited affiliate placed directly under them (level 1):

If any level 1 affiliates recruit new affiliates, they are placed on level 2 of the original affiliate's unilevel team.
If any level 2 affiliates recruit new affiliates, they are placed on level 3 and so on and so forth down a theoretical infinite number of levels.
KryptoGlobe caps payable unilevel team commissions at five levels.
Commissions are paid out as a percentage of investment across these five levels as follows.
level 1 (personally recruited affiliates) – 10%
level 2 – 4%
level 3 – 3%
level 4 – 2%
level 5 – 1%
Reward Bonuses
When a KryptoGlobe affiliate generates €50,000 EUR worth of investment in 4ArtCoin, they receive a 1000 4ArtCoin bonus.
When a KryptoGlobe affiliate generates €100,000 EUR worth of investment in 4ArtCoin, they receive 2000 4ArtCoins.
Joining KryptoGlobe
KryptoGlobe affiliate membership appears to be free.
Participation in the attached income opportunity requires investment in 4ArtCoin.
Other than there being a €25 EUR minimum package, specific details are not provided.
Conclusion
KryptoGlobe markets itself as a "diversified, multi-service Cryptocurrency investment company".
We are a leading Sales and Marketing Platform for Crypto Assets and 4Art Coin.
The hook here is 4ArtCoin, which is likely owned by KryptoGlobe's anonymous owners.
4ART COIN is the revolutionary digital asset designed to reform the Art industry therefore making every holder a potential millionaire.
Have a read over the above again and try to really digest it.
Can't? That's because it makes no sense.
4ArtCoin is an ERC-20 cookie-cutter token that has nothing to do with art.
All that's happening here is gullible saps are signing up as KryptoGlobe affiliates, handing over cryptocurrency for 4ArtCoin tokens, and making whoever is receiving the cryptocurrency richer.
I'm not clear on whether 4ArtCoin has an internal value, but can confirm there's no public value.
Nor is there likely ever to be, because nobody outside of KryptoGlobe will be interested in yet another hyped up Ponzi points shitcoin.
On the MLM side of things KryptoGlobe is straight pyramid recruitment.
You sign up, invest in 4ArtCoin tokens and get paid to recruit others who do the same.
When affiliate recruitment dies down, KryptoGlobe collapses.
Those who haven't recovered their investment via recruitment lose out. And mathematically, this is the majority of participants in pyramid scheme.