IoniCoin Review: Registered investment bank bitcoin trading?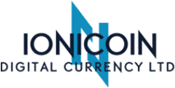 IoniCoin provide no information on their website about who owns or runs the business.
Three contact points are provided on the IoniCoin website, Bulgaria, Germany and the UK, however only email addresses and phone numbers are provided.
The IoniCoin website domain ("ionicoin.com") was registered on April 8th, 2017. "Amsters Clark" is listed as the owner, with an address in Birmingham, UK also provided.
Further research reveals this address actually belongs to Mailboxes ETC, who provide virtual office mailing addresses. As such it appears IoniCoin exists in the UK in name only.
Somewhat curiously, IoniCoin claim to be a "registered investment bank".
Ionicoin Digital Currency LTD is an investment bank registered with the number: 10718847 which was incorporated on 10 April 2017.

Ionicoin Digital Currency LTD has sic code: 64110 – Central banking.
The above information is correct, in that IoniCoin Digital Currency LTD was incorporated in the UK on April 10th. However the designated business categories of "Central banking" and "Banks" doesn't mean IoniCoin is a registered investment bank in the UK.
That would require registration with the Financial Conduct Authority.
Not surprisingly, IoniCoin Digital Currency LTD is not registered with the FCA.
Amsters Clark is listed as the sole Director of IoniCoin Digital Currency LTD, via the same virtual mail address in Birmingham.
No information about Amsters Clark is available outside of his appearance on the company's incorporation documents. This strongly suggests Amsters Clark, as represented by IoniCoin, doesn't exist.
The IoniCoin website is hosted in Romania, which neighbors Bulgaria to the south. If I had to take a guess, I'd say whoever is running IoniCoin is likely based out of one of these two countries.
As always, if an MLM company is not openly upfront about who is running or owns it, think long and hard about joining and/or handing over any money.
IoniCoin Products
IoniCoin has no retailable products or services, with affiliates only able to market IoniCoin affiliate membership itself.
The IoniCoin Compensation Plan
IoniCoin affiliates invest up to $10,000 on the promise of a daily ROI:
Initiate – invest $100 and receive a 0.5% daily ROI for 220 days (110%)
Basic – invest $500 and receive a 0.5% daily ROI for 220 days (110%)
Advanced – invest $1000 and receive a 0.9% daily ROI for 220 days (198%)
Professional – invest $2000 and receive a 1% daily ROI for 220 days (220%)
Expert – invest $3000 and receive a 1% daily ROI for 220 days (220%)
Enterprise – invest $10,000 and receive a 1.5% daily ROI for 280 days (420%)
A direct referral commission of 12% is paid on funds invested by personally recruited affiliates.
Residual referral commissions are paid out via a binary compensation structure.
A binary compensation structure places an affiliate at the top of a binary team, split into two sides (left and right):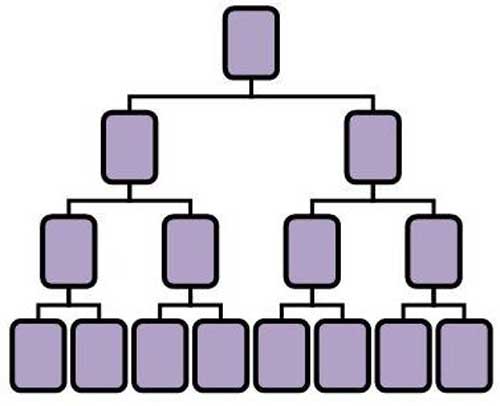 The first level of the binary team houses two positions. The second level of the binary team is generated by splitting these first two positions into another two positions each (4 positions).
Subsequent levels of the binary team are generated as required, with each new level housing twice as many positions as the previous level.
Positions in the binary team are filled via direct and indirect recruitment of affiliates. Note that there is no limit to how deep a binary team can grow.
At the end of each week IoniCoin affiliates are paid 10% of matched invested funds on both sides of the binary team.
Unmatched funds from the stronger binary side are carried over to the following week.
Note that weekly binary referral earning limits apply, based on how much an IoniCoin affiliate has invested:
Initiate – $110
Basic – $700
Advanced – $1200
Professional – $1400
Expert – $1700
Enterprise – $2500
Shares
IoniCoin affiliates who invest at the $10,000 Enterprise level are able to acquire virtual shares in the company.
The share price appears to be manipulated by IoniCoin itself.
A share rate history provided on the IoniCoin website shows the initial value of IoniCoin's virtual shares was set at $4 on April 4th. The value as of May 29th is $5.83.
Joining IoniCoin
IoniCoin affiliate membership is free, however free affiliates are only able to earn referral commissions (both direct and residual).
Full participation in the IoniCoin income opportunity requires an investment of between $100 and $10,000.
Conclusion
The ruse behind IoniCoin's daily ROIs of up to 1.5% is bitcoin trading.
Ionicoin Digital Currency LTD is a global trading platform for companies trading bitcoin.

We are an innovative and practical trading platform.
Naturally there's no proof of any bitcoin trading taking place, much the less any profits derived from trading used to pay affiliates a daily ROI.
IoniCoin's bitcoin trading ruse also fails the Ponzi logic test.
If the anonymous owners of IoniCoin were able to legitimately generate a consistent 1.5% daily ROI, why would they be wasting time soliciting investment from randoms over the internet?
1.5% a day (without compounding) equates to an annual ROI of 547%. Under these conditions, even a modest sum of money turns into a fortune in a relatively short time.
The only verifiable source of revenue entering IoniCoin is affiliate investment, the use of which to pay a ROI is Ponzi fraud.
The way "bitcoin trading" scams like IoniCoin are set up, is that the top investment package dwarfs earnings at the lower levels.
Consider one $10,000 Enterprise investment is owed a 42,000 ROI after 280 days ($32,000 new money). Comparatively an Initiate $100 investment is only owed $110 ($10 new money).
IoniCoin permits affiliates to withdraw funds daily, so it's easy to see that a few Enterprise investments are going to suck up the majority of investment funds.
The share opportunity meanwhile is completely virtual and unauthorized. IoniCoin is not a publicly tradeable company in any jurisdiction,with the shares ultimately worthless outside of IoniCoin's virtual trading platform (which itself is another layer of Ponzi fraud).
Primarily it will be the IoniCoin admins who benefit.
Through one or more $10,000 admin positions (which are created without investing any real money), the anonymous IoniCoin admins will withdraw the majority of invested funds for as long as new investment is made.
That's if they don't just outright steal invested funds through the backend.
When invested funds are exhausted, the anonymous IoniCoin admins disappear and most affiliates are left with a loss.