Internet Business Suite Review: $1 a day chain-recruitment pyramid

There is no information on the Internet Business Suite website indicating who owns or runs the business.
The Internet Business Suite website domain ("internetbusinesssuite.com") was registered on the 2nd of January, 2016. Dustin Langley is listed as the owner, with an address in the US state of Tennessee also provided.
This matches up with Langley's Twitter profile, which is linked off the Internet Business Suite website.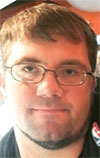 Dustin Langley (right) first appeared on BehindMLM's radar as a possible admin of Residual Daily Profits, a recruitment driven matrix pyramid scheme launched mid 2012.
Residual Daily Profits appears to have morphed into WahVision, a Ponzi scheme launched that same year.
In 2014 Langley resurfaced with Banner Ads Daily, a 125% ROI Ponzi scheme.
Banner Ads Daily lasted less than a month before it collapsed.
Langley appears to have been running MLM underbelly scams since at least 2010 (10K 4 Christmas).
In addition to Residual Daily Profits, here's a list of MLM underbelly schemes Dustin Langley has launched since then:
Global Venture Club (chain-recruitment, 2011)
Residual 500 (chain-recruitment, 2011)
Long Term Residuals (subscription based cycler, 2012)
AdProjectX (135% ROI Ponzi scheme, 2013)
Fast Residuals (cycler recruitment, 2013)
Earn Revolution (matrix-based pyramid scheme, 2014)
Read on for a full review of the Internet Business Suite MLM opportunity.
The Internet Business Suite Product Line
Internet Business Suite has no retailable products or services, with affiliates only able to market Internet Business Suite affiliate membership itself.
Internet Business Suite affiliates pay $1 a day to participate in the attached MLM income opportunity.
Subscription payments provide Internet Business Suite affiliates access to ad credits and a "digital downloads" library.
The Internet Business Suite Compensation Plan
Internet Business Suite affiliates pay $1 a day in subscription fees. Commissions are paid out when they recruit others who do the same.
Internet Business Suite uses a unilevel compensation structure to pay affiliates.
A unilevel compensation structure places an affiliate at the top of a unilevel team, with every personally recruited affiliate placed directly under them (level 1):

If any level 1 affiliates recruit new affiliates, they are placed on level 2 of the original affiliate's unilevel team.
If any level 2 affiliates recruit new affiliates, they are placed on level 3 and so on and so forth down a theoretical infinite number of levels.
Internet Business Suite cap payable unilevel levels at five, with commissions paid out as a percentage of the daily $1 subscription fee:
level 1 (personally recruited affiliates) – 50 cents per affiliate recruited
levels 2 and 3 – 5 cents per affiliate recruited
levels 4 and 5 – 10 cents per affiliate recruited
Note that these commissions are paid out on a daily basis, subject to payment of the $1 daily subscription fee.
Also note that all Internet Business Suite affiliates are only able to withdraw a maximum of $100 in commissions a day.
Joining Internet Business Suite
Internet Business Suite affiliate membership is tied to a $1 a day ongoing subscription payment.
Free affiliate membership is also available but restricted only to earning non-MLM commissions (single-level).
Conclusion
The only identifiable source of revenue entering Internet Business Suite are affiliate subscription payments. In the absence of a product or service being marketed to retail customers, 100% of commissions paid out by Internet Business Suite are tied to affiliate recruitment.
This makes Internet Business Suite a pyramid scheme.
In light of recruitment commissions being paid out, what affiliates gain access to after paying their fees is irrelevant. It's pseudo-compliance and typically referred to as a product-based pyramid scheme.
As with all such schemes, once recruitment of new affiliates dries up so too will commissions paid out.
This will begin with those at the bottom of the company-wide unilevel team ceasing to pay their daily subscription fees.
This means those above them stop getting paid, and eventually they too stop paying their daily subscription fee too.
Once this effect trickles up far enough along the Internet Business Suite affiliate genealogy, an irreversible collapse is triggered.
What Is Your Refund Policy?

The moment you make a deposit, you agree to our No Refund Policy and you agree to never request a refund as this would be a fraudulent act on your part and would cause us to sue you to the fullest extent of the law.
As comical as Internet Business Suite's "no refunds" policy is above, the reality is that most affiliates will fail to recoup fees paid via a recruitment and lose money.