Infinity TrafficBoost Review: Bitcoin "Traffic Package Option" Ponzi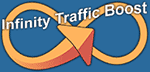 A marketing video on the Infinity TrafficBoost website identifies Frank Bauer as co-founder of the company.
The Infinity TrafficBoost website title and marketing copy is also prefaced with "Frank Bauer recommends…"
Further research reveals official Infinity TrafficBoost marketing videos citing Frank Bauer as co-founder of the company:

In a comment left on our Infinity Push review earlier this year, Bauer claimed he is "the person that runs the site."
A video featured on the Infinity TrafficBoost website is hosted on a YouTube channel bearing the name "Frank VU Bauer".
Through Add2it Marketing Pty Ltd, Bauer also runs the internet marketing ViralURL, ViralInbox ViralHosts, ViralNetworks and ViralPLR websites.
A PO Box contact address in New South Wales, Australia is provided in the Infinity TrafficBoost Privacy Policy. The same address appears in the Infinity TrafficBoost website domain registration.
On his personal website, Bauer claims to have been living in Sydney since 2005.
Read on for a full review of the Infinity TrafficBoost MLM opportunity.
Infinity TrafficBoost Products
Infinity TrafficBoost has no retailable products or services, with affiliates only able to market Infinity TrafficBoost affiliate membership itself.
Once signed up, Infinity TrafficBoost affiliates invest in Traffic Package Options (TPOs).
Each TPO investment is bundled with ad credits, which can be used to display advertising to other Infinity TrafficBoost affiliates.
The Infinity TrafficBoost Compensation Plan
Infinity TrafficBoost affiliates earn commissions from viewing supplied websites and investing in Traffic Package Options (TPOs).
TPO1 – 0.0005 BTC
TPO2 – 0.001 BTC
TPO3 – 0.002 BTC
TPO4 – 0.004 BTC
TPO5 – 0.008 BTC
TPO6 – 0.016 BTC
TPO7 – 0.032 BTC
TPO8 – 0.064 BTC
TPO9 – 0.125 BTC
TPO10 – 0.25 BTC
TPO11 – 0.5 BTC
Infinity TrafficBoost earn commissions on TPO purchases via a reverse 1-up plan, paid through a unilevel compensation structure.
A unilevel compensation structure places an affiliate at the top of a unilevel team, with every personally recruited affiliate placed directly under them (level 1):

If any level 1 affiliates recruit new affiliates, they are placed on level 2 of the original affiliate's unilevel team.
If any level 2 affiliates recruit new affiliates, they are placed on level 3 and so on and so forth down a theoretical infinite number of levels.
Commissions are paid when personally recruited affiliates invest in Traffic Package Options.
The reverse 1-up plan sees every Infinity TrafficBoost affiliate "pass up" their second recruited affiliate to their upline (the affiliate who recruited them).
In turn recruited affiliates must also pass up their first recruited affiliates, effectively creating commissions down a theoretically infinite depth throughout a unilevel team.
Affiliates who invest in TPOs receive pass-up commissions up to the level they have invested at plus the next higher level.
Commission rates are 30% of TPO purchases for free affiliates and those that have invested in at least one TPO.
Note that free Infinity TrafficBoost affiliates do not qualify for pass-ups (ie. they do not participate in the MLM side of the business opportunity).
80% Commission Boost
Infinity TrafficBoost affiliates who have invested in a TPO are able to boost their commission rate to 80% by
viewing up to ten supplied ads a day and
continually investing
Infinity TrafficBoost marketing material suggests the higher TPO level an affiliate invests at, the less ads they need to view daily.
TPO commission boost periods for each TPO level are as follows:
TPO1 to TPO3 – 30 days
TPO4 to TPO6 – 60 days
TPO7 to TPO9 – 90 days
TPO10 – 180 days
TPO11 – 2 years
After the commission boost period expires, an affiliate must reinvest in TPOs to continue to receive the 80% commission rate.
Surfers Rewards Pool Shares
Both free and paid Infinity TrafficBoost affiliates are able to earn bitcoin by surfing company-supplied websites.
Specific amounts are not disclosed.
In an Infinity TrafficBoost marketing video however, Frank Bauer claims a free affiliate viewing 100 ads a day will be able to invest at the TPO1 level (0.0005 BTC) after 30 days.
Joining Infinity TrafficBoost
Infinity TrafficBoost affiliate membership is free.
Investment in a TPO is required to participate in the MLM opportunity however, effectively pegging Infinity TrafficBoost affiliate membership between 0.0005 and 0.5 BTC.
If an affiliate wishes to earn maximum commissions, periodic ongoing investment is required.
Conclusion
Infinity TrafficBoost takes the adcredit Ponzi model and, through convolution and obfuscation , attempts to add layers of legitimacy to it.
As explained by Infinity TrafficBoost itself, the sole source of revenue entering the company is affiliate investment:
The ITB System is designed to encourage all members to view other members sites frequently and to purchase advertising credits consistently to continually fund our Surfers Rewards Pool.
New affiliate investment funds the Surfers Rewards Pool, which is paid to each Infinity TrafficBoost affiliate who views ads.
Pseudo-compliance adopted by the company promises "guaranteed visitors", by way of mandatory ad surfing of affiliate investors.
This sees Infinity TrafficBoost present its Traffic Package Options as legitimate advertising, when that couldn't be farther from the truth.
In legitimate advertising viewership is fueled by organic interest in the subject matter. In Infinity TrafficBoost the only people viewing ads are affiliates, who have a huge financial incentive to do so.
Taking a step back from advertising theory, this also creates a closed loop of advertisers and those being advertised to, which in the real world is worthless.
With that in mind advertising is little more than a pseudo-compliance means to an end, which in their marketing material Infinity TrafficBoost acknowledge themselves.
The most prominent example I found was Infinity TrafficBoost marketing copy stating affiliates should "purchase the highest TPO you can" to "stay ahead of your downline".
This refers to affiliates not earning residual commissions on package levels they haven't bought in at (plus one higher level), creating a financial incentive to invest larger amounts of money over time (pay to play).
ROI amounts are intentionally not provided. However with free affiliates able to earn enough to invest in TPO1 after 30 days, it's a given over time those invest in their own money into TPOs receive more than invested over time.
By design 100% of Infinity TrafficBoost advertisers are affiliates participating in the attached income opportunity. Retail isn't possible but even if it was, likely to account for a negligible percentage of Infinity TrafficBoost's company-wide revenue.
Said revenue is replenished periodically by way of commission incentive, with those who invest more qualified for longer periods of time. In this sense Infinity TrafficBoost's TPO investment operates as a standard HYIP subscription.
At the core of the Infinity TrafficBoost business model is new affiliate funds used to pay off existing Infinity TrafficBoost affiliates, which by any other name is Ponzi fraud.
On top of that you have pass-up commissions, which adds an additional pyramid recruitment layer to the scheme.
Delving further into Infinity TrafficBoost's pseudo-compliance efforts reveals it claiming to have a "mathematically logical revenue share that does not pay rewards based on investment but rather on effort."
As linked previously, the SEC has already clarified that viewing ads is not "effort". Nor does it justify Ponzi fraud.
Litigation wise the prominent example is probably the AdSurfDaily bust. More recently the SEC shut down Traffic Monsoon, which also combined viewing ads with Ponzi fraud.
At the very least Infinity TrafficBoost is offering securities, which would require Frank Bauer to register the company with the Australian Securities and Investments Commission (ASIC).
A search of the ASIC list of registered companies turned up nothing active for Infinity TrafficBoost, Add2it Marketing or any derivatives.
Additionally there is no indication on the Infinity TrafficBoost website to suggest Frank Bauer has registered the company with a securities regulator in any jurisdiction.
Ponzi fraud, pyramid fraud and unregistered securities. Take your pick or run from all three.