IGOFX Review: 10-30% monthly forex Ponzi ROIs

There is no information on the IGOFX website indicating who owns or runs the business.
The IGOFX website domain ("igofx.com") was first registered on August 13th, 2012.
The domain registration were last updated on February 16th, 2017. The IGOFX domain registration is set to private, providing no information on who owns it.
Under the company name "IGO Global Limited", IGOFX have registered themselves as a "dealer in securities" in Vanuatu.
That IGOFX have used a shell company to register with the Vanuatu Financial Services Commission is highly suspicious.
Alexa currently estimate that Malaysia is the largest source of traffic to the IGOFX domain (55%). China is the second largest source of traffic coming in at 19%.
It is highly likely that whoever is running IGOFX is based out of Malaysia.
As always, if an MLM company is not openly upfront about who is running or owns it, think long and hard about joining and/or handing over any money.
IGOFX Products
IGOFX has no retailable products or services, with IGOFX affiliates only able to market IGOFX affiliate membership itself.
The IGOFX Compensation Plan
IGOFX affiliates invest $100 or more on the promise of a passive monthly ROI of between 10% and 30%.
IGOFX affiliates earn a 5% referral commission on funds invested by personally recruited affiliates.
Residual Commissions
IGOFX take 10% of monthly ROI payments to affiliates and use them to pay residual commissions.
These residual commissions are paid out via a unilevel compensation structure.
A unilevel compensation structure places an affiliate at the top of a unilevel team, with every personally recruited affiliate placed directly under them (level 1):

If any level 1 affiliates recruit new affiliates, they are placed on level 2 of the original affiliate's unilevel team.
If any level 2 affiliates recruit new affiliates, they are placed on level 3 and so on and so forth down a theoretical infinite number of levels.
IGOFX cap payable unilevel levels at four, with commissions paid out as a percentage of monthly ROIs earned by unilevel team affiliates:
level 1 (personally recruited affiliates) – 5%
level 2 – 3%
levels 3 and 4 – 1%
Note that residual commissions are not paid out to IGOFX affiliates who have not recruited at least three affiliates who have invested.
MT4 Trades
In addition to passive ROI payments, IGOFX affiliates can also "mirror" trades fed to them by the company.
This is achieved through third-party MT4 trading software, with performance varying from month to month.
Joining IGOFX
IGOFX affiliate membership is tied to a minimum $100 investment.
Conclusion
Following in the footsteps of the collapsed VenusFX and FX United Ponzi schemes, IGOFX follows the standard modus operandi of Malaysian forex scams.
Set up a company website, fill it with generic information about forex, register yourself in a jurisdiction unlikely to detect fraud and proceed to scam Malaysians and victims from neighboring countries.
Both VenusFX and FX United used New Zealand.
Then, so long as the company stays away from the local population of whichever jurisdictional hidey-hole they've registered in, everybody is none the wiser.
That is until the Ponzi collapses or begins to collapse, at which point the registration is promptly investigated and cancelled. After which the owners quietly slip away.
With a ten to thirty percent monthly ROI on offer, IGOFX fails the Ponzi sniff test.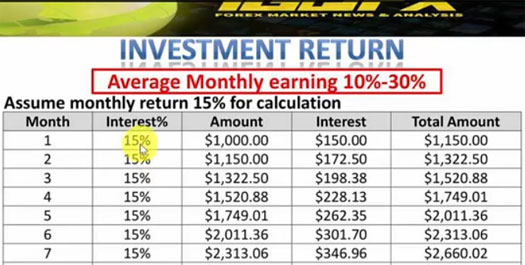 If the scammers behind the company were able to legitimately generate such ROIs each month, why would they need to waste time soliciting funds from affiliates?
Take out a small bank loan, generate your 10% to 30% a month and through compounding, retire with riches in a few years.
The reality is the only verifiable source of funds entering IGOFX is affiliate investment, the use of which to pay a monthly ROI constitutes Ponzi fraud.
This can be verified via study of the manual trades, which if mirrored are unlikely to get anywhere near 15% a month, let alone 30%.
This discrepancy between the manual and automated trades will confirm the Ponzi nature of IGOFX's business. Oh and don't forget to factor in referral commissions, which further drain the ROI pool.
A legitimate forex company has no reason to register itself in Vanuatu. A Ponzi scheme fronting as a forex company though will probably get away for it as long as nobody files a complaint.
That won't happen until invested funds have run out, by which stage it's too late.
Victims of Venus FX and FX United (primarily Malaysians) have already learnt this lesson the hard way. Does it really need to be taught again a third time?