iBull Trade Review: Twelve-month ROI crypto mining Ponzi scheme

The iBull Trade website identifies Salvatore Tagliavia, Giuseppe Mancino and Stefano Soldi as co-founders of the company.
Of the three iBull Trade co-founders, Tagliavia appears to be running the show. Tagliavia is based out of Bulgaria, which is presumably where iBull Trade is operated from.
The iBull Trade website states the company
began in 2009 when with some entrepreneurs and who were investing in cryptocurrencies.

After a while, they found a way in which they could to create a more stable management of income lasting over time but always very profitable.

So a few years later, precisely in 2011, with the contribution of the European Community and the Norwegian Government that financed the project, we started work on the construction of our first Mining Farm near Oslo.

Since 2013, the project has been merged under the direct and exclusive guidance of EcoTrade13.
To be clear, iBull Trade itself didn't exist until late 2017.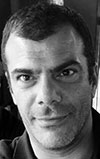 On his social media profiles Salvatore Tagliavia (right) cites himself as the sole founder and owner of EcoTrade13.
EcoTrade13 doesn't appear to have a web presence, casting doubt on iBull Trade's backstory.
For what it's worth Tagliavia's LinkedIn profile suggests EcoTrade13 launched on or around 2013.
In 2014 Tagliavia was promoting Olympic Idea, which he claims he is also the founder of on Twitter.
Olympic Idea is a marketing tool MLM opportunity that appears to have rebranded as Our Global Idea at some point.
Alexa traffic estimates for the Our Global Idea website suggest nothing much is happening for the company outside of Greece (99.5% of total website traffic). Whether Tagliavia is still involved with the company is unclear.
Read on for a full review of the iBull Trade MLM opportunity.
iBull Trade Products
iBull Trade has no retailable products or services, with affiliates only able to market iBull Trade affiliate membership itself.
The iBull Trade Compensation Plan
iBull Trade affiliates invest funds on the promise of an advertised twelve month ROI.
Basic – invest €1000 to €4999 EUR and receive a 132% ROI
Standard – invest €5000 to €9999 EUR and receive a 192% ROI
VIP – invest €10,000 to €20,000 EUR and receive a 240% ROI
Referral Commissions
iBull Trade pay referral commissions on new investment down two levels of recruitment (unilevel):
level 1 (personally recruited affiliates) – 10%
levels 2 – 5%
Rank Bonus
Based on rank qualification criteria, iBull Trade affiliates are able to earn a bonus percentage on the first two levels of their unilevel team.
Junior Manager – personally recruit fifteen or more affiliates who together invest at least €500,000 EUR and receive a bonus 1% rate
Senior Manager – personally recruit thirty or more affiliates who together invest at least €750,000 EUR and receive a bonus 1.25% rate
Top Manager – personally recruit fifty or more affiliates who together invest at least €1,000,000 EUR and receive a bonus 1.5% rate
Note that the Rank Bonus isn't paid on personally recruited affiliates (and level 2) once they reach the same rank as the qualifying affiliate.
E.g. If you are a Senior Manager and a personally recruited affiliate also qualifies as a Senior Manager, you won't receive the 1.25% bonus on that affiliate and level 2 below them.
The 1.25% bonus on the remaining personally recruited affiliates (and level 2 below them) remains unchanged.
Joining iBull Trade
iBull Trade affiliate membership is tied to a minimum €1000 EUR investment.
Conclusion
Despite the name, iBull Trade has nothing to do with trading. Instead the company claims to generate external ROI revenue through cryptocurrency mining.
We are located not far from Oslo, Norway, chosen location to take advantage of the huge advantage of large and frequent wind currents, which feed our wind power plants.
iBull Trade claims to mine 38 altcoins, however no evidence of mining is provided.
This ties into the presented story of EcoTrade13, of which there is suspiciously no information available.
Based on marketing copy presented on the iBull Trade website, it certainly doesn't sound as if crypto mining if funding affiliate ROI payments.
Your investments are always guaranteed. You will be paid directly in Euro currency.
The fact of the matter is if Salvatore Tagliavia was able to legitimately and consistently generate an annual 240% ROI through EcoTrade13, why would he be soliciting investment from randoms over the internet?
And bear in mind, Tagliavia claims to have been running EcoTrade13 since at least 2013.
As it stands the only verifiable source of revenue entering iBull Trade is new affiliate investment, the use of which to pay existing affiliates a ROI makes iBull Trade a Ponzi scheme.
When affiliate recruitment dies down so too will new investment, starving iBull Trade of ROI revenue.
Once whatever is invested runs out (perhaps offset by a token amount of speculative mining), iBull Trade collapses.
Owing to the twelve month maturity period of iBull Trade's investment plans, Tagliavia has plenty of time to orchestrate an exit-scam. Which sadly none of his investors are likely to see coming until it's too late.
Not withstanding the math behind Ponzi schemes guarantees that the majority of investors lose money.