HybridTech Global Review: Cryptocurrency pyramid scheme
HybridTech Global provides no information on its website about who owns or runs the company.
HybridTech Global's website domain ("hybridtechglobal.com") was privately registered on July 18th, 2021.
HybridTech Global's social media accounts were created a few days after.
Despite the company being barely a few months old, HybridTech Global's official Twitter account has already been suspended for violating Twitter's rules.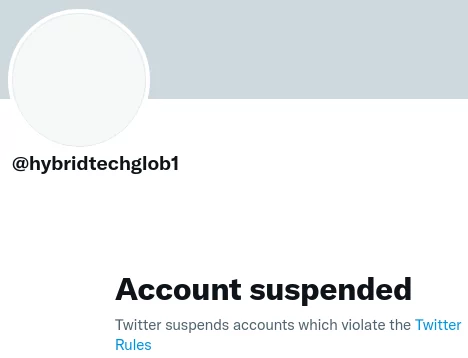 As always, if an MLM company is not openly upfront about who is running or owns it, think long and hard about joining and/or handing over any money.
HybridTech Global's Products
HybridTech Global has no retailable products or services.
Affiliates are only able to market HyrbidTech Global affiliate membership itself.
HybridTech Global affiliate membership provides access to "online training and coaching sessions".
These sessions purportedly cover knowledge, wealth and health.
No specific details are provided.
HybridTech Global's Compensation Plan
HybridTech Global affiliates sign up by selecting one of three membership packages:
Bronze – no cost
Silver – $149
Gold – $249
Commissions are paid on recruitment of Silver and Gold affiliates down three levels of recruitment (unilevel):

Recruitment commission rates are determined by whether a HybridTech Global affiliate signed up with free or paid membership:
Bronze tier affiliates earn 10% on level 1 (personally recruited affiliates) and 10% on level 2 and 3
Silver and Gold tier affiliates earn 50% on level 1, 15% on level 2 and 10% on level 3
Joining HybridTech Global
HybridTech Global affiliate membership is available at three price-points:
Bronze – no cost
Silver – $149
Gold – $249
Bronze (free) affiliates earn lower commission rates than paid (Silver and Bronze) affiliates.
Note that all payments within HyrbidTech Global are made in tether (USDT) or tron (TRX).
HybridTech Global Conclusion
HybridTech Global is a simple pyramid scheme. You sign up and get paid to recruit paid affiliates.
That's it. That's the business model.
Or at least that's the business model currently presented on HybridTech Global's website.
HybridTech Global's social media suggests the company originally intended generate revenue by "crowdfunding superb projects around the world".
Looks like, whatever that was intended to be, has been abandoned.
As stated, paying 100% of commissions on recruitment makes HybridTech Global a pyramid scheme.
Adding fluff training to this fraudulent business model doesn't change what it is.
As with all MLM pyramid schemes, once affiliate recruitment dries up so too will commissions.
This will see HybridTech Global eventually collapse.
The math behind MLM pyramid schemes guarantees that the majority of participants lose money.