Gold2Patti Review: Gambling themed Ponzi targeting Pakistan
Gold2Patti fails to provide executive or ownership information on its website.
In fact Gold2Patti's website homepage is nothing more than an affiliate sign in form: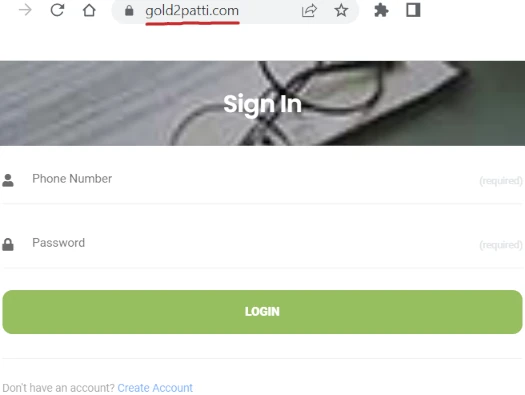 Gold2Patti's website domain ("gold2patti.com"), was privately registered on May 24th, 2023.
As always, if an MLM company is not openly upfront about who is running or owns it, think long and hard about joining and/or handing over any money.
Gold2Patti's Products
Gold2Patti has no retailable products or services.
Affiliates are only able to market Gold2Patti affiliate membership itself.
Gold2Patti's Compensation Plan
Gold2Patti affiliates invest Pakistan rupees via Pakistani payment processors or bank cards.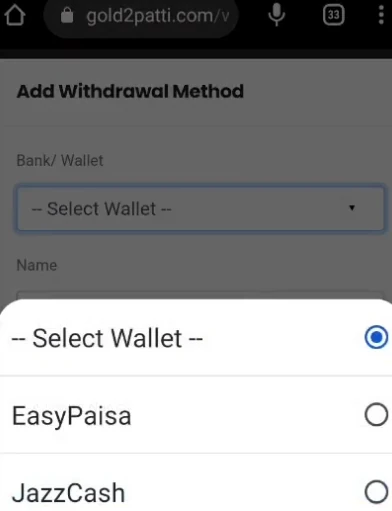 This is done on the promise of passive returns:
2 Patti – invest Rs. 500 and receive Rs. 80 a day
Sweet Bonanza – invest Rs. 1000 and receive Rs. 150 a day
Car Roulette – invest Rs. 2500 and receive Rs. 360 a day
Black Jack – invest Rs. 5000 and receive Rs. 720 a day
Zoo Roulette – invest Rs. 8000 and receive Rs. 1850 a day
Andar Bahar – invest Rs. 13,000 and receive Rs. 3000 a day
Dragon vs. Tiger – invest Rs. 25,000 and receive Rs. 5500 a day
Gold2Patti pays MLM bonuses based on downline investment generation:
generate Rs. 100,000 in downline investment and receive Rs. 10,000
generate Rs. 200,000 in downline investment and receive Rs. 30,000
generate Rs. 500,000 in downline investment and receive Rs. 50,000
Joining Gold2Patti
Gold2Patti affiliate membership is free.
Full participation in the attached income opportunity requires a minimum Rs. 500 investment.
Gold2Patti Conclusion
In researching Gold2Patti I was initially confused as I kept seeing non-MLM gambling references to "patti".
Turns out "patti" is a reference to cards. In a nutshell, Gold2Patti has themed its investment opportunity around gambling.
In reality, Gold2Patti has nothing to do with gambling. It's a simple app Ponzi scheme wherein new investment is used to pay withdrawals of earlier investors.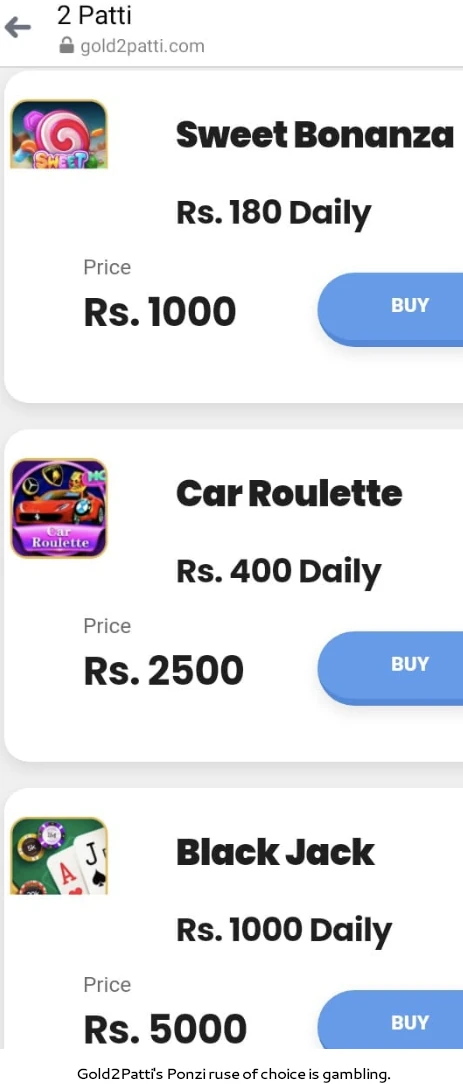 As with all MLM Ponzi schemes, once affiliate recruitment dries up so too will new investment.
This will starve Gold2Patti of ROI revenue, eventually prompting a collapse.
The math behind Ponzi schemes guarantees that when they collapse, the majority of participants lose money.