Giant Networker Review: $49 MLM social network

There is no information on the Giant Networker website indicating who owns or runs the business.
The Giant Networker website domain ("giantnetworker.com") was registered on the 19th of February 2015, with Ross Callen listed as the owner. An address in the US state of Missouri is also provided.
Why this information is not provided on the Giant Networker website is not clear.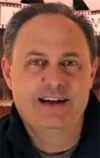 Callen (right) previously launched Giant Cinema, a non-MLM opportunity that sees affiliates paid to "watch TV". Affiliates are paid "10% commission on all commercial revenue that runs on the media devices of the accounts (they) sign up".
The Giant Cinema website currently states that the opportunity is in beta.
Read on for a full review of the Giant Networker MLM business opportunity.
The Giant Networker Product Line
Giant Networker has no retailable products or services, with affiliates only able to market Giant Networker affiliate membership itself.
Signing up as a Giant Networker affiliate grants access to the company's social networking platform, through which affiliates can advertise to other Giant Networker affiliates.
The Giant Networker Compensation Plan
The Giant Networker compensation plan is not publicly available on the company's website.
As such, the following analysis has been put together from various Giant Networker marketing presentations.
The Giant Networker compensation plan revolves around affiliates paying $49 and then recruiting other affiliates who do the same.
Commissions are paid out via a unilevel compensation structure, paid out down twenty levels of recruitment.
A unilevel compensation structure places an affiliate at the top of a unilevel team, with every personally recruited affiliate placed directly under them.

If these affiliates recruit new affiliates of their own, they are then placed on level 2 of the original affiliate's unilevel team.
If any level 2 affiliates recruit new affiliates, they are placed on level 3 and so on and so forth down a theoretical infinite number of levels.
As previously stated, Giant Networker cap payable unilevel levels at twenty, with a 25% ($12.25) commission paid out every time a new $49 fee-paying affiliate is recruited.
Note that I've seen this percentage quoted at 20% too, both presentations were dated only recently so I'm not entirely sure which is accurate.
Giant Networker additionally pay recruitment performance bonuses, quoted as being 1% (recruit 300 affiliates), 3% (recruit 300 affiliates) and 5% (recruit 500 affiliates).
What these percentages pay out on is not clear, but if I had to guess I'd say it's either a company-wide revenue pool bonus or an additional percentage tacked onto the 20-25% commission (20% + 5% might explain why I've seen both percentages quoted by Giant Networker affiliates).
Finally Giant Networker also have a free affiliate membership option, however only a 10% commission is paid out on personally recruited affiliates (non-MLM).
Joining Giant Networker
Affiliate membership with Giant Networker is $49.
Free affiliate membership is also available, however as per the compensation plan analysis above, this option excludes an affiliate from participation in the Giant Networker MLM business opportunity.
Conclusion
To date I've yet to see an MLM social network take off.
The reason for that is simple: None of them offer anything of value to non-affiliates.
With Giant Networker, this once again holds true.
There's absolutely no reason to sign up to Giant Networker unless you're looking to advertise to other Giant Networker affiliates.
The marketing pitch is that you're targeting a receptive audience, and while this is true to some extent, the reality is you wind up with a social network of everyone pitching opportunities to everyone else.
Often these are going to be the same and/or similar opportunities, with the little sign-up activity actually generated rendering the social platform a waste of time.
On the compensation side of things you're looking at a $49 a pop 20-level deep pyramid scheme.
Nothing is being marketed or sold to retail customers here, with commissions entirely paid out on the recruitment of new affiliates.
Once signed up, these affiliates must then recruit new affiliates if they wish to get paid and so we have an endless cycle of chain-recruitment taking place.
As with all pyramid schemes, once the recruitment of $49 affiliates slows down commissions within Giant Networker will cease being paid out.
When that happens Giant Networker, at least as far as an MLM business opportunity goes, will have effectively collapsed.