Futuria Review: BUSD smart-contract pyramid scheme

Futuria fails to provide ownership or executive information on its website.
Futuria's website domain ("futuria.app"), was privately registered in Europe on September 21st, 2022.
Futuria.app's official marketing videos are "hosted" by an AI generated character. This is typical of scammers from non-native English speaking countries.
As always, if an MLM company is not openly upfront about who is running or owns it, think long and hard about joining and/or handing over any money.
Futuria's Products
Futuria has no retailable products or services.
Affiliates are only able to market Futuria affiliate membership itself.
Futuria's Compensation Plan
Futuria affiliates buy into a pyramid scheme run through a smart-contract. Costs are not disclosed.
What we do know is there's an MLM compensation plan attached to Futuria affiliate fee payments.
Futuria Affiliate Ranks
There are five affiliate ranks within Futuria's compensation plan.
Qualification criteria is not provided.
Referral Commissions
Futuria pays a referral commission on fees paid by personally recruited affiliates.
Rank 1 affiliates earn a 20% referral commission rate
Rank 2 affiliates earn a 22% referral commission rate
Rank 3 affiliates earn a 25% referral commission rate
Rank 4 affiliates earn a 27% referral commission rate
Rank 5 affiliates earn a 30% referral commission rate
Residual Commissions
Futuria pays referral commissions via a binary compensation structure.
A binary compensation structure places an affiliate at the top of a binary team, split into two sides (left and right):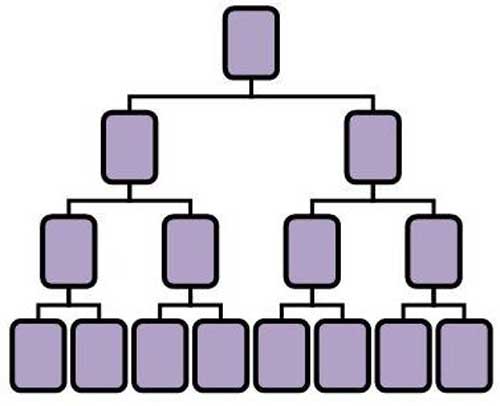 The first level of the binary team houses two positions. The second level of the binary team is generated by splitting these first two positions into another two positions each (4 positions).
Subsequent levels of the binary team are generated as required, with each new level housing twice as many positions as the previous level.
Positions in the binary team are filled via direct and indirect recruitment of affiliates. Note there is no limit to how deep a binary team can grow.
At the end of each week Futuria tallies up new fees paid on both sides of the binary team.
Affiliates are paid 10% to 20% of fees paid in on their weaker binary team side. Exact percentages between 10% and 20% are determined by rank but are not specified.
On top of regular residual commissions a bonus of up to 10% is available. I believe this is tied to rank but again, specifics aren't provided.
Matching Bonus
Futuria pays a 10% matching bonus on commissions earned by personally recruited affiliates.
Bonus Pool
Futuria sets aside 3% of company-wide fees paid in to fund a Bonus Pool.
The Bonus Pool is shared each month with "highest motivated rank" affiliates.
Joining Futuria
Futuria affiliate membership costs are not disclosed.
Futuria Conclusion
Futuria is a simple pyramid scheme, run through cryptocurrency and a smart-contract.
In an effort to sell you a scam, Futuria trots out a plethora of crypto jargon marketing.
Futuria builds and develops initiatives in the Technological &Social, Hypersonic, and Metaverse Blockchain space.

We do believe in Metaverse, and electronic web3 e-commerce. We will implement new solutions to cross-chains and attract new users with partnerships in attractive markets.
None of the above has anything to do with Futuria's business model or MLM opportunity.
As with all MLM pyramid schemes, once affiliate recruitment dries up so too will fee payments.
This will stall commissions paid out, eventually triggering a collapse.
The math behind pyramid schemes guarantees the majority of participants lose money.