FundsFact Review: 120%-150% ROI adcredit Ponzi scheme

FundsFact provide no information on their website about who owns or runs the company.
The FundsFact website domain ("fundsfact.com") was privately registered on March 10th, 2018.
The official FundsFact Facebook group has three admins; Martha Hughes, Honey Arbi and C Jacinth Samuel Raj.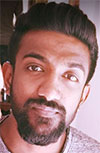 Hughes and Arbi appear to be dummy accounts, leaving Raj (right) as the likely owner of the company.
According to his Facebook profile, Raj is based out of Chennai in the Indian state of Tamil Nadu.
It's probably a safe bet that whoever is behind the other two dummy FundsFact admin accounts are also based out of India.
As always, if an MLM company is not openly upfront about who is running or owns it, think long and hard about joining and/or handing over any money.
FundsFact Products
FundsFact has no retailable products or services, with affiliates only able to market FundsFact affiliate membership itself.
Once signed up, FundsFact affiliates are able to invest in participate in the attached income opportunity.
Investment is bundled with advertising credits, which FundsFact affiliates can use to display advertising on the FundsFact website.
The FundsFact Compensation Plan
FundsFact affiliates invest funds on the promise of advertised ROIs of up to 150%.
Plan 1 – invest $5 and receive a 120% ROI in 40 days
Plan 2 – invest $25 and receive a 130% ROI in 37 days
Plan 3 – invest $100 and receive a 140% ROI in 35 days
Plan 4 – invest $250 and receive a 150% ROI in 30 days
FundsFact pay referral commissions on invested funds down three levels of recruitment (unilevel):
level 1 (personally recruited affiliates) – 8%
level 2 – 4%
level 3 – 2%
Joining FundsFact
FundsFact affiliate membership is free, however free affiliates can only earn referral commissions.
Full participation in the FundsFact income opportunity requires a minimum $5 investment.
Conclusion
FundsFact is your typical adcredit Ponzi scheme.
Under the ruse of buying advertising, new affiliates invest on the promise of advertised ROIs.
That money is used to pay existing investors, with new investment required to keep ROI payments going.
Once new affiliate recruitment dries up, so too does FundsFact's ROI revenue source.
This starves the company of ROI revenue, eventually prompting a collapse.
The math behind Ponzi schemes like FundsFact guarantees that the majority of investors lose money.