Fun5 Exchange Review: FFV Ponzi points scheme

Fun5 Exchange operates in the cryptocurrency MLM niche.
The company does provide an executive team on their website, however none of these people appear to actually exist.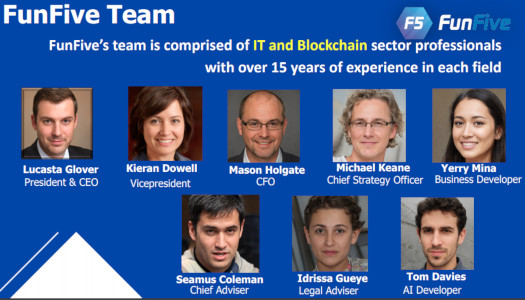 Someone also forgot to create fake LinkedIn profiles for them and/or disable the feature from Fun5 Exchange's website theme.
Fun5 Exchange's website domain ("fun5exchange.com") was privately registered on February 24th, 2020.
In an attempt to appear legitimate, Fun5 Exchange provides a UK incorporation certificate.
The certificate corresponds to Fun5Exchange Limited, which was incorporated on February 26th, 2020.
UK incorporation is dirt cheap and effectively unregulated. It is a favored jurisdiction for scammers looking to incorporate dodgy companies.
Official Fun5 Exchange marketing videos are narrated by someone with a distinctly European accent.
As always, if an MLM company is not openly upfront about who is running or owns it, think long and hard about joining and/or handing over any money.
Fun5 Exchange's Products
Fun5 Exchange has no retailable products or services, with affiliates only able to market Fun5 Exchange affiliate membership itself.
Fun5 Exchange's Compensation Plan
Fun5 Exchange affiliates invest ethereum on the promise of a 500% ROI.
Once invested, Fun5 Exchange converts ethereum to their FFV token. The current internal FFV token value is not disclosed.
Exact daily ROI percentages paid out are based on how much ETH is being invested at the time, as well as total FFV invested in.
Basic 1 – invest 0.5 ETH and have invested 100 FFV and receive 3% a day
Basic 2 – invest 3 ETH and have invested 700 FFV and receive 3% a day
Standard 1 – invest 10 ETH and have invested 2500 FFV and receive 4% a day
Standard 2 – invest 20 ETH and have invested 6000 FFV and receive 4% a day
Pro 1 – invest 50 ETH and have invested 18,000 FFV and receive 4.5% a day
Pro 2 – invest 100 ETH and have invested 50,000 FFV and receive 4.5% a day
Exclusive 1 – invest 300 ETH and have invested 200,000 FFV and receive 5% a day
Exclusive 2 – invest 500 ETH and have invested 500,000 FFV and receive 5% a day
Fun5 Exchange pays returns and commissions in FFV.
Referral Commissions
Fun5 Exchange affiliates earn a 5% commission on funds invested by personally recruited affiliates.
Residual Commissions
Fun5 Exchange pays residual commissions via a binary compensation structure.
A binary compensation structure places an affiliate at the top of a binary team, split into two sides (left and right):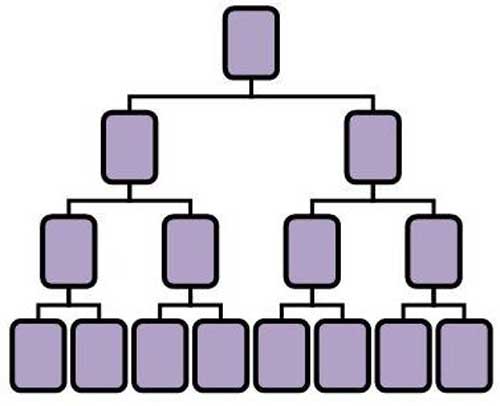 The first level of the binary team houses two positions. The second level of the binary team is generated by splitting these first two positions into another two positions each (4 positions).
Subsequent levels of the binary team are generated as required, with each new level housing twice as many positions as the previous level.
Positions in the binary team are filled via direct and indirect recruitment of affiliates. Note there is no limit to how deep a binary team can grow.
Residual commissions are paid as 8% of funds invested on the weaker binary team side.
Fun5 Exchange's compensation material doesn't specify how often residual commissions are calculated and paid.
Extra Bonus
Fun5 Exchange's "extra bonus" appears to be a bonus percentage applied to ROI rates.
Fun5 Exchange doesn't explain the Extra Bonus, and the provided diagram makes no sense to me.

I initially thought it might just be a percentage math on FFV returns paid to unilevel team affiliates, however the "greater than" statements in the brackets threw me.
Not really sure what the Extra Bonus is but I'm including it here for completeness.
Joining Fun5 Exchange
Fun5 Exchange affiliate membership appears to be free.
To participate in the attached income opportunity a minimum 0.5 ETH investment is required.
Conclusion
Fun5 Exchange's FFV token is an ERC-20 shit token that holds no value outside of the company's internal exchange.
In effect this makes FFV Ponzi points.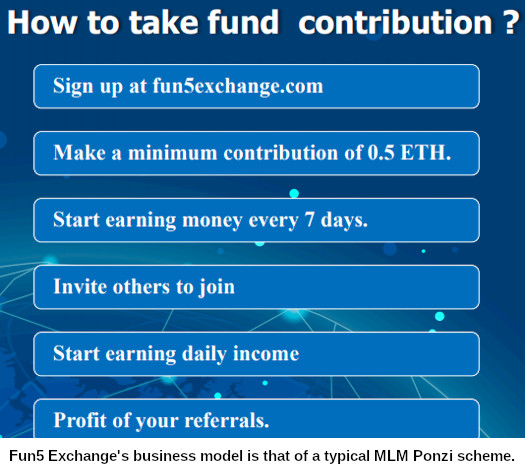 Fun5 Exchange affiliates sign up and hand over ethereum for worthless FFV tokens.
Returns and commissions are paid with FFV, which costs Fun5 Exchange little to nothing to generate on demand.
When the times comes to cash out, withdrawal requests are placed through Fun5 Exchange's internal exchange.
If the company feels like it, they'll honor withdrawal requests with previously invested ethereum.
This will pay out until withdrawals exceed invested ethereum, or Fun5 Exchange's anonymous admins do a runner.
Another possibility is the public exchange exit-scam model, which will see FFV dumped on dodgy exchanges as Fun5 Exchange collapses.
However it collapses, Fun5 Exchange is a Ponzi scheme in which the majority of participants are guaranteed to lose money.