Free BTC Club Review: 112 day bitcoin doubler Ponzi scheme

The Free BTC Club website provides no information about who owns or runs the business.
On its website Free BTC Club states it is
a legal BTC earning and wealth management company incorporated and headquartered in Asia.
No specific details are provided.
The Free BTC Club website FAQ goes on to state
Free BtcClub is a subsidiary derived from a collaboration of global companies owned by crypto expert CEO's.
…whatever that means.
Further research reveals Free BTC Club marketing emails citing Michael Merino as Free BTC Club's "program developer".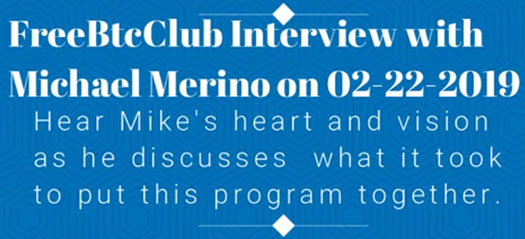 In a Free BTC Club marketing video, Merino discloses he got into the MLM industry twenty-two years ago through Herbalife. He claims to have since been involved in eight MLM companies.

Three years ago Merino (right) was promoting BetterBid, which he presents as a recruitment-driven MLM opportunity.
I did try to research for independent information on BetterBid but came up blank. Whatever BetterBid was it appears to have long-since collapsed.
Over the past two years Merino states he has transitioned into the MLM crypto niche.
As far as I can tell Merino is based out of California in the US.
The link to Asia appears to be solely dependent on running Free BTC Club from "servers in Singapore".
Read on for a full review of the Free BTC Club MLM opportunity.
Free BTC Club Products
Free BTC Club has no retailable products or services, with affiliates only able to market Free BTC Club affiliate membership itself.
The Free BTC Club Compensation Plan
Free BTC Club affiliates invest bitcoin on the promise of an advertised 1.8% daily ROI for 112 days.
Free BTC Club investment tiers are as follows:
0.025 BTC
0.1 BTC
0.25 BTC
0.5 BTC
1 BTC and
3 BTC
How much a Free BTC Club affiliate invests determines what they earn in residual commissions.
Residual Commissions
Free BTC Club pays residual commissions via a binary compensation structure.
A binary compensation structure places an affiliate at the top of a binary team, split into two sides (left and right):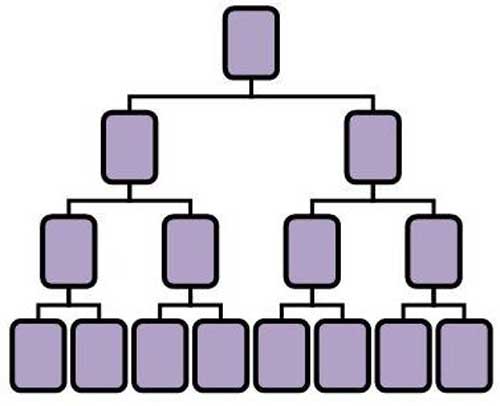 The first level of the binary team houses two positions. The second level of the binary team is generated by splitting these first two positions into another two positions each (4 positions).
Subsequent levels of the binary team are generated as required, with each new level housing twice as many positions as the previous level.
Positions in the binary team are filled via direct and indirect recruitment of affiliates. Note there is no limit to how deep a binary team can grow.
At the end of each day Free BTC Club tallies up new investment volume on both sides of the binary team.
Residual commissions are paid out as a percentage of funds invested on the weaker binary side.
How much a Free BTC Club affiliate can earn in residual commissions is determined by how much they themselves have invested:
invest 0.025 BTC and receive a 5% residual commission rate capped at 0.05 BTC a day and 1.5 BTC a month
invest 0.1 BTC and receive a 6% residual commission rate capped at 0.2 BTC a day and 6 BTC a month
invest 0.25 BTC and receive an 8% residual commission rate capped at 0.5 BTC a day and 15 BTC a month
invest 0.5 BTC and receive a 10% residual commission rate capped at 1 BTC a day and 30 BTC a month
invest 1 BTC and receive a 12% residual commission rate, capped at 2 BTC a day and 60 BTC a month
invest 3 BTC and receive a 15% residual commission rate, capped at 6 BTC a day and 90 BTC a month
Joining Free BTC Club
Free BTC Club affiliate membership is tied to a 0.025 to 3 BTC investment.
How much an affiliate invests increases their income potential via the Free BTC Club compensation plan.
Conclusion
Your first (and major) red flag with Free BTC Club is that it's not available to US residents.
Considering bitcoin is legal in the US, it follows that its Free BTC Club's business model that is the problem.
Your Bitcoin doubles without any necessary daily task.
Before we get into that though, be aware that Free BTC Club's "not in the US" act is pseudo-compliance rubbish.
Free BTC Club affiliates are openly recruiting US resident investors, by telling them to use a Virtual Private Network (VPN) to mask their location.

Furthermore Michael Merino himself appears to be based out of the US, as is pretty much everyone involved in Free BTC Club's official marketing emails and videos.
Free BTC Club claims to generate external ROI revenue through forex trading.
Naturally there's no evidence of this, or any other source of external ROI revenue provided.
And even if there was, even the most gullible investor can appreciate legitimate trading can't fund guaranteed 1.8% daily ROI plus residual commissions.
If that were the case surely after two years in the MLM crypto niche Merino would be ready to retire with god tier riches?
As it stands the only verifiable source of revenue entering Free BTC Club is new investment.
Using new investment to pay existing investors a 1.8% daily return makes Free BTC Club a Ponzi scheme.
Paying affiliate investors to recruit new investors also makes it a pyramid scheme.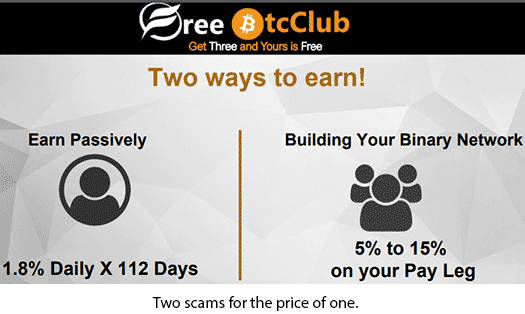 As with all MLM Ponzi schemes, once affiliate recruitment slows down so too will new investment.
This will starve Free BTC Club of ROI revenue, eventually prompting a collapse.
The math behind Ponzi schemes guarantees that when they collapse, the majority of investors lose money.