Fortescue Review: Ponzi app impersonates mining company
Fortescue fails to provide ownership or executive information on its website.
This is because Fortescue has stolen the name and logo of Fortescue Metals Group, a mining company based out of Australia.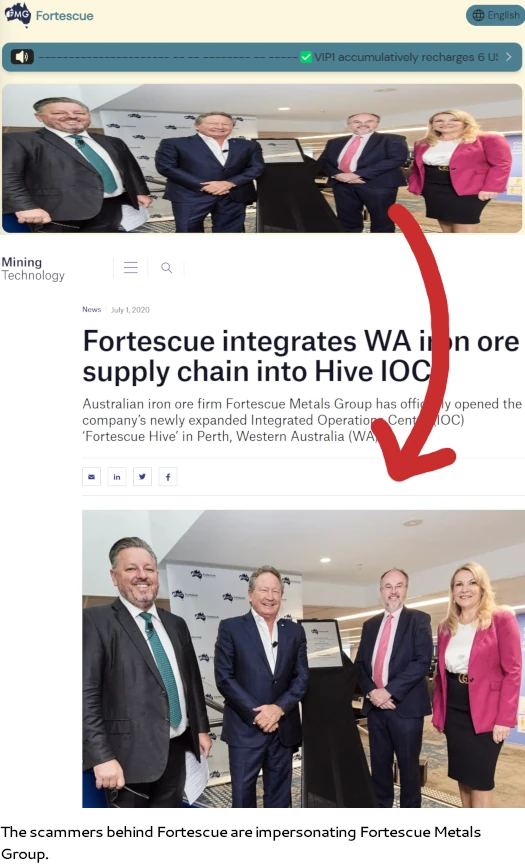 Fortescue operates from the website domain "fortescue.cc", registered with bogus details on May 10th, 2023.
As to who's running Fortescue, it's likely a group of scammers tied to China: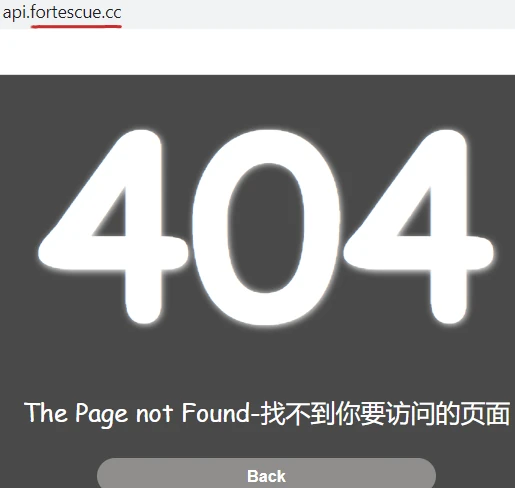 This tracks with Fortescue's website domain being registered through Alibaba.
As always, if an MLM company is not openly upfront about who is running or owns it, think long and hard about joining and/or handing over any money.
Fortescue's Products
Fortescue has no retailable products or services.
Affiliates are only able to market Fortescue affiliate membership itself.
Fortescue's Compensation Plan
Fortescue affiliates invest $6 or more in tether (USDT). This is done on the promise of advertised returns:
VIP1 – invest 6 USDT and receive 0.6 USDT a day capped at 18 USDT
VIP2 – invest 51 USDT and receive 3.85 USDT a day capped at 115.50 USDT
VIP3 – invest 166 USDT and receive 13.80 USDT a day capped at 414 USDT
VIP4 – invest 506 USDT and receive 44.20 USDT a day capped at 1326 USDT
VIP5 – invest 1586 USDT and receive 172.80 USDT a day capped at 5184 USDT
VIP6 – invest 4586 USDT and receive 540 USDT a day capped at 16,200 USDT
VIP7 – invest 12,086 USDT and receive 1500 USDT a day capped at 45,000 USDT
VIP8 – invest 35,086 USDT and receive 5750 USDT a day capped at 172,500 USDT
VIP9 – invest 87,086 USDT and receive 15,600 USDT a day capped at 468,000 USDT
Fortescue pays referral commissions on invested tether down three levels of recruitment (unilevel):

level 1 (personally recruited affiliates) – 12%
level 2 – 3%
level 3 – 2%
Joining Fortescue
Fortescue affiliate membership is free.
Full participation in the attached income opportunity requires a minimum $6 investment in tether.
Fortescue Conclusion
Fortescue is yet another "click a button" app Ponzi scheme.
Fortescue don't specify the ruse behind affiliates having to log in daily and "click a button", but it's assumed to be some baloney about mining profits.
Just so we're clear, Fortescue the app scam has nothing to do with Fortescue Metals Group.
The scammers behind Fortescue the app scam have stolen Fortescue Metal Group's logo and are attempting to impersonate the company.
Be it mining revenue or some other nonsense, it should be obvious that logging into Fortescue's app and clicking a button doesn't generate any revenue.
All Fortescue are doing is recycling newly invested funds to pay earlier investors.
Fortescue is part of a group of "click a button" app Ponzis that have emerged since late 2021.
Including Fortescue, BehindMLM has thus far documented fifty-four "click a button" app Ponzis. Most of them last a few weeks to a few months before collapsing.
"Click a button" app Ponzis disappear by disabling both their websites and app. This tends to happen without notice, leaving the majority of investors with a loss (inevitable Ponzi math).
The same group of Chinese scammers are believed to be behind the "click a button" app Ponzi plague.
Update 1st June 2023 – In between me researching this review and publishing it, Fortescue has collapsed.
I believe the Ponzi scheme's website went down a few days ago without warning.