FCB Trades Review: 1.5% daily ROI Ponzi scheme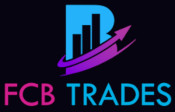 FCB Trades claims to operate in the forex trading MLM niche.
A residential address in the Netherlands is provided as a corporate address on FCB Trades' website.
In the "whitepaper" section of their website, the company also provides an incorporation certificate for the UK and trademark registration for the Netherlands.
The UK incorporation is for Instituo Cervantes Limited and dates back 1997. On its website FCB Trades claims to be "a subsidiary of foundation cervantes benelux".
UK Companies House records are notoriously rife with fraud, so this incorporation certificate is meaningless.
The Dutch registration is for for Instituo Cervantes and dates back to 2011. Given it's for a trademark and not for FCB Trades, the document is less than meaningless.
Considering FCB Trades' website domain ("fcbtrades.nl") was only registered on December 19th, 2019, this incorporation certificate is also meaningless.
Supporting both certificates having nothing to do with FCB Trades is the blatant use of stock photos to represent FCB Trades' four, yes four CEOs: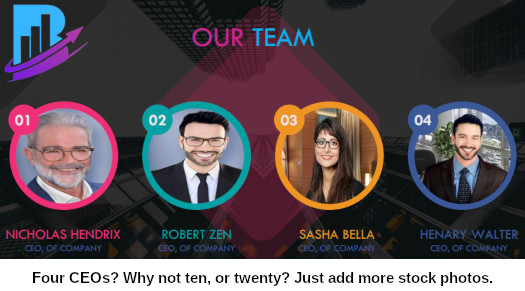 Quite obviously none of these people actually exist.
A marketing presentation video on FCB Trades' official YouTube channel appears to feature an actor reading off a script.
From all of this, we can surmise that none of the corporate information provided by FCB Trades is legitimate.
This includes whether in fact FCB Trades is being run by someone from within the Netherlands.
As always, if an MLM company is not openly upfront about who is running or owns it, think long and hard about joining and/or handing over any money.
FCB Trades' Products
FCB Trades has no retailable products or services, with affiliates only able to market FCB Trades affiliate membership itself.
FCB Trades' Compensation Plan
FCB Trades affiliates invest $50 to $10,000 on the promise of an advertised daily 1.5% ROI.
Daily returns are paid for 220 days, capping out at 330%.
Referral Commissions
FCB Trades pays a 7% referral commission on funds invested by personally recruited affiliates.
Residual Commissions
FCB Trades pays residual commissions via a binary compensation structure.
A binary compensation structure places an affiliate at the top of a binary team, split into two sides (left and right):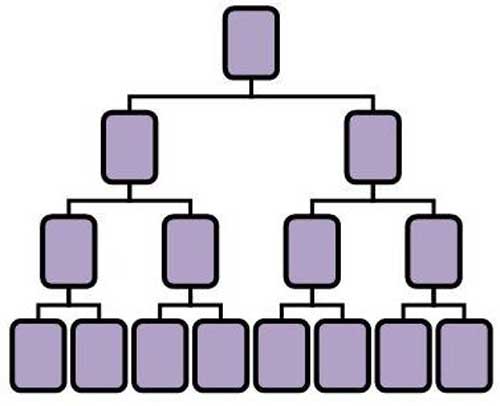 The first level of the binary team houses two positions. The second level of the binary team is generated by splitting these first two positions into another two positions each (4 positions).
Subsequent levels of the binary team are generated as required, with each new level housing twice as many positions as the previous level.
Positions in the binary team are filled via direct and indirect recruitment of affiliates. Note there is no limit to how deep a binary team can grow.
At the end of each day FCB Trades tallies up new investment volume on both sides of the binary team.
Affiliates are paid 7% of funds invested on their smaller binary team side.
Once paid out on, funds are matched against the stronger side and flushed. Any leftover volume on the stronger side is carried over.
Matrix Commissions
FCB Trades' compensation document mentions a 2×2 matrix. Entry into the matrix is supposedly funded via a 24% bonus return (???).
A slideshow from FCB Trades' compensation suggests positions in the cycler cost $100 (or $100 credited (?)), with $300 paid out upon filling all six positions.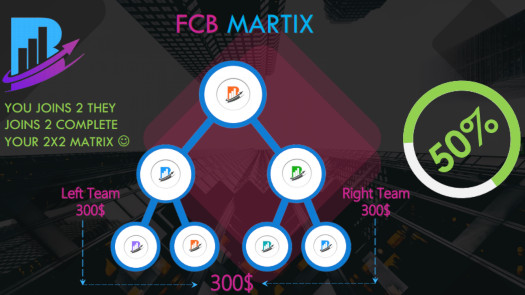 Whether this includes re-entry into a new matrix cycler is unclear.
Rank Bonuses
FCB Trades rewards affiliates for generating residual commissions with the following rank bonuses:
Bronze (recruit two affiliates and generate $2000 in residual commissions) – $500 or an iPhone 7+
Silver (recruit two Professional ranked affiliates and generate $4000 in residual commissions) – $1000 or an iPhone 9
Gold (recruit three Professional ranked affiliates and generate $8000 in residual commissions) – $2000 or an iPhone X
Diamond (recruit four Professional ranked affiliates, have another four Professionals in your downline and one Investor and generate $12,000 in residual commissions) – $3000 or a MacBook
Blue Diamond (recruit six Professional ranked affiliates, have another six Professionals in your downline and two Investors and generate $16,000 in residual commissions) – $4000 or an Macbook Pro
Black Diamond (recruit eight Professional ranked affiliates, have another eight Professionals in your downline and three Investors and generate $20,000 in residual commissions) – $8000 or a "tour of family to Hawaii"
Crown Diamond (recruit ten Professional ranked affiliates, have another ten Professionals in your downline and five Investors and generate $50,000 in residual commissions) – $20,000 or "car of your dream"
President (recruit twelve Professional ranked affiliates, have another twelve Professionals in your downline and seven Investors and generate $150,000 in residual commissions) – $60,000 and a 1% share in company-wide investment volume
Note that FCB Trades do not provide qualification criteria the Professional and Investor ranks.
Joining FCB Trades
FCB Trades affiliate membership appears to be free.
Full participation in the attached income opportunity however requires a minimum $50 investment. $100 matrix cycler positions seems to be optional.
Conclusion
FCB Trades claims it's "the easiest way to earn cryptocurrency", but then launches into a forex trading spiel:
FCB Trades is a reliable company with a flawless reputation that works in the sphere of forex trading and involved in the financial activity round the globe.

Our onlie [sic] platform allows investors to make deposits and receive dividends from trading currencies on the forex market and selling appreciated stocks.
According to Google, this same spiel features on around three thousand websites marketing equally suspicious investment opportunities.
Be it crypto or forex (who knows), FCB Trades pulls the usual "we have a trading bot!" ruse.
Unique blend of physical business, Bot-trading and forex trading with Experienced Team and huge backup.
Naturally FCB Trades fails to provide evidence of any trading activity taking place. Nor is there any evidence of any other source of external revenue being used to pay affiliates.
Furthermore FCB Trades also appears to be committing securities fraud.
Bogus incorporation or not, we'll start with the UK and the Netherlands.
Being a passive investment opportunity, FCB Trades is offering a security. Securities in the UK are regulated by the FCA. In the Netherlands it's the Dutch Authority for the Financial Markets (AFM).
A search on both regulators websites reveals FCB Trades is not registered to offer securities in either jurisdiction.
In fact FCB Trades fails to provide evidence it has register with any securities regulator, meaning the company is outright illegal in any securities regulated market.
As it stands the only verifiable source of revenue entering FCB Trades is new investment. Using new investment to pay existing affiliates daily returns makes FCB Trades a Ponzi scheme.
As with all MLM Ponzi schemes, once affiliate recruitment dies down so too will new investment.
This will starve FCB Trades of ROI revenue, eventually prompting a collapse.
The math behind Ponzi schemes guarantees that when they collapse, the majority of participants lose money.