FarGlobal Review: TradeVIM crypto trading platform

FarGlobal provides no information on its website about who owns or runs the business.
FarGlobal's website domain ("farglobal.me") was privately registered on April 23rd, 2019.
If you visit FarGlobal website, you'll notice the prominent logo is for TradeVIM.
TradeVIM has its own website, and as far as I can tell is the name of the FarGlobal's supposed trading platform.
TradeVim's website domain ("tradevim.com") was privately registered on December 5th, 2018.
Research into TradeVim lead to me to a YouTube video, which identifies a "Joe" as creator of the platform.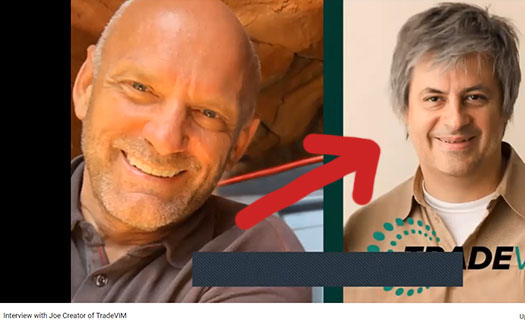 Joe (on the right above) is supposedly based out of San Francisco, California.
Note that this conflicts with FarGlobal's website, which claims the company is "has its home office in Canada".
I couldn't find Joe's surname, or any external information tying Joe to FarGlobal or TradeVIM. Thus I'm taking claims made in the video with a grain of salt.
As always, if an MLM company is not openly upfront about who is running or owns it, think long and hard about joining and/or handing over any money.
FarGlobal's Products
FarGlobal has no retailable products or services, with affiliates only able to market FarGlobal affiliate membership itself.
FarGlobal's Compensation Plan

FarGlobal affiliates sign up and purchase 60-day TradeVIM licenses. Commissions are paid when they recruit others who do the same.
TradeVIM licenses cost $697 and need to be recharged every sixty days for $149.
Note that FarGlobal's compensation plan material cites a $499 TradeVIM license cost. I'm going with the $697 figure quoted on their website.
Purchase of a $499 TradeVIM license by a recruited FarGlobal affiliate generates a $120 commission.
The recurring $149 fee generates a $37.50 commission on each payments.
The residual side of the business pays a 20% match on commissions earned by personally recruited affiliates.
FarGlobal Affiliate Ranks
There are three ranks within FarGlobal's compensation plan.
Along with their respective qualification criteria, they are as follows:
Affiliate – sign up at a FarGlobal affiliate
Gold TradeVIM – recruit two affiliates and generate 5000 GV in downline sales volume (max 2500 GV from any one unilevel leg)
Platinum TradeVIM – maintain two personally recruited affiliates and generate 10,000 GV in downline sales volume (max 5000 GV from any one unilevel leg)
Platinum Match Qualified – recruit and maintain two Platinum or higher ranked affiliates
Note that the above qualification criteria must be maintained over a rolling 60-day period.
Generational Bonus
FarGlobal pays a generation bonus via a unilevel compensation structure.
A unilevel compensation structure places an affiliate at the top of a unilevel team, with every personally recruited affiliate placed directly under them (level 1):

If any level 1 affiliates recruit new affiliates, they are placed on level 2 of the original affiliate's unilevel team.
If any level 2 affiliates recruit new affiliates, they are placed on level 3 and so on and so forth down a theoretical infinite number of levels.
FarGlobal defines a generation within the unilevel team when a same or higher ranked affiliate is found in a unilevel leg.
This affiliate caps off the first generation of that leg, with the second beginning immediately after.
If a second same or higher ranked affiliate is found deeper in the leg, they cap off the second and generation.
The third begins after them and so on and so forth.
Using this generation structure, FarGlobal pays a generational bonus based on rank as follows:
Gold TradeVIM affiliates earn a 20% commission on up to one Gold generation per unilevel leg
Platinum TradeVIM affiliates earn a 20% commission on up two Platinum generations per unilevel leg
Platinum Match Qualified affiliates earn a 20% commission on up to three Platinum Match Qualified generations per unilevel leg
Platinum Match Qualified Bonus
Upon qualifying at the Platinum Match Qualified rank, a FarGlobal affiliate is paid a $120 one-time bonus and $149 TradeVim license voucher.
Joining FarGlobal
FarGlobal affiliate membership is tied to the purchase of a $697 TradeVIM license.
An ongoing $149 maintenance fee is also charged every sixty-days.
Conclusion
FarGlobal markets TradeVIM as a "cryptocurrency trading platform".
A FarGlobal marketing video suggests TradeVIM is a bot that affiliates attach to a trading account.
The bot passively trades on behalf of the FarGlobal affiliate, and thus a return is received over 60 days.
Given access to the TradeVIM bot and generated returns are provided through FarGlobal, a third-party, this constitutes a securities offering.
In order to operate legally in the US, where "creator" Joe is supposedly based out of, both TradeVIM and FarGlobal need to be registered with the SEC.
A search of the SEC's Edgar database confirms neither company is registered. There is also no indication that FarGlobal has registered itself with Canadian securities regulators.
This means that, irrespective of anything else, FarGlobal is operating illegally in the US and Canada.
Furthermore with there being no retail offering within the company, FarGlobal also has a pyramid component.
The "trade from your own account" scam model sees trades manipulated by the company offering access to the bot. In this case that's FarGlobal through TradeVIM.
When the time comes to exit-scam (too many withdrawals), the bot owners rig trades in their favor and cause widespread losses.
And if you really want to get into the meta of a trading bot MLM offering, ask yourself why, if such a bot existed, the owners of it don't just quietly run it themselves.