Fantasy Draft Review: Fantasy sports contests

There is no information on the Fantasy Draft website indicating who owns or runs the business.
The Fantasy Draft website domain ("fantasydraft.com") was registered on the 27th of June 1995. The MLM opportunity as it exists today however was only launched late last year in December.
Further research into Fantasy Draft reveals the Charlotte Agenda citing Robert Stevanovski and Stephen Krombolz as co-founders and Grant Yoder as CEO.
Why this information is not available from the Fantasy Draft website is unclear.
Stevanovski being a co-founder and the Chairman of ACN, was probably a key factor in Fantasy Draft's use of an MLM business model.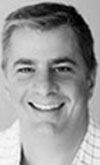 Grant Yoder on his LinkedIn profile also cites himself as a co-founder of the company.
Yoder (right) doesn't appear to have any executive MLM experience, with his LinkedIn profile listing investment sales, professional services and business development roles.
Read on for a full review of the Fantasy Draft MLM business opportunity.
The Fantasy Draft Product Line
Fantasy Draft market fantasy sports contests:
leagues – "all kinds of contests with varying entry fees, sizes and payouts"
50/50 – "you are competing to finish in the top half of the field. Finish in the top 50% and you win; the prize is divided equally among the winners"
head-to-head – "one on one, there will be one winner one loser"
tournaments – "win your way into the main event or in some cases you can pay your way in, but that can come at a price"
guaranteed – "a guaranteed contest will run regardless of the number of players or lineups that are registered"
beginner – "for rookies who are new to playing on FantasyDraft"
Entry into Fantasy Draft's contests vary, with customers also able to play for free (restricted contests).
The Fantasy Draft Compensation Plan
The Fantasy Draft compensation plan sees affiliates paid on contest fees paid by players they introduce to Fantasy Draft.
Commissions are paid via a six-level deep unilevel compensation structure.
A unilevel compensation structure places an affiliate at the top of a unilevel team, with every personally recruited affiliate placed directly under them (level 1):

If any level 1 affiliates go on to recruit new affiliates, they are placed on level 2 of the original affiliate's unilevel team.
If any level 2 affiliates recruit new affiliates, they are placed on level 3 and so on and so forth down a theoretical infinite number of levels.
Fantasy Draft cap payable unilevel levels at six, with commissions paid out as a percentage of contest fees paid by their unilevel team.
How much of a percentage is paid out is determined by what level of the unilevel team a contest fee is paid:
levels 1 and 2 – 10%
levels 3 and 4 – 15%
level 5 – 20%
level 6 – 30%
Joining Fantasy Draft
There is no mention of affiliate fees anywhere on the Fantasy Draft website.
Presumably everyone who signs up as a player is automatically an affiliate.
Conclusion
There doesn't appear to be any separation of affiliates and retail players in Fantasy Draft, which is problematic.
Given that it costs nothing to sign up though, this is less of a problem than it normally would be.
Commissions in Fantasy Draft are paid out when players enter contests (only if real cash is used to enter the contest).
Within the context of MLM there needs to be some retail activity taking place, with a lack of differentiation between retail players and affiliates making this impossible.
Claiming players who don't recruit are not affiliates is not acceptable if said players have access to the income opportunity (making them affiliates).
Otherwise, if you're into the whole fantasy sports thing, Fantasy Draft looks to be a straight-forward offering in the fantasy sports MLM niche.
On the topic of legality in the US, Fantasy Draft have this to say on their website:
Playing daily fantasy sports is legal no different than playing in traditional season long fantasy leagues.

In 2006, Congress passed The Unlawful Internet Gambling Enforcement Act (UIGEA) to outlaw unlawful internet gambling.

In the law, Congress specifically addressed the legality of Fantasy Sports, classifying it as a game of skill. In particular, Congress exempted:

"Participation in any fantasy or simulation sports game or educational game or contest in which (if the game or contest involves a team or teams) no fantasy or simulation team is based on the current membership of an actual team that is a member of an amateur or professional sports organization and meets the following conditions:

All prizes and awards offered to winning participants are established and made known to the participants in advance of the game or contest and their value is not determined by the number of participants or the amount of any fees paid by participants.

All winning outcomes reflect the relative knowledge and skill of the participants and are determined predominantly by accumulated statistical results of the performance of individuals (athletes in the case of sports events) in multiple real-world sporting or other events.

No winning outcome is based:

a. On the score, point spread, or any performance or performances of any single real world team or any combination of such teams; or

b. Solely on any single performance of an individual athlete in any single real-world sporting or other event."

FantasyDraft is in complete compliance with the UIGEA thus our games are 100% legal.
That said, there are states in the US that are classified "restricted":
If you are a resident of or are located in one of the states where play may be restricted by your state legislature (currently Arizona, Florida, Iowa, Louisiana, Montana, Nevada, New York and Washington State), you may not deposit money and you may not play in any game where a prize is awarded.
Affiliates living in these states are however still able to participate in the Fantasy Draft MLM opportunity.